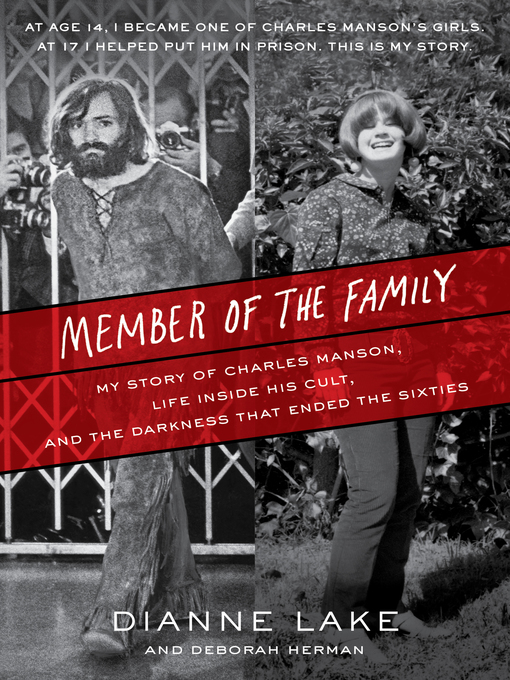 Member of the family my story of Charles Manson, life inside his cult, and the darkness that ended the sixties
Format:

Kindle Book

2017

2017

Adobe EPUB ebook

OverDrive Read

Availability:

Unavailable

0 of 1 copy
1 person on waitlist
Summary
"In late 1967, fourteen-year-old Dianne Lake became one of "Charlie's girls," a devoted acolyte of cult leader Charles Manson and member of his Family. Joining the group with little more than an old note from her hippie parents granting her permission to leave them, the two years that followed were a mixture of sexual manipulation, psychological control, and physical abuse, as the harsh realities and looming darkness of Charles Manson's true nature revealed themselves to the impressionable teenager ... And yet, in spite of her painful experiences, Dianne was one of the few to emerge stronger from the torment of the Family. With the help of the California police officer and his welcoming family who took her in as a foster child following her arrest, Dianne was able to transform her trauma into triumph, finding the courage to face Manson in court and achieving a redemption that allowed her to heal ..."--Jacket.

Contents
Part I: Turn on. A Minnesota childhood ; Family matters ; One stray ash ; California ; How to be-in ; Hippies in newsprint ; The note ; Welcome to the Hog Farm ; Someone groovy
Part II: Tune in. The black bus ; We are all one ; Panhandling and postulating ; Snake ; Spahn Ranch ; Beach boy ; A little monkey ; A door closes ; On the edge ; Baking soda biscuits ; Out of sight ; Preaching the White Album ; A simple bag of coins
Part III: Drop out. The witches' brew ; Reclaiming my name ; My day in court.
Additional Information