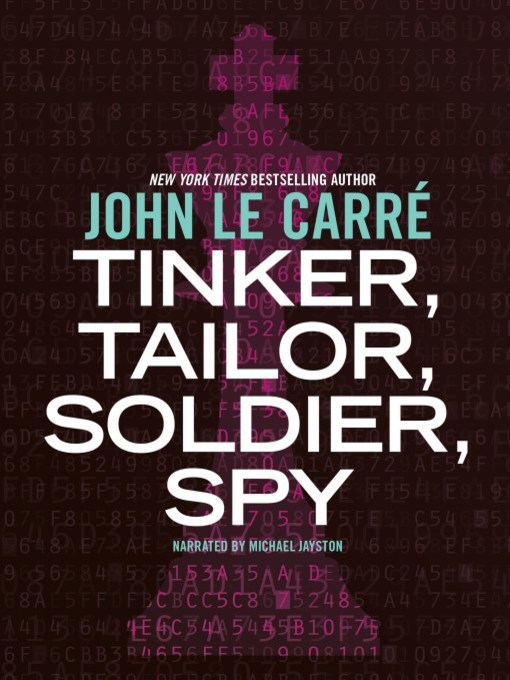 Tinker, tailor, soldier, spy
Format:

OverDrive MP3 Audiobook

2013

2013

OverDrive Listen

Availability:

Unavailable

0 of 2 copies
Summary
Who is the mole buried within British intelligence, planted by Karla in Moscow years ago? George Smiley is back, in the first novel of The quest for Karla trilogy.

Published Reviews
Publisher's Weekly Review:
"Packaged to tie in with the recent film version of this masterful spy thriller, the audio edition benefits from strong narration from Michael Jayston, an actor who appeared in the 1979 BBC television adaptation of le Carre's complex novel. The twisting plot, boiled down, focuses on retired British spymaster George Smiley, who's called back to duty to find a traitor among the "gang of four" now heading England's secret service. In the miniseries, Jayston portrayed Smiley's right-hand man, Peter Guillam. In this audio edition, he easily slips back into the loyal, dedicated Guillam, while also doing justice to the book's cast of characters. His spot-on portrayal of Smiley admirably includes both of the protagonist's sides: his quietly brilliant professionalism and his personal self-doubt and fecklessness. Jayston's characterizations are invariably effective, from gruff, lonely, and broken ex-spy Jim Prideaux to the high-flying, arrogant members of the "gang of four." Two moments-Smiley's subtle questioning of a former teammate, once famous for her now-fading memory, and the exciting, highly suspenseful exposure of the Russian spy-are particular standouts. Jayston matches both perfectly, as well as all those in between. A Penguin paperback. (Feb.) (c) Copyright PWxyz, LLC. All rights reserved."
(c) Copyright PWxyz, LLC. All rights reserved
Additional Information