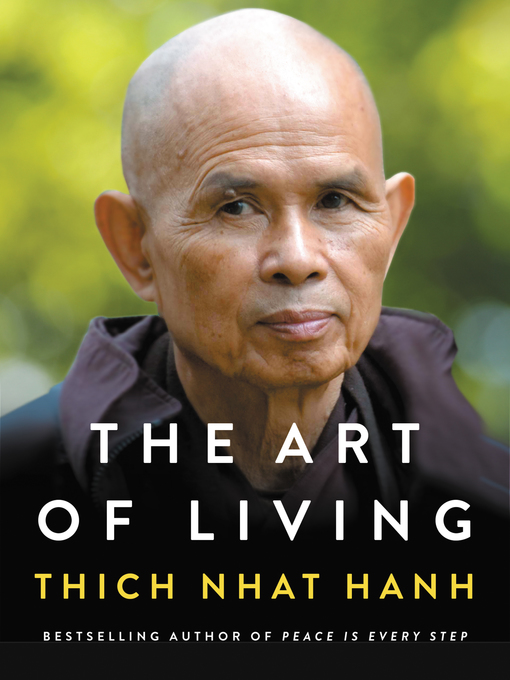 The art of living peace and freedom in the here and now
Format:

OverDrive Read

2017.

Adobe EPUB ebook

Kindle Book

Availability:

Available from OverDrive

3 of 3 copies
Summary
In troubled times, there is an urgency to understand ourselves and our world. We have so many questions, and they tug at us night and day, consciously and unconsciously. In this important volume Zen Master Thich Nhat Hanh----one of the most revered spiritual leaders in the world today----reveals an art of living in mindfulness that helps us answer life's deepest questions and experience the happiness and freedom we desire.
Thich Nhat Hanh presents, for the first time, seven transformative meditations that open up new perspectives on our lives, our relationships and our interconnectedness with the world around us. Based on the last full talks before his sudden hospitalization, and drawing on intimate examples from his own life, Thich Nhat Hanh shows us how these seven meditations can free us to live a happy, peaceful and active life, and face ageing and dying with curiosity and joy and without fear.
Containing the essence of the Buddha's teachings and Thich Nhat Hanh's poignant, timeless, and clarifying prose, The Art of Living provides a spiritual dimension to our lives. This is not an effort to escape life or to dwell in a place of bliss outside of this world. Instead, this path will allow us to discover where we come from and where we are going. And most of all, it will generate happiness, understanding, and love, so we can live deeply in each moment of our life, right where we are.
Contents
Emptiness: the wonder of interbeing
Signlessness: a cloud never dies
Aimlessness: resting in God
Impermanence: now is the time
Non-craving: you have enough
Letting go: set yourself free
Nirvana is now
Time to live
A path of happiness
The five mindfulness trainings.
Published Reviews
Booklist Review:
"Is living an art? Vietnamese Buddhist Zen master Thich Nhat Hanh argues that it is, though he acknowledges understanding this is compromised by three wrong views: that we are separate selves, that we are only our bodies, and that what we are looking for can be found only outside ourselves in a distant future. The pioneer in bringing Buddhism to the West offers three fundamental practices to liberate people from these misunderstandings: emptiness, signlessness, and aimlessness. To these he adds four other concentrations: impermanence, noncraving, letting go, and nirvana. He examines these at length, stressing the importance of mindfulness and the art of breathing. Fundamental to his philosophy is the interconnectedness of the world and the continuity of human life from past to future. We must exist in the moment when the art of living is, simply, knowing how to generate happiness at any time. If this exposition of Buddhist principles is occasionally redundant and reiterative it is based on lectures edited by his students it is, nevertheless, a thought-provoking introduction to them.--Cart, Michael Copyright 2010 Booklist"
From Booklist, Copyright (c) American Library Association. Used with permission.
Additional Information