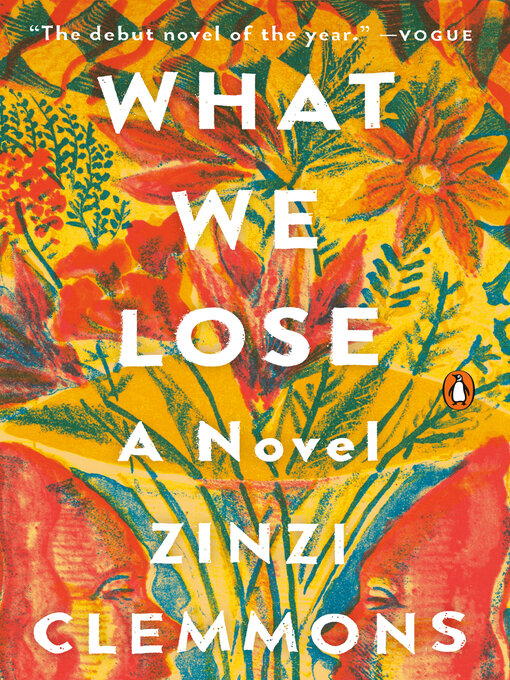 What we lose a novel
Format:

OverDrive Read

2017.

Adobe EPUB ebook

Kindle Book

Availability:

Available from OverDrive

6 of 7 copies
Summary
A National Book Foundation 5 Under 35 Honoree
NBCC John Leonard First Book Prize Finalist
Aspen Words Literary Prize Finalist
California Book Award First Fiction Finalist
Hurston/Wright Legacy Award Debut Novel Nominee
Longlisted for the Andrew Carnegie Medal for Excellence in Fiction & the Brooklyn Public Library Literary Prize
Named a Best Book of the Year by Vogue , NPR, Elle , Esquire , Buzzfeed , San Francisco Chronicle, Cosmopolitan, T he Huffington Post, The A.V. Club , The Root , Harper's Bazaar, Paste , Bustle , Kirkus Reviews, Electric Literature, LitHub, New York Post, Los Angeles Review of Books, and Bust

"The debut novel of the year." -- Vogue

"Like so many stories of the black diaspora, What We Lose is an examination of haunting." --Doreen St. Félix, The New Yorker

"A richly volatile study of grief, wonderment and love." --Sam Sacks, The Wall Street Journal

"A startling, poignant debut." -- The Atlantic

"Raw and ravishing, this novel pulses with vulnerability and shimmering anger." --Nicole Dennis-Benn, O, the Oprah Magazine

"Stunning. . . . Powerfully moving and beautifully wrought, What We Lose reflects on family, love, loss, race, womanhood, and the places we feel home." -- Buzzfeed

"Remember this name: Zinzi Clemmons. Long may she thrill us with exquisite works like What We Lose . . . . The book is a remarkable journey." --Essence

From an author of rare, haunting power, a stunning novel about a young African-American woman coming of age--a deeply felt meditation on race, sex, family, and country

Raised in Pennsylvania, Thandi views the world of her mother's childhood in Johannesburg as both impossibly distant and ever present. She is an outsider wherever she goes, caught between being black and white, American and not. She tries to connect these dislocated pieces of her life, and as her mother succumbs to cancer, Thandi searches for an anchor--someone, or something, to love.

In arresting and unsettling prose, we watch Thandi's life unfold, from losing her mother and learning to live without the person who has most profoundly shaped her existence, to her own encounters with romance and unexpected motherhood. Through exquisite and emotional vignettes, Clemmons creates a stunning portrayal of what it means to choose to live, after loss. An elegiac distillation, at once intellectual and visceral, of a young woman's understanding of absence and identity that spans continents and decades, What We Lose heralds the arrival of a virtuosic new voice in fiction.

One of the New York Times , Huffington Post , Buzzfeed , Cosmopolitan , Glamour , Redbook , Marie Claire , Essence , Houston Chronicle , LA Daily News , Nylon , and Elle 's Books to Read This Summer
Published Reviews
Booklist Review:
"*Starred Review* Clemmons' spectacular debut is written in bursts, from single-sentence pages to sparse paragraphs, and combines photographs, diagrams, charts, articles, and blog posts to amplify an intimate story of personal loss into a larger narrative of identity, family, race, and socioeconomic access. Thandi is the daughter of a New York-born mathematics-professor father and Johannesburg-born-nurse mother. She grows up privileged as a light African American in Philadelphia. Her lifelong best friend is Aminah, their bond cemented by their parents' friendship, which resulted from their fathers being two of the only five African American faculty at their university. Thandi's mother dies of cancer while Thandi is in college, leaving her with a gaping emotional void that only intensifies when she, too, becomes a mother. Clemmons creates haunting authenticity by imbuing Thandi with autobiographical elements parentage, life in Philadelphia, attending Columbia, her mother's death but through enhanced fiction, she pushes Thandi into global citizenry, shows her skin color to be a barometer of fraught relationships and race politics, explores mother-child bonds with brutal honesty, and even reveals cancer to be a disease of privilege elevated with ribbons and campaigns. Clemmons performs an exceptional sleight of hand that is both affecting and illuminating.--Hong, Terry Copyright 2017 Booklist"
From Booklist, Copyright (c) American Library Association. Used with permission.
Publisher's Weekly Review:
"Exacting reflections on race, mourning, and family are at the center of this novel about a college student whose mother dies of cancer. Born to an American father and a South African mother, Thandi is a character defined by conflicting conceptions of identity, belonging, and class, divisions that only deepen in the wake of her mother's death. Early chapters establish these dichotomies in content and form, contrasting Thandi's charged visits to Johannesburg with her Philadelphia coming of age by way of photographs, articles, graphs, and song lyrics. The first third of the novel culminates with Thandi discovering that she is pregnant, before then detailing her mother's illness and how the resulting heartbreak ushered Thandi into an ill-fated long distance relationship with Peter, the child's father. Peter moves to New York to marry Thandi and raise their child, Mahpee, but all parties soon glean the untenability of Thandi's building a new family without processing the grief of her original one. Though too restrained, there are some inspired moments, and Clemmons admirably balances the story's myriad complicated themes. (July) © Copyright PWxyz, LLC. All rights reserved."
(c) Copyright PWxyz, LLC. All rights reserved
Additional Information