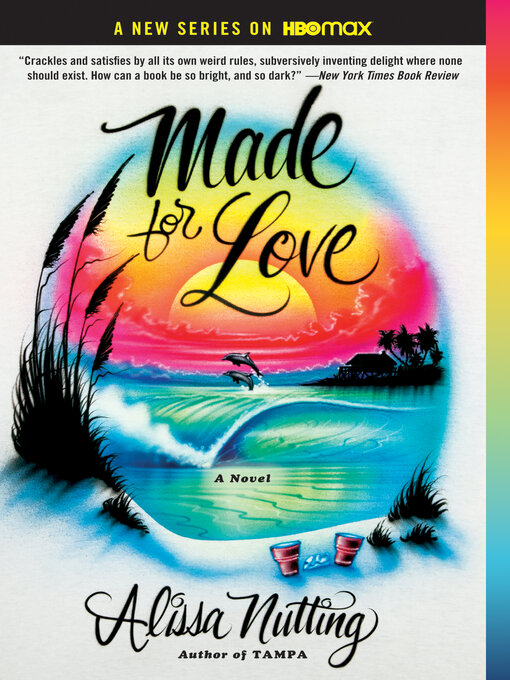 Made for love
Format:

OverDrive Read

2017.

Adobe EPUB ebook

Kindle Book

Availability:

Available from OverDrive

2 of 3 copies
Summary
From one of our most exciting and provocative young writers, a poignant, riotously funny story of how far some will go for love--and how far some will go to escape it.

Hazel has just moved into a trailer park of senior citizens, with her father and Diane--his extremely lifelike sex doll--as her roommates. Life with Hazel's father is strained at best, but her only alternative seems even bleaker. She's just run out on her marriage to Byron Gogol, CEO and founder of Gogol Industries, a monolithic corporation hell-bent on making its products and technologies indispensable in daily life. For over a decade, Hazel put up with being veritably quarantined by Byron in the family compound, her every movement and vital sign tracked. But when he demands to wirelessly connect the two of them via brain chips in a first-ever human "mind-meld," Hazel decides what was once merely irritating has become unbearable. The world she escapes into is a far cry from the dry and clinical bubble she's been living in, a world populated with a whole host of deviant oddballs.

As Hazel tries to carve out a new life for herself in this uncharted territory, Byron is using the most sophisticated tools at his disposal to find her and bring her home. His threats become more and more sinister, and Hazel is forced to take drastic measures in order to find a home of her own and free herself from Byron's virtual clutches once and for all. Perceptive and compulsively readable, Made for Love is at once an absurd, raunchy comedy and a dazzling, profound meditation marriage, monogamy, and family.
Published Reviews
Booklist Review:
"Hazel is on the run from the one person she might not be able to escape: her tech-mogul husband, Byron, whose company, Gogol, is far-reaching and powerful. Hazel flees the pristine Gogol complex for her 76-year-old father's trailer, where she is shocked to find that her father is shacking up with a sex doll he has christened Diane. Even more problematic than her father's desire to be alone with his new, fake paramour is the disturbing discovery that Byron has inserted a chip into Hazel's head that allows him to download her memories every day. Byron wants Hazel back, and he is willing to do anything to get her to return to him, whether it's viewing her memories or dropping a virtual bomb on her with facts about her father's health. Just as she did in her first novel, Tampa (2013), Nutting pushes boundaries this time via a subplot with a charming con man who finds himself attracted to dolphins and though it's not as grounded as her debut, Nutting's second outing offers up a sly satire of our tech- and prosperity-obsessed society.--Huntley, Kristine Copyright 2010 Booklist"
From Booklist, Copyright (c) American Library Association. Used with permission.
Publisher's Weekly Review:
"As she did in Tampa, her first novel about an eighth-grade teacher's affair with a student, Nutting deftly exploits the comic potential of perverse attachments, here to sex dolls, aquatic mammals, and technological devices. Readers of Dave Eggers's The Circle will be familiar with Nutting's caricature of an ominous and ubiquitous technology giant, Gogol Industries, though this cautionary tale packs the profane punch of satirists like Carl Hiaasen. The story begins after a woman, Hazel, has fled her controlling husband, Byron, a cold-blooded, germaphobic, and distinctly un-Byronic tech titan who "treated his electronics like lesser wives." Hazel takes refuge in her father's trailer park home, vastly different from her former lodging, "the Hub," Byron's sterile compound that is at once a prison, spa, and hospital. Living with her father and his recently purchased sex doll, Hazel hopes to avoid Byron's near-omniscient gaze and forge a new, unsurveilled, and thrillingly unhygienic life. Elsewhere Jasper, a handsome hustler whose two great joys are "sex and conning people out of money," has a bizarre encounter with a dolphin, kindling in him an unquenchable cross-species desire. Though Jasper's zany plot strand eventually ties into Hazel's story and touches on relevant themes of anonymity and objectification, it never fully works. Nonetheless, the novel charms in its witty portrait of a woman desperate to reconnect with her humanity. (July) © Copyright PWxyz, LLC. All rights reserved."
(c) Copyright PWxyz, LLC. All rights reserved
Additional Information
Subjects
Romance fiction.
Electronic books.

Publisher

[Place of publication not identified] :HarperCollins2017.



Contributors
OverDrive, Inc.

Language

English



System Details

Mode of access: World Wide Web.




Format: Adobe EPUB eBook




Format: Kindle Book




Format: OverDrive Read




Requires Adobe Digital Editions or Amazon Kindle



Description

1 online resource



ISBN
9780062280572

Other
Classic View