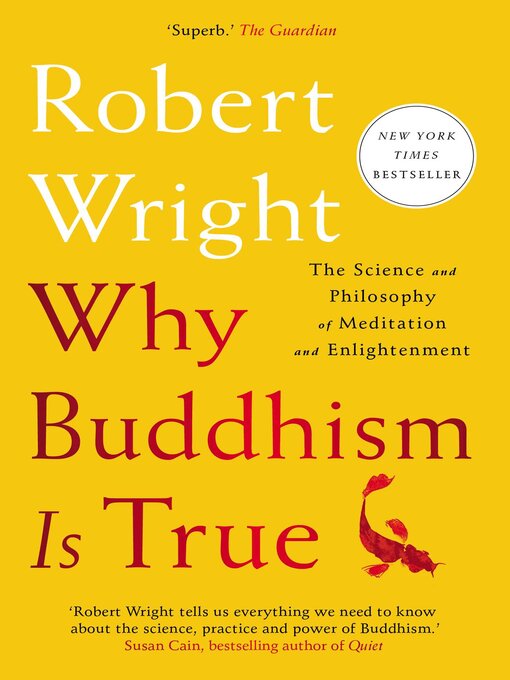 Why Buddhism is true the science and philosophy of meditation and enlightenment
Format:

OverDrive Read

2017.

Adobe EPUB ebook

Kindle Book

Availability:

Unavailable

0 of 1 copy
5 people on waitlist
Summary
From one of America's most brilliant writers, a New York Times bestselling journey through psychology, philosophy, and lots of meditation to show how Buddhism holds the key to moral clarity and enduring happiness.

At the heart of Buddhism is a simple claim: The reason we suffer--and the reason we make other people suffer--is that we don't see the world clearly. At the heart of Buddhist meditative practice is a radical promise: We can learn to see the world, including ourselves, more clearly and so gain a deep and morally valid happiness.

In this "sublime" ( The New Yorker ), pathbreaking book, Robert Wright shows how taking this promise seriously can change your life--how it can loosen the grip of anxiety, regret, and hatred, and how it can deepen your appreciation of beauty and of other people. He also shows why this transformation works, drawing on the latest in neuroscience and psychology, and armed with an acute understanding of human evolution.

This book is the culmination of a personal journey that began with Wright's landmark book on evolutionary psychology, The Moral Animal , and deepened as he immersed himself in meditative practice and conversed with some of the world's most skilled meditators. The result is a story that is "provocative, informative and...deeply rewarding" ( The New York Times Book Review ), and as entertaining as it is illuminating. Written with the wit, clarity, and grace for which Wright is famous, Why Buddhism Is True lays the foundation for a spiritual life in a secular age and shows how, in a time of technological distraction and social division, we can save ourselves from ourselves, both as individuals and as a species.
Contents
Taking the red pill
Paradoxes of meditation
When are feelings illusions?
Bliss, ecstasy, and other reasons to meditate
The alleged nonexistence of your self
The confirmed nonexistence of your self
The mental modules that run your life
How thoughts think themselves
"Self" control
Encounters with the formless
The upside of emptiness
A weedless world
Like, wow, everything is one (at most)
Is enlightenment enlightenment?
So remind me why I should meditate?
Published Reviews
Booklist Review:
"Using a framework of evolutionary psychology and philosophy, Wright (The Evolution of God, 2009) leads his readers on a scientific search for the truth of Buddhism. In doing so, he proves to be an often witty, occasionally self-deprecating guide who eschews what he calls the supernatural or more exotically metaphysical parts of Buddhism and focuses instead on its naturalistic aspects. Some of those parts, it should be acknowledged, are dauntingly esoteric and abstruse, such as anatta or not-self, the idea that the self doesn't exist. Happily, Wright has a talent for bringing clarity to this and what could otherwise be his subject's murkier aspects. His examination includes familiar elements of Buddhism: Nirvana, Enlightenment (with both capital and lower-case E's), dharma, mindfulness, and, importantly, meditation, to which he devotes the final chapter. It should be acknowledged that this is not a book for the casual reader; it requires extremely close reading and intense concentration. But the patient reader will find much here that is worth contemplating and that is, well, enlightening.--Cart, Michael Copyright 2017 Booklist"
From Booklist, Copyright (c) American Library Association. Used with permission.
Publisher's Weekly Review:
"Wright (The Moral Animal) fascinates readers with this journey through evolutionary psychology in search of answers to the question of whether Buddhism's diagnosis of the human condition is true. Rather than conceiving of the self-or the mind, for that matter-as an autocrat, Wright opts for the modular model of mind, in which behavior is shaped by the interplay of networks dedicated to different tasks and situations with conflicting goals. Because there are ultimately many versions of the self (or "no-self") in the modular model, Wright argues that emotions are far more integral than reason in constructing perceptions and interpretations of the world. He recommends meditation as a process of dispelling the illusions that natural selection has created (which have since gone haywire outside of natural pressures), suggesting that it can be used to interrogate, contemplate, and disengage from the foundation of feelings that color experience. Through mindfulness, Wright says, one can achieve clarity of vision, breaking out of tribalistic notions of thinking to begin helping others and the world. But this is not easy to accomplish, and Wright's stories about his meditation experiences include his failures, anxieties, and faults. Wright's joyful and insightful book is both entertaining and informative, equally accessible to general audiences and more experienced practitioners. (Aug.) © Copyright PWxyz, LLC. All rights reserved."
(c) Copyright PWxyz, LLC. All rights reserved
Additional Information
Subjects
Buddhism -- Apologetic works.
Electronic books.
Apologetic writings.

Publisher

[Place of publication not identified] :Simon & Schuster2017.



Contributors
OverDrive, Inc.

Audience

Adult



Language

English



System Details

Mode of access: World Wide Web.




Format: Adobe EPUB eBook




Format: Kindle Book




Format: OverDrive Read




Requires Adobe Digital Editions or Amazon Kindle



Description

1 online resource



Bibliography Notes

Includes bibliographical references (pages 303-311) and index.



ISBN
9781439195475
1439195471

Other
Classic View