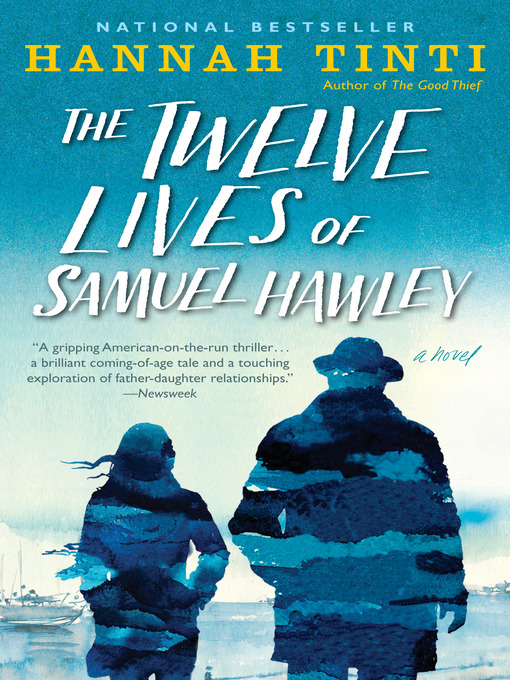 The twelve lives of Samuel Hawley a novel
Format:

Kindle Book

2017

2017

Adobe EPUB ebook

OverDrive Read

Availability:

Available from OverDrive

10 of 10 copies
Summary
"Loo is twelve when she moves back to the New England fishing village of her early youth. Her father, Hawley, finds work on the boats, while she undergoes the usual heartaches of a new kid in school. But lurking over Loo are mysteries, both of the mother who passed away, of the grandmother she's forbidden to speak to. And hurtling towards both father and daughter are the ghosts of Hawley's past. Before Loo's birth, he was a professional criminal engaged in increasingly elaborate and dangerous underworld schemes. Life on the road was harsh - Samuel Hawley took "twelve bullets" in his brutal career. The scars have healed, but there is a reckoning still to come"--

Contents
Hawley
The greasy pole
Bullet number one
The widows
Bullet number two
Dogtown
Bullet number three
Firebird
Bullet number four
Weathervanes
Bullet number five
The net
Bullet number six
Fireworks
Seven, eight, nine
Pandora
Bullet number ten
The cooler
Bullet number eleven
Everything that's happened & is happening & is going to happen
Bullet number twelve
Loo.
Published Reviews
Booklist Review:
"*Starred Review* Tinti follows her acclaimed first novel, The Good Thief (2008), with another atmospheric, complexly suspenseful saga centered on an imperiled child under the care and tutelage of an outlaw. Sam Hawley's sole reason for living after the drowning death of his wife, Lily, is his daughter. As for Loo, she is mostly content living on the run with her father, driving cross-country in a truck full of guns and staying in shabby motels in which Sam carefully sets up a bathroom shrine to Lily comprising photographs and her makeup, shampoo, and robe. But as Loo nears 12, Sam decides she needs a more stable life and risks settling down in the coastal Massachusetts town where Lily grew up and where Lily's angry mother, Mabel, still lives, certain that Sam is responsible for her daughter's demise. As Loo and Sam take measure of the troubles at hand, Tinti turns back the wheel of time and tells the hair-raising stories of each of the 12 bullet wounds scarring Sam's battle-ready body. In between these wild flashbacks, Loo comes of age and embarks on her own dangerous escapades. With life-or-death struggles in dramatic settings, including a calving glacier, and starring a fiercely loving, reluctant criminal and a girl of grit and wonder, Tinti has forged a breathtaking novel of violence and tenderness.--Seaman, Donna Copyright 2017 Booklist"
From Booklist, Copyright (c) American Library Association. Used with permission.
Publisher's Weekly Review:
"Seamlessly transposing classical myth into a quintessentially American landscape and marrying taut suspense with dreamy lyricism, Tinti's beautifully intricate second novel is well worth the wait since 2008's The Good Thief. As his beloved daughter, Loo, hits adolescence, longtime criminal Samuel Hawley forswears life on the run and moves with her to the coastal Massachusetts town where her late mother Lily was raised. Though father and daughter both struggle to adjust, Samuel finds a place in the town's fishing industry as Loo experiences first love with the quirky son of environmentalists who oppose it. But the consequences of Samuel's violent past continue unfolding, while Loo's quest to understand the truth of her mother's death by drowning may fracture her bond with her father forever. Alternating chapters chronicle Samuel's past-traced through the 12 bullet wounds that scar his body-and Loo's attempts to find an authentic self and a future. As the story lines converge, Tinti's imagery evokes time, space, the sea, and the myth of Heracles without losing the narrative's sure grounding in American communities and culture. This is a convincingly redemptive and celebratory novel: an affirmation of the way that heroism and human fallibility coexist, of how good parenting comes in unexpected packages, and of the way that we are marked by our encounters with each other and the luminous universe in which we dwell. (Apr.) © Copyright PWxyz, LLC. All rights reserved."
(c) Copyright PWxyz, LLC. All rights reserved
Additional Information