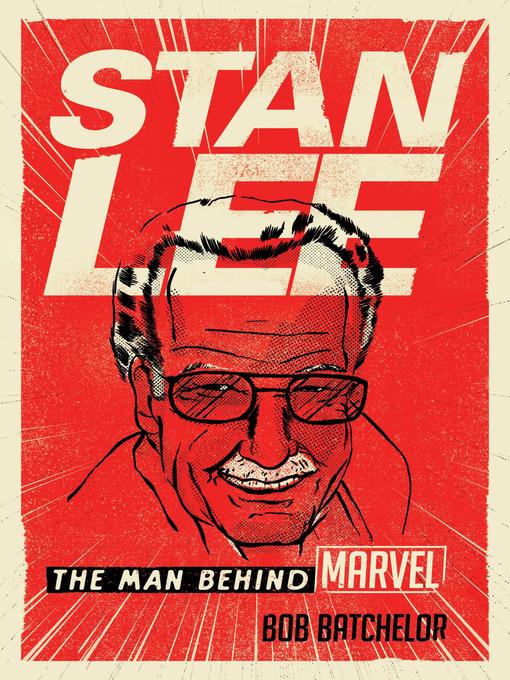 Stan Lee the man behind Marvel
Format:

Kindle Book

2017

2017

Adobe EPUB ebook

OverDrive Read

Availability:

Available from OverDrive

3 of 3 copies
Summary
Batchelor offers an eye-opening look at the life of Stan Lee, the man who created (with talented artists) many of history's most legendary characters. Becoming the editor of Marvel Comics as a teenager, and toiling in the industry for decades, Lee threw caution to the wind and went for broke, co-creating the Fantastic Four, Spider-Man, Hulk, Iron Man, the X-Men, the Avengers, and others in a creative flurry that revolutionized comic books for generations of readers.

Contents
Prologue: Dawn of the fantastic
Stanley Lieber, New Yorker
Teenage editor
Army playwright
Return to Marvel
Public enemy number one
Birth of the new hero: The Fantastic Four
Spidey saves the day!
Horde of superheroes
Marketing the Marvel Universe
Creating an icon
Marvel's multitude of maladies
Lure of Hollywood
Marvel manipulations
Rise and fall of Stan Lee Media
Meanwhile...
Larger than life
Conclusion: American icon.
Published Reviews
Booklist Review:
"Meet Stanley Lieber: movie fan, adventure-story fan, budding writer. Young Stanley started in the comic-book business as an assistant to Timely Comics' head writer, Joe Simon, and to artist Jack Kirby. Along the way, as he graduated from assistant to writer, he became known as Stan Lee and wound up revolutionizing the comic-book business: in partnership with some of the great artists (Kirby and the legendary Steve Ditko, among others), he created Spider-Man, the Hulk, the Fantastic Four, Iron Man, and other familiar superheroes. What made Lee's creations special was his insistence on giving them recognizable human traits and flaws; these weren't idealized superheroes but real people with special abilities. This is a solidly researched and written biography of Lee (who is in his mid-nineties now). If it feels familiar, it's because Lee's story has been told before, in such books as Sean Howe's glorious Marvel Comics: The Untold Story (2012) and Excelsior! The Amazing Life of Stan Lee (2002), by Lee and George Mair. But don't let that put you off: Lee's is a hugely entertaining story, and the author tells it well.--Pitt, David Copyright 2017 Booklist"
From Booklist, Copyright (c) American Library Association. Used with permission.
Publisher's Weekly Review:
"This unauthorized biography by cultural historian Batchelor (Mad Men: A Cultural History) is as much a history of Marvel Comics and the comic book industry as it is of Stan Lee, the man largely credited with transforming the comic book industry into a pop culture colossus. Batchelor begins with Lee's childhood in New York City during the Great Depression, to which he attributes Lee's strong work ethic and ambition. A workaholic from an early age, Lee joined the comic book industry at its infancy, learning the ropes from writer Joe Simon and artist Jack Kirby, who were his mentors at Timely Comics (later renamed Marvel Comics). By age 19, Lee had already taken over as editor-in-chief. Aside from the first chapter on his childhood, the book mainly glosses over Lee's personal life, focusing primarily on his career. Batchelor shows how Lee led his team of writers and illustrators with a can-do spirit, working with his staff in employing snappy dialogue and colorful graphics to concoct a dynamic new medium. Introducing racial diversity, serial storytelling, current events, and emotional conflict, the boastful Lee and his team devised a marvelous universe of new characters, who connected strongly with readers by displaying emotional weaknesses that equaled their physical strengths. Though the parallels he draws between Lee and his superheroes become redundant after awhile, Batchelor successfully shows how this dreamer and risk-taker perfectly captured the cultural zeitgeist and assisted in creating "fairy tales for grown-ups." (Sept.) © Copyright PWxyz, LLC. All rights reserved."
Additional Information