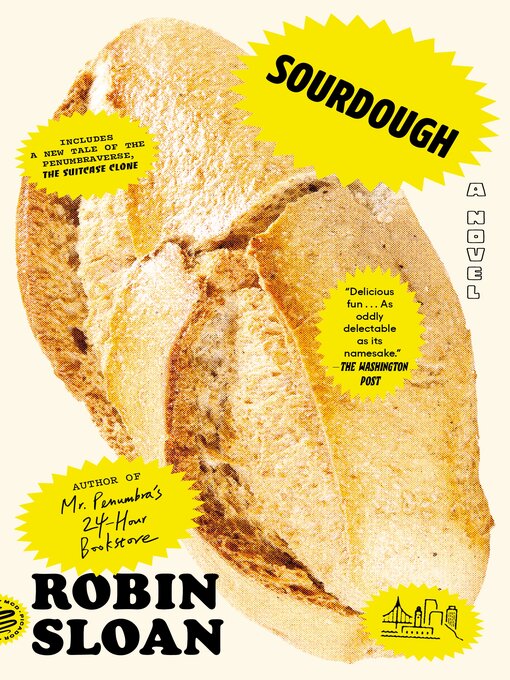 Sourdough a novel
Format:

Kindle Book

2017

2017

Adobe EPUB ebook

OverDrive Read

Availability:

Unavailable

0 of 3 copies
1 person on waitlist
Summary
"Lois Clary is a software engineer at General Dexterity, a San Francisco robotics company with world-changing ambitions. She codes all day and collapses at night, her human contact limited to the two brothers who run the neighborhood hole-in-the-wall from which she orders dinner every evening. Then, disaster! Visa issues. The brothers close up shop, and fast. But they have one last delivery for Lois: their culture, the sourdough starter used to bake their bread. She must keep it alive, they tell her{u2015}feed it daily, play it music, and learn to bake with it. Lois is no baker, but she could use a roommate, even if it is a needy colony of microorganisms. Soon, not only is she eating her own homemade bread, she{u2019}s providing loaves daily to the General Dexterity cafeteria. The company chef urges her to take her product to the farmer{u2019}s market, and a whole new world opens up. When Lois comes before the jury that decides who sells what at Bay Area markets, she encounters a close-knit club with no appetite for new members. But then, an alternative emerges: a secret market that aims to fuse food and technology. But who are these people, exactly?"--

Published Reviews
Booklist Review:
"*Starred Review* The starter comes into Lois' life unexpectedly. She had moved to San Francisco to work as a software engineer, teaching robot arms to perform any job functions you can imagine. Her only comfort after another demanding day was ordering soup and sourdough bread from two brothers running a food-delivery service. But when the brothers are suddenly forced to leave the city, they give Lois the starter they use to make their bread, instructing her to keep it alive. Suddenly her life spins in a different direction. This inventive novel, from the author of Mr. Penumbra's 24-Hour Bookstore (2012), is filled with crisp humor and weird but endearing characters. As Lois takes her first tentative steps into the world of baking, her loaves appear to have faces in the crust, and the starter Is it singing? takes on a life of its own. Then, after she gains entry into a mysterious underground farmers market on the cutting edge of food technology, demand for her special sourdough begins to rise. At once a parody of startup culture and a foodie romp, Sourdough is an airy delight, perfect for those who like a little magic with their meals, as in Laura Esquivel's Like Water for Chocolate (1992).--Thoreson, Bridget Copyright 2017 Booklist"
From Booklist, Copyright (c) American Library Association. Used with permission.
Publisher's Weekly Review:
"San Francisco's technology and food cultures collide and collude in Sloan's latest novel, following Mr. Penumbra's 24-Hour Bookstore. Robotics programmer Lois Clary subsists on an unappetizing diet that includes frequent servings of Tetra Pak-wrapped nutritional gel until she discovers the delicious, restorative comfort food sold at Clement Street Soup and Sourdough, a makeshift take-out enterprise operated by two immigrant brothers. Visa issues force the brothers to leave the country, but before they go they give Lois a crock of sourdough starter along with a CD of the music of their people, the mysterious Mazg. Lois's first attempt at baking bread produces an imperfect loaf with cracks in the crust that form the lines of a human face. Improving with practice, she earns a coveted place at Marrow Fair-an innovative farmer's market offering Chernobyl honey, microbiotic lembas, and algorithmically optimized bagels-but there's one condition. Marrow Fair's manager wants "robot bread." Lois must figure out how to program a robotic arm to perform kitchen tasks that require a delicate touch. Lois also faces another, more worrisome problem: the starter has become temperamental and demanding: underfed it looks depressed; overfed it spreads, grows tendrils, and forms faces with disturbing expressions. Through narrative and email correspondence, Sloan captures contemporary work environments, current reality, and future trends. It's a busy novel, crammed with some excellent bits (how robotics work, how farmers markets work) and some bits that are just creative hyperactivity (like the biogeneration of lembas). The book offers much to savor, but like the starter it proves rich and buoyant at first, then overreaches. (Sept.) © Copyright PWxyz, LLC. All rights reserved."
(c) Copyright PWxyz, LLC. All rights reserved
Additional Information