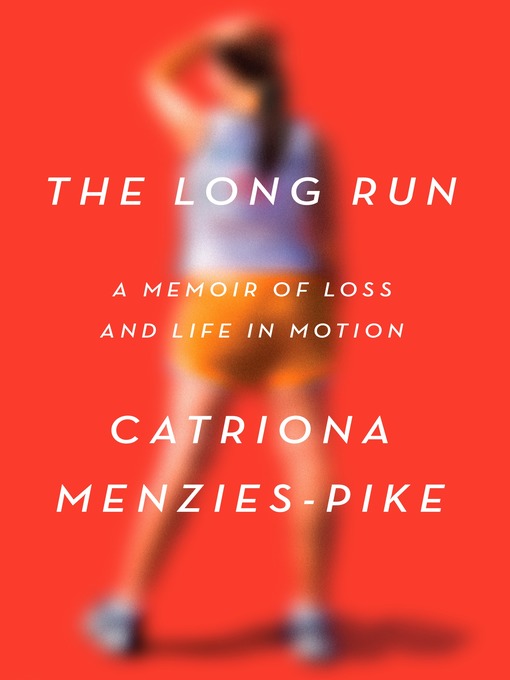 The long run A Memoir of Loss and Life in Motion
Format:

OverDrive Read

2017.

Adobe EPUB ebook

Kindle Book

Availability:

Available from OverDrive

1 of 1 copy
Summary
An unlikely marathoner finds her way through grief and into the untold history of women and running.

Thirty-year-old Catriona Menzies-Pike defined herself in many ways: voracious reader, pub crawler, feminist, backpacker, and, since her parents' deaths a decade earlier, orphan. "Runner" was nowhere near the list. Yet when she began training for a half marathon on a whim, she found herself an instant convert. Soon she realized that running, "a pace suited to the precarious labor of memory," was helping her to grieve the loss of her parents in ways that she had been, for ten messy years, running away from.
As Catriona excavates her own past, she also grows curious about other women drawn to running. What she finds is a history of repression and denial--running was thought to endanger childbearing, and as late as 1967 the organizer of the Boston Marathon tried to drag a woman off the course, telling her to "get the hell out of my race"--but also of incredible courage and achievement. As she brings to life the stories of pioneering athletes and analyzes the figure of the woman runner in pop culture, literature, and myth, she comes to the heart of why she's running, and why any of us do.
Contents
Introduction 1
Making a Scene
On the Treadmill
Born to Run
Running Like a Girl
On the Road
Telling tales 108
Look at Her Go
Rejoice, We Conquer!
Plan B
Over the Line
A One-Sentence Success Story
Hitting the Wall
Conclusion: Stories We Tell
Bibliography
Acknowledgements.
Published Reviews
Booklist Review:
"Sydney Review of Books editor Menzies-Pike's first book is an interesting look at the sport of long-distance running and women's place in it. Through historical anecdotes, including the story of the first known woman to attempt running a marathon, in 1896, readers learn that there has long been and, infuriatingly so, always may be discrimination against women in the sport. Blatantly prejudicial attitudes towards women who dared to run persisted well into the twentieth century, with women finally starting to make significant strides toward equality in the sport. However, Menzies-Pike's entertaining, eye-opening, feminist war cry against those who would begrudge a woman her running shoes is not the most absorbing element in her book. Rather, her own story of loss, a fall from grace, and the sport that ultimately empowered her to deal with her grief is the star of the show. With trademark Aussie wit, Menzies-Pike bravely shares her most vulnerable moments, struggles, and victories as she takes her first steps crawling, then walking, then running into her new life.--Mattalia, Glendy X. Copyright 2017 Booklist"
From Booklist, Copyright (c) American Library Association. Used with permission.
Publisher's Weekly Review:
"Menzies-Pike's engaging book braids together feminist and literary theory, cultural criticism, history, and a moving personal narrative that explores the ways in which physical movement can lead to transcendence in the face of tragedy. After her parents' plane crash immobilizes her with grief, Menzies-Pike, editor of the Sydney Review of Books, returns home from wandering the world to run on a treadmill. As she trains for her first race, she recounts the challenges early female runners faced. Violet Percy ran a marathon (and set a record) in short heels at a time when women were told running would imperil their fertility. In the 1960s, "women in the United States were forbidden from racing any distance over a mile and a half." Men tried to drag early female Boston Marathon runners off the course. Ultimately, the narrative is one of reserved success. Women's running has gained wider acceptance, though some women worry about running alone at night, and running remains largely a sport of the privileged. The frequent transitions between memoir and criticism can be jarring, but this is still an important and fascinating record of women's running experiences. (May) © Copyright PWxyz, LLC. All rights reserved."
(c) Copyright PWxyz, LLC. All rights reserved
Additional Information