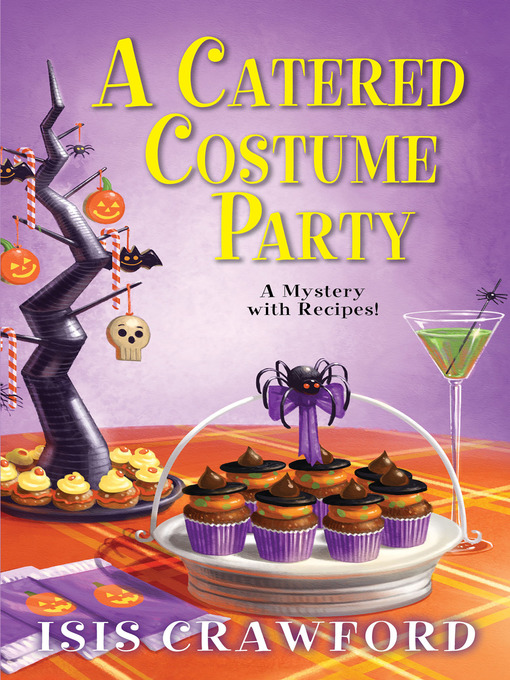 A catered costume party
Format:

OverDrive Read

2017.

Adobe EPUB ebook

Kindle Book

Availability:

Unavailable

0 of 2 copies
Summary
When sisters Bernie and Libby Simmons agree to cater an extravagant Halloween party in their little upstate New York town of Longely, they figured a ghost or two and a blood curdling scream might be part of the menu, but they never expected to be haunted by the deadly specter of murder . . .

Halloween is coming, and Darius Witherspoon isn't giving up on his plan for a catered costume party--despite the recent disappearance of his wife, Penelope. He may be heartbroken, but perhaps throwing a big shindig in her honor will boost his spirits.

Darius hires Bernie and Libby to provide the treats. They'd prefer to avoid the festivities altogether, but as always, there are bills to be paid. And in the midst of the celebration, Darius is discovered hanging from a noose outside one of the ballroom's French doors . . .

Based on the note Darius left, which includes a sum of money and a request for them to "do something" if anything should happen to him, Bernie and Libby rule out suicide. Once the serving trays have been cleared and the decorations taken down, it's up to the sisters to unmask a killer . . .

"Charming . . . Recurring characters, especially the sisters' widowed father add depth and humor."
-- Publishers Weekly

Includes Original Recipes for You to Try!
Published Reviews
Booklist Review:
"Sisters Libby and Bernie Simmons, owners of the catering business A Little Taste of Heaven, reluctantly agree to cater failed treasure hunter Darius Witherspoon's Halloween party at the spooky Berkshire Arms, formerly the tragedy-ridden Peabody School. They are puzzled when Darius leaves an envelope with them the day of the party, to be opened if he does not return for it. During the party, everyone is stunned to see Darius with a rope around his neck, hanging from his apartment window. When the sisters open the envelope, they find $5,000 and a letter asking them to investigate his death, which is officially ruled a suicide or a party stunt gone wrong. Keeping one step ahead of chief of police Lucas Broadbent, who sees the sisters as a perennial thorn in his side, Libby and Bernie unravel the truth by interviewing Darius' angry investors, his business partner, and the owner of the Berkshire Arms. The close relationship between the two very different sisters is reminiscent of that between the similar siblings in Chris Cavender's Pizza Lover's mysteries.--O'Brien, Sue Copyright 2017 Booklist"
From Booklist, Copyright (c) American Library Association. Used with permission.
Publisher's Weekly Review:
"In Crawford's charming 13th culinary mystery featuring the Simmons sisters (after 2016's Catered Tea Party), Bernie (fearless on stilettos and creaky balconies) strong-arms Libby (secret zodiac believer and weight-worrier) into catering Darius Witherspoon's Halloween gala at the posh Berkshire Arms in their hometown of Longley, N.Y., despite nightmare memories of a gig there when it was the Peabody School and an alum's head rolled down the steps. Darius's wife, Penelope, disappears ominously, but she loves Halloween, so he says the party's on-and then makes his entrance crashing through a window, hanged. The sisters' nemesis, police chief Lucy Broadbent, calls it an accident, but Bernie and Libby smell murder. When Penelope is also discovered freshly hanged, the sisters risk their own necks to discover who killed whom when. Recurring characters, especially the sisters' widowed father, retired police chief Sean, add depth and humor. Agent: Evan Marshall, Evan Marshall Agency. (Sept.) © Copyright PWxyz, LLC. All rights reserved."
(c) Copyright PWxyz, LLC. All rights reserved
Additional Information