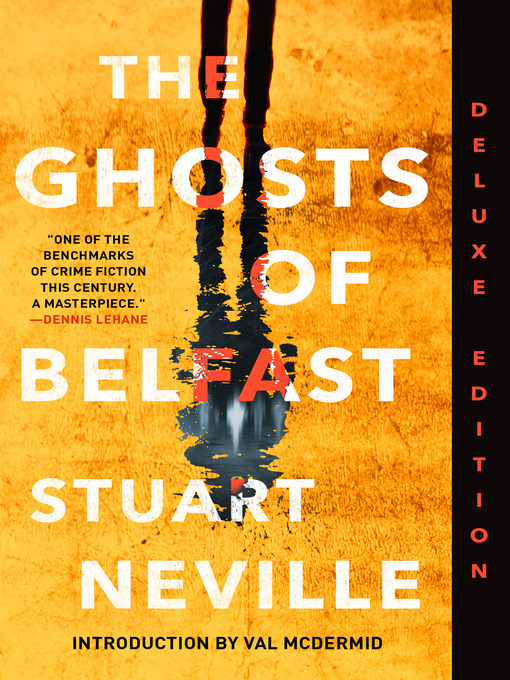 The ghosts of Belfast
Format:

Kindle Book

2009

2009

Adobe EPUB ebook

OverDrive Read

Availability:

Unavailable

0 of 1 copy
1 person on waitlist
Summary
Fegan has been a "hard man," an IRA killer in northern Ireland. Now that peace has come, he is being haunted day and night by twelve ghosts: a mother and infant, a schoolboy, a butcher, an RUC constable, and seven other of his innocent victims. In order to appease them, he's going to have to kill the men who gave him orders.

Published Reviews
Booklist Review:
"Gerry Fegan has a knack for killing people, and it made him a legend among Catholic paramilitaries in Belfast during the Troubles. But at age 45, free after 12 years in prison and returned to the city's still-edgy peace and prosperity, he's haunted by the apparitions of his victims. They're with him around the clock, and he finally agrees to do their bidding: kill the people who ordered him to kill others. But Fegan's attempts to exorcise his demons of conscience could shatter Northern Ireland's government and cause internecine war in the IRA. Neville's debut novel is tragic, violent, exciting, plausible, and compelling. It's a tale of old fealties, betrayals, and retribution in a place where most of the populace has turned away from hate and terror to embrace peace and prosperity. As McGinty, a para turned corrupt parliamentarian, puts it, We've got peace now, whether we like it or not. The Ghosts of Belfast is dark, powerful, insightful, and hard to put down.--Gaughan, Thomas Copyright 2009 Booklist"
From Booklist, Copyright (c) American Library Association. Used with permission.
Publisher's Weekly Review:
"With this stunning debut, Neville joins a select group of Irish writers, including Ken Bruen, Declan Hughes and Adrian McKinty, who have reinvigorated the noir tradition with a Celtic edge. Gerry Fegan, a former IRA hit man haunted by the ghosts of the 12 people he killed, realizes the only way these specters will give him rest is to systematically assassinate the men who gave him his orders. Though those in the militant IRA underworld have written him off as a babbling drunk and a liability to the movement, they take note when their members start turning up dead. Meanwhile, Fegan is attracted to Marie McKenna, a relative of one of the newly slain men and a pariah to the Republicans. Can Fegan satisfy his demons and redeem himself, or will the ghosts of Belfast consume him first? This is not only an action-packed, visceral thriller but also an insightful insider's glimpse into the complex political machinations and networks that maintain the uneasy truce in Northern Ireland. (Oct.) (c) Copyright PWxyz, LLC. All rights reserved"
(c) Copyright PWxyz, LLC. All rights reserved
Additional Information