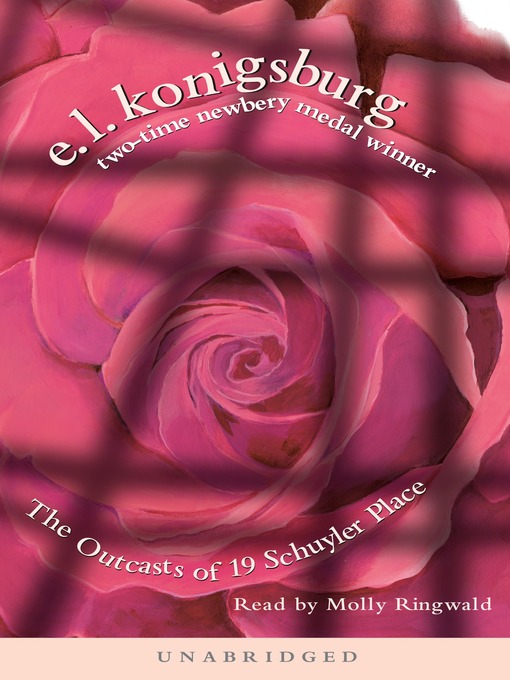 The outcasts of 19 Schuyler Place
Format:

OverDrive MP3 Audiobook

2004

2004

OverDrive Listen

Availability:

Available from OverDrive

1 of 1 copy
Summary
Upon leaving an oppressive summer camp, twelve-year-old Margaret Rose Kane spearheads a campaign to preserve three unique towers her grand uncles have been building in their back yard for over forty years.

Published Reviews
Booklist Review:
"Gr. 4-8. Dumped at summer camp while her parents travel abroad, 12-year-old Margaret Rose Kane, whom readers first met as Connor's half-sister in Silent to the Bone (2000), opts out of activities by quoting Melville (I prefer not to ) and is quickly labeled incorrigible. When her two doting, elderly uncles whisk her away from the hated camp, she blissfully anticipates helping to build and maintain the towers, sculptures her uncles have constructed in their garden. But Margaret soon learns that yuppie neighbors want the 45-year-old towers demolished. Appalled, she and a network of warm, smart, slightly kooky adults, characters as markedly Konigsburgian as the precocious urban preteen herself, hatch an ingenious plan to prevent the cultural Armageddon. Konigsburg yields too much of the stage to adult characters and their views on creeping homogenization and suburban sprawl, and many readers will never feel fully convinced by Margaret's quirky erudition. But this intelligently structured, humorously told, and richly observant story weaves two cliches of middle-grade fiction--the David-and-Goliath scenario and the bad summer camp experience--into a bracing, contemporary tall tale. Readers will root for Margaret's success, admire her determination, and applaud her abhorrence of conformity wherever she finds it. --Jennifer Mattson Copyright 2003 Booklist"
From Booklist, Copyright (c) American Library Association. Used with permission.
Publisher's Weekly Review:
"This elegant, absorbing novel focuses on Margaret, half-sister of Connor (the narrator of Silent to the Bone) the summer she is 12, in 1983 (long before Connor's birth). As the novel opens, Margaret's Hungarian immigrant great-uncle Alex shows up at her summer camp to remove her mid-session. He bests the autocratic camp director as the woman attempts to demonstrate her professionalism and suggests that Margaret is "incorrigible." Konigsburg strikes just the right balance: Uncle Alex, Margaret and, by extension, the audience, are immediately allied against the forces of pomposity and falsehood. En route to the house Uncle Alex shares with his brother (Margaret's parents, professors, are working in Peru), Margaret, who narrates, lets readers know that she has been bullied by her cabin mates while the camp director has been willfully blind (the heroine never does tattle). Konigsburg's fans will expect that Margaret is not simply there to be rescued, however, and it is Margaret who ends up making the biggest stand. In their backyard Uncle Alex and Uncle Morris have built extraordinary towers that have stood for 45 years (the structures inevitably evoke the Towers of Watts); now that their once-abandoned and dangerous neighborhood has been gentrified, the new residents have won a campaign to tear down the towers, arguing that they "don't fit the [district's] history." These premises lay fertile ground for penetrating discussions about how a culture defines history and art. While the novel strikes a few uncharacteristically false notes toward the end, the author offers readers so much, so well, that her book is a veritable feast, amply demonstrating how intelligence can triumph over pretense. Ages 10-up. (Feb.) (c) Copyright PWxyz, LLC. All rights reserved"
(c) Copyright PWxyz, LLC. All rights reserved
Additional Information