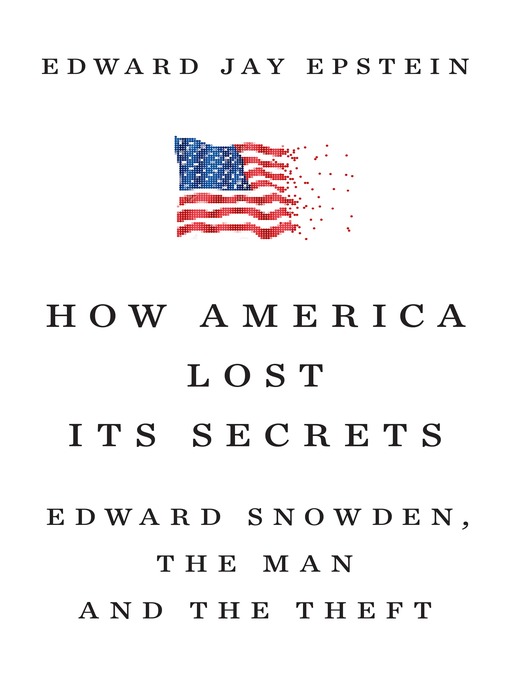 How America lost its secrets Edward Snowden, the man and the theft
Format:

OverDrive MP3 Audiobook

2017

2017

OverDrive Listen

Availability:

Available from OverDrive

1 of 1 copy
Summary
A groundbreaking exposé that convincingly challenges the popular image of Edward Snowden as hacker turned avenging angel, while revealing how vulnerable our national security systems have become—as exciting as any political thriller, and far more important. After details of American government surveillance were published in 2013, Edward Snowden, formerly a subcontracted IT analyst for the NSA, became the center of an international controversy: Was he a hero, traitor, whistle-blower, spy? Was his theft legitimized by the nature of the information he exposed? When is it necessary for governmental transparency to give way to subterfuge? Edward Jay Epstein brings a lifetime of journalistic and investigative acumen to bear on these and other questions, delving into both how our secrets were taken and the man who took them. He makes clear that by outsourcing parts of our security apparatus, the government has made classified information far more vulnerable; how Snowden sought employment precisely where he could most easily gain access to the most sensitive classified material; and how, though he claims to have acted to serve his country, Snowden is treated as a prized intelligence asset in Moscow, his new home.From the Hardcover edition.

Published Reviews
Booklist Review:
"*Starred Review* With a half-dozen works on espionage and unsolved crimes under his belt, veteran journalist Epstein focuses a wealth of investigative insight on tackling the enigma of Edward Snowden, the self-proclaimed whistle-blower on the National Security Agency's domestic spying program. Although most U.S. government officials deem Snowden a traitor, in contrast to the hackers and libertarians who revere him, Epstein treads a fine line by letting readers decide the expatriate's moral fitness for themselves. The author begins by explaining how a high-school dropout and avid computer gamer with the grandiose online alias, Wolfking Awesomefox, landed a job with the CIA (an admiral grandfather pulled some strings) and eventually gained top-security clearance with the NSA (outside contractors ran a flawed background check). Despite Snowden's inflated comments about himself in later interviews, such as claiming he'd been a senior defense agency adviser, Epstein emphasizes that Snowden was at least sincere in his conviction that U.S. security agencies were violating citizen rights to privacy. In addition to giving a full and nuanced portrait of the man himself, Epstein details the shattering impact Snowden's theft and famous June 9, 2013, video announcement has had on the agency and the intelligence community worldwide. A riveting and informative work for both Snowden watchers and espionage buffs.--Hays, Carl Copyright 2016 Booklist"
From Booklist, Copyright (c) American Library Association. Used with permission.
Additional Information