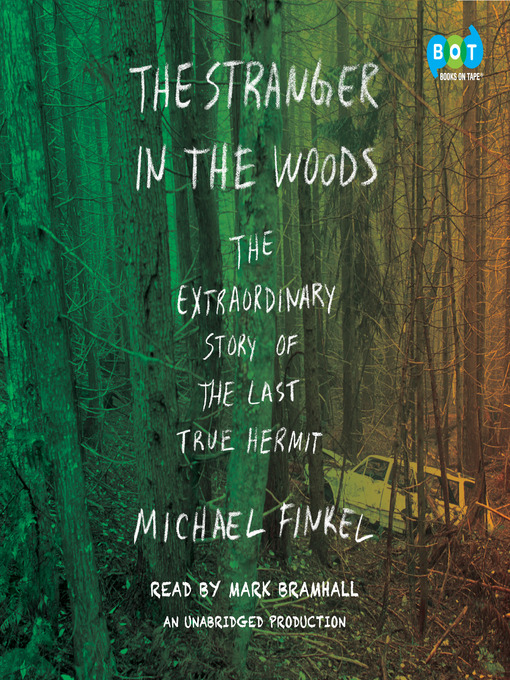 The stranger in the woods the extraordinary story of the North Pond hermit
Format:

OverDrive MP3 Audiobook

2017

2017

OverDrive Listen

Availability:

Available from OverDrive

2 of 5 copies
Summary
"For readers of Jon Krakauer and The Lost City of Z, a remarkable tale of survival and solitude--the true story of a man who lived alone in a tent in the Maine woods, never talking to another person and surviving by stealing supplies from nearby cabins for twenty-seven years. In 1986, twenty-year-old Christopher Knight left his home in Massachusetts, drove to Maine, and disappeared into the woods. He would not have a conversation with another human being until nearly three decades later when he was arrested for stealing food. Living in a tent even in winter, he had survived by his wits and courage, developing ingenious ways to store food and water, to avoid freezing to death. He broke into nearby cottages for food, clothes, reading material, and other provisions, taking only what he needed, but terrifying a community never able to solve the mysterious burglaries. Based on extensive interviews with Knight himself, this is a vividly detailed account of the why and how of his secluded life--as well as the challenges he has faced returning to the world. A riveting story of survival that asks fundamental questions about solitude, community, and what makes a good life, and a deeply moving portrait of a man who was determined to live his own way, and succeeded"--Publisher description.

Published Reviews
Booklist Review:
"Finkel's True Story (2005) mixed journalism and memoir and was made into a movie in 2015. Here, Finkel investigates Christopher Knight, who in 1986, at 20, walked into the woods of central Maine and stayed for 27 years. Knight maintained a strict moral code yet sustained himself by repeatedly burglarizing lake cottages and a nearby summer camp. He took only what he needed and shocked police with his crime-scene neatness and repair of the doors and windows he jimmied open. Aside from nearly deadly winters, Knight led an easy life in the woods, reading, listening to radio, and even enjoying a five-inch TV. Upon capture and incarceration, he became depressed, which, when he was set free, worsened as he struggled to reassimilate. Most clinicians doubt that Knight's hermit behavior was due to a medical condition, and he seems stable at the book's end. Some people empathize with Knight, but many cottage owners in his crime zone suffered understandable trauma. Big-budget promotion and the intriguingly unusual subject should create strong demand.--Carr, Dane Copyright 2017 Booklist"
From Booklist, Copyright (c) American Library Association. Used with permission.
Publisher's Weekly Review:
"On a summer morning in 1986, 20-year-old Christopher Knight didn't show up for his job installing alarm systems in Waltham, Mass. Nearly three decades passed before he reappeared and revealed he'd spent most of that time camping in the woods of central Maine. In this fascinating account of Knight's renunciation of humanity, Finkel (True Story: Murder, Memoir, Mea Culpa) struggles to comprehend the impulses that led Knight to court death by hypothermia even though his family home was less than an hour's drive away. To survive, Knight relentlessly pilfered supplies from vacation houses around his campsite, infuriating and terrifying homeowners and baffling a generation of cops. Finally apprehended during one of his raids, the "Hermit of North Pond" battled depression and contemplated suicide as he was forced to rejoin society. Drawn by the details that followed Knight's arrest, Finkel reached out to him through letters and visits. Despite frequent rebuffs, enough of a relationship developed for Finkel to broadly outline Knight's wilderness solitude. A fellow outdoorsman, Finkel places Knight in the long tradition of hermits, a category that has been admired and distrusted over the centuries. Yet even as Finkel immerses himself in Knight's life-researching hermits, consulting psychologists, even camping at Knight's hideaway-his subject's motivations remain obscure, leaving the book somehow incomplete. The book doesn't penetrate the mystery of Knight's renunciation, but the questions it raises remain deeply compelling. (Mar.) © Copyright PWxyz, LLC. All rights reserved."
(c) Copyright PWxyz, LLC. All rights reserved
Additional Information