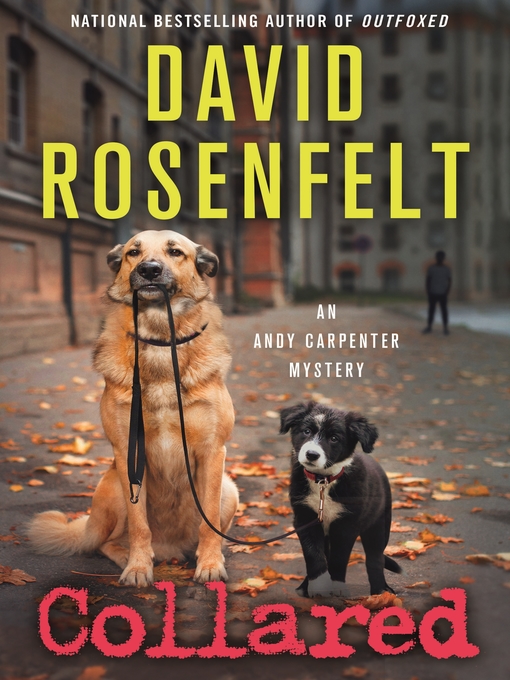 Collared
Format:

Kindle Book

2017

2017

Adobe EPUB ebook

OverDrive Read

Availability:

Available from OverDrive

1 of 1 copy
Summary
"Lawyer Andy Carpenter's true passion is the Tara Foundation, the dog rescue organization he runs with his friend Willie Miller. All kinds of dogs make their way to the foundation, and it isn't that surprising to find a dog abandoned at the shelter one morning, though it was accompanied by a mysterious anonymous note. But they are quite surprised when they scan the dog's embedded chip, and discover that they know this dog. He is the "DNA dog." Two and a half years ago, Jill Hickman was a single mother of an adopted baby. Her baby and dog were kidnapped in broad daylight in Eastside Park, and they haven't been seen since. A tip came in that ID'd a former boyfriend of Hickman's, Keith Wachtel, as the kidnapper. A search of his house showed no sign of the child but did uncover more incriminating evidence, and the clincher that generated Wachtel's arrest was some dog hair, notable since Wachtel did not have a dog. DNA tests showed conclusively that the hair belonged to Hickman's dog. Wachtel was convicted of kidnapping, but the dog and baby were never found. Now, with the reappearance of the dog, the case is brought back to light, and the search for the child renewed. Goaded by his wife's desire to help a friend and fellow mother and Andy's desire to make sure the real kidnapper is in jail, Andy and his team enter the case. But what they start to uncover is far more complicated and dangerous than they ever expected"--

Published Reviews
Booklist Review:
"In Rosenfelt's latest mystery featuring defense attorney and dog enthusiast Andy Carpenter (Outfoxed, 2016), Andy faces the kidnapping of a dog and a young child. Though the dog is recovered fairly quickly, the whereabouts of the child, Dylan, require the full length of the book to sort out. When Keith Wachtel contacts Andy from prison, a new (and yet old) plot thread is introduced in the deception and intrigue. Keith and Dylan's mother, Jill, both worked for a high-tech DNA company that isn't all that it seems. Andy and his detective wife, Laurie, drill into the company's secrets and encounter murders aplenty, but the blood and gore are almost nonexistent. Faithful readers will find that Andy has lost none of his sardonic wit and cynical view of the world; his regular sidekicks, Hike and Marcus, are still working for him, too. Though Andy's dogs, Tara and Sebastian, play almost no part in the plot this time around, the recovered dog is essential to the book's proceedings. Rosenfelt structures chapters to keep the pages turning, too.--Curbow, Joan Copyright 2017 Booklist"
From Booklist, Copyright (c) American Library Association. Used with permission.
Publisher's Weekly Review:
"Fans of Edgar-finalist Rosenfelt's series featuring independently wealthy New Jersey lawyer and dog rescue enthusiast Andy Carpenter will get a jolt when they pick up the outstanding 16th entry (after 2016's The Twelve Dogs of Christmas): Andy is contemplating letting his law license lapse. His alarmed wife, Laurie, who loves him dearly, doesn't relish the prospect of having to live with a very bored and very cranky spouse. Luckily, a mysterious woman abandons a border collie at Andy's dog rescue organization, and a complicated case unfolds that requires the services of a licensed attorney. An implanted microchip identifies the dog as belonging to businesswoman Jill Hickman, whose infant son was abducted from a park three years earlier along with the dog. Neither was ever found until now. With the animal's sudden reappearance, the investigation is reopened, and Andy, plus his crack team of quirky irregulars, gets on the Hickman kidnapping case. Smart plot twists ensue, and everyone-Andy, Laurie, and readers-are all the happier for it. Agent: Robin Rue, Writers House. (July) © Copyright PWxyz, LLC. All rights reserved."
(c) Copyright PWxyz, LLC. All rights reserved
Additional Information