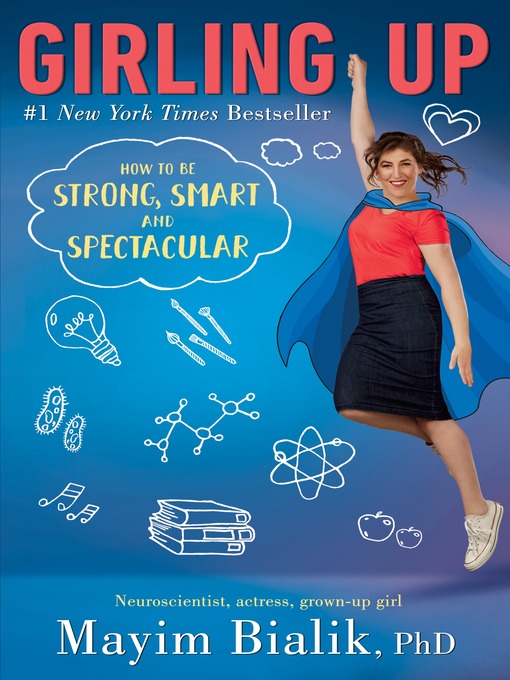 Girling up how to be strong, smart and spectacular
Format:

Kindle Book

2017

2017

Adobe EPUB ebook

OverDrive Read

Availability:

Available from OverDrive

1 of 1 copy
Summary
Mayim Bialik, star of The Big Bang Theory, puts her Ph.D. to work as she talks to teens about the science of growing up and getting ahead. A must-have book for all teenage girls.Growing up as a girl in today's world is no easy task. Juggling family, friends, romantic relationships, social interests and school...sometimes it feels like you might need to be a superhero to get through it all! But really, all you need is little information. Want to know why your stomach does a flip-flop when you run into your crush in the hallway? Or how the food you put in your body now will affect you in the future? What about the best ways to stop freaking out about your next math test? Using scientific facts, personal anecdotes, and wisdom gained from the world around us, Mayim Bialik, the star of The Big Bang Theory, shares what she has learned from her life and her many years studying neuroscience to tell you how you grow from a girl to a woman biologically, psychologically and sociologically. Want to be strong? Want to be smart? Want to be spectacular? You can! Start by reading this book.

Contents
Introduction
How our bodies work
How we grow
How we learn
How we love
How we cope
How we matter.
Published Reviews
Booklist Review:
"Bialik gives an appealing account of how a girl transforms into a young woman from a biological perspective. She may play a neurobiologist on television's The Big Bang Theory, but Bialik also has a PhD in neuroscience in real life, which lends credence and authenticity to her book. Using scientific evidence, she explains how girls' bodies grow, notes how they spend their time, gives dating and socializing advice, offers tips on how to cope with the hard stuff (like stress), and discusses how to make a difference in a significant way. Through her honest and open personal anecdotes (she states that she herself was a late bloomer), she reassures girls that they are all unique and shouldn't try to be anything but themselves. Refreshingly, the occasional black-and-white illustrations portray female body types of a more average size. Bialik is encouraging without being preachy, although at times seems a bit old-fashioned in her outlook. Still, many teens will be drawn to this engaging and useful book.--Rawlins, Sharon Copyright 2010 Booklist"
From Booklist, Copyright (c) American Library Association. Used with permission.
Publisher's Weekly Review:
"Combining her personal experiences and academic credentials, Bialik-television star, mother of two, and neuroscientist-tackles six aspects of what she calls "girling up," "the transition from girl to young woman." When discussing widely covered topics that include body and image, the importance of a balanced diet, exercise, and growth, Bialik adds a few novelties-for example, yoga poses that relieve menstrual cramps and the introduction of mindfulness to eating and stress management. The chapters "How We Love," "How We Cope," and "How We Matter" provide greater value; they are direct, comprehensive, and emphasize the importance of taking responsibility and making choices based on knowledge and self-awareness. Unfortunately, good points are too often buried within a paragraph, and Bialik's understanding of how the brain works is underused. The book is careful to avoid judgment, conversational in tone, and filled with common sense advice, but Bialik at times harks back to her own era rather than fully addressing issues-especially pressing concerns such as sexting and cyberbullying-raised by the explosion of digital technology. Ages 12-up. Agent: Anthony Mattero, Foundry Literary + Media. (May) © Copyright PWxyz, LLC. All rights reserved."
(c) Copyright PWxyz, LLC. All rights reserved
Additional Information