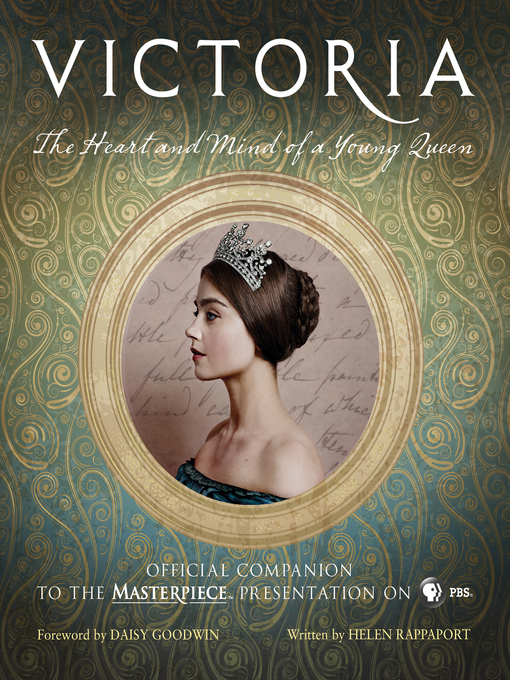 Victoria: The Heart and Mind of a Young Queen Official Companion to the Masterpiece Presentation on PBS.
Format:

Kindle Book

2017

2017

Adobe EPUB ebook

OverDrive Read

Availability:

Unavailable

0 of 1 copy
Summary
Foreword by Daisy Goodwin The official companion to ITV's hotly anticipated new drama, Victoria delves into the private writings of the young Queen Victoria, painting a vivid picture of the personal life of one of England's greatest monarchs. From the producers of Poldark and Endeavour, ITV's Victoria follows the early years of the young queen's reign, based closely on Victoria's own letters and journals. Now explore this extensive collection in greater depth, and discover who Victoria really was behind her upright public persona. At only eighteen years old, Victoria ascended the throne as a rebellious teenager and gradually grew to become one of the most memorable, unshakeable and powerful women in history. The extensive writings she left behind document this personal journey and show how she triumphed over scandal and corruption. Written by author and Victoria historical consultant, Helen Rappaport, and including a foreword by Daisy Goodwin—acclaimed novelist and scriptwriter of the series—Victoria details the history behind the show. Revealing Victoria's own thoughts about the love interests, family dramas and court scandals during her early reign, it also delves into the running of the royal household, the upstairs-downstairs relationships, and what it was like to live in Victorian England. Full of beautiful photography from the series and genuine imagery from the era, Victoria takes you behind the palace doors and discover the girl behind the queen

Published Reviews
Booklist Review:
"It has become popular to contextualize certain monarchs not in toto as they ended up (dour or corpulent or tyrannical or pathetic) but in the prime of their youth. Henry VIII has received this treatment, and Queen Victoria now seems to be the sovereign du jour. Goodwin's (The Fortune Hunter, 2014) novel of the young queen, painted here as a guileless romantic heroine, covers her accession and her marriage proposal to Prince Albert, a latecomer who forms a romantic triangle with Victoria and the prime minister, Lord Melbourne. Typical for royal fiction, the drama comes from the machinations of factious, self-serving courtiers and politicians attempting to control or destroy the monarch, in this case a sheltered, immature young woman fumbling toward effective queenship. The sympathetic, older, and rather tragic Melbourne guides her and alleviates her loneliness, and the relationship between the two underpins the novel. Goodwin wrote this simultaneously with the screenplay for Masterpiece Theatre's Victoria, slated to air in early 2017. Highly recommended for historical-fiction collections. HIGH-DEMAND BACKSTORY: Best-selling Goodwin always draws in fans, but expect extra buzz and lots of promotion as news of the TV series elevates demand for the book.--Latham, Bethany Copyright 2016 Booklist"
From Booklist, Copyright (c) American Library Association. Used with permission.
Publisher's Weekly Review:
"Inspired by the diaries of Queen Victoria, British TV producer and author Goodwin (The American Heiress) mines a rich vein of royal history with the ascension of the impetuous and imperious 18-year-old-whose sole companions were dolls and a lapdog-to the English throne in 1837. "Your subjects are not dolls to be played with. To be a queen, you have to be more than a little girl with a crown," scolds a dying lady of the court whom Victoria has cruelly shamed. It is a heartbreaking lesson as the new monarch navigates the palace and political intrigues under the guidance of her charming and lovelorn prime minister, Lord Melbourne. It's this relationship between the impressionable teen and her attentive middle-aged adviser that forms the irresistible emotional center of Goodwin's rich and passionate historical novel. "When you give your heart it will be without hesitation... but you cannot give it to me," Melbourne tells Victoria after she confesses that her prime minister is "the only companion I could ever desire." Rejected, Victoria begins the stormy and politically fraught courtship with her German cousin and future husband, Albert. That true-life ending, however, pales in comparison to Goodwin's timeless recounting of a young girl's aching first love. (Dec.) © Copyright PWxyz, LLC. All rights reserved."
(c) Copyright PWxyz, LLC. All rights reserved
Additional Information