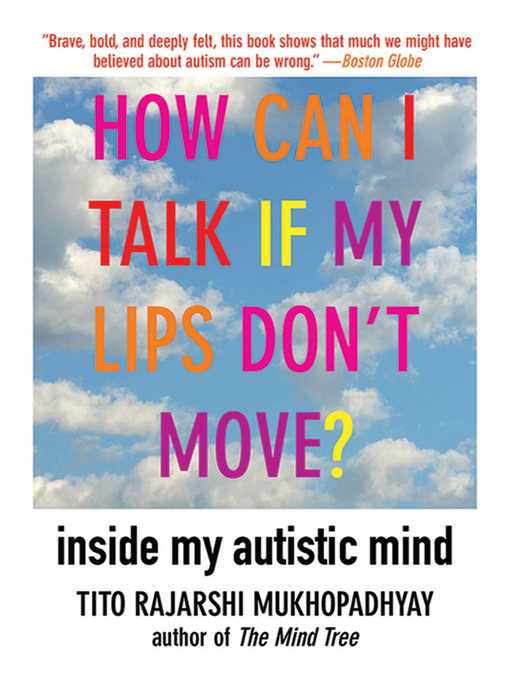 How can I talk if my lips don't move inside my autistic mind
Format:

Kindle Book

2011

2011

Adobe EPUB ebook

OverDrive Read

Availability:

Available from OverDrive

1 of 1 copy
Summary
Autistic author Tito Rajarshi Mukhopadhyay provides insight into how the mind of an autistic person works and how someone with autism views the world.

Contents
Machine generated contents note: Through the Mirror
Color of Basic Words
Color of My Scream
Following the Belief
What Could the Upstairs Mirror Tell the Handheld Mirror?
No Wonder I Don't Talk!
Shadows Don't Tell Stories
Flapping My Hands, Flapping My Shadow
Autism! A Fancy Word
Shadows the Color of My Scream!
Tracing the Shape of Shadows and Trapping Them in Place
My Story Forms around Staircases
Railway Staircases
Why Was Mother Stopping Me from Climbing?
Those Building Blocks
I No Longer Need to Climb
Escalator Ride
Power to Control Darkness and Light
Unpredictability
Power of a Ceiling Fan to Make Me Feel Sure
Power Outages Happened, Despite the Moving Fan
Power Outages Followed through My Older Years
Feeding My Body
"Wish He Could Dress Himself"
When Learning Turns to Obsession
Torn Shirts
Walking in My Shoes
Grip on the Shoelaces
"How Do You Perceive a Linear Situation?"
Perceiving a Nonlinear Situation, with Unpredictable Results
In a Crowded Place
On a Swing
Perceiving Faces
Everyday Faces
Magazine Pictures
Exposure Helps Shape Visual Perception
When I Think of the Wind, I Am the Wind
Overperceiving and Underperceiving
Why Couldn't I Draw a Sun?
Game of Catch
Ball-Man
"What's Going On Here?"
Scattered Senses
Boy Who Does Not Talk but Solves Jigsaw Puzzles
"Who Knows What I Had Written Down as My Answer to 4 + 2 = ?"
Learning to Write
Divine Phenomenon!
Writing Down Dictated Words
It Worked Better than a School
Struggling Our Way Out of a Belief System
"I Need You to Prescribe Me Some Medicine"
Obsessions to Count
Power Outage in the Metro Rail
Reaching the Other End
"Tell Us What He Was Reading"
Why Factual Memory Is Safer than Episodic Memory
Talking about Memories
How Do I Recall?
Am I in Pain?
Published Reviews
Booklist Review:
"Eighteen when he completed this book, Mukhopadhyay is severely autistic. He dislikes how he sounds when he speaks, and speaking is difficult for him, anyway, so he generally doesn't. The book's title refers to the quandary speech initially put him in. As a small child, he conceived lip movement as necessarily precedent to voicing words; since he couldn't get his lips to move, he couldn't vocalize. He communicates spendidly in writing, though, as in brief chapters he recalls how he learned virtually all the things many other very bright youngsters have learned at his age. And he is exceptionally knowledgeable as well as bright, thanks to a mother who started educating him verbally while very deliberately helping him learn physical routines (dressing, drawing, etc.) as a toddler. Hence, he is obviously a whiz at math and science. He knows English poetry well, too part of the language skills that he exercises as no one has before to tell us, the neurologically normal, what the world is like to one who genuinely sees things differently.--Olson, Ray Copyright 2007 Booklist"
From Booklist, Copyright (c) American Library Association. Used with permission.
Publisher's Weekly Review:
"In short chapters, some including evocative prose poems, Mukhopadhyay, a severely autistic adolescent whose mother painstakingly taught him how to read and write, introduces the reader to his daily inner life. Sometimes his thoughts are compulsive-he misses an entire film while mentally drawing diagonals across every one of the design squares on the cinema's ceiling-and sometimes fragmented, as when looking at a bucket: "I might easily get distracted by its redness, since it would remind me of how my hands bled when I had fallen from a swing, how I was so absorbed in that red that I had forgotten about my pain, and how that red resembled a hibiscus...." Mukhopadhyay reflects on autism without romanticizing it, acknowledging "my physical and neurological limitations" and declaring, "I am not worried about hell because I have experienced it here on earth." Occasionally, his writing is somewhat sketchy, but for the most part this is an eye-opening book on a serious disorder and the hope that other autistic children can learn to transcend it through education and imaginative self-reflection. (Jan.) (c) Copyright PWxyz, LLC. All rights reserved"
(c) Copyright PWxyz, LLC. All rights reserved
Additional Information