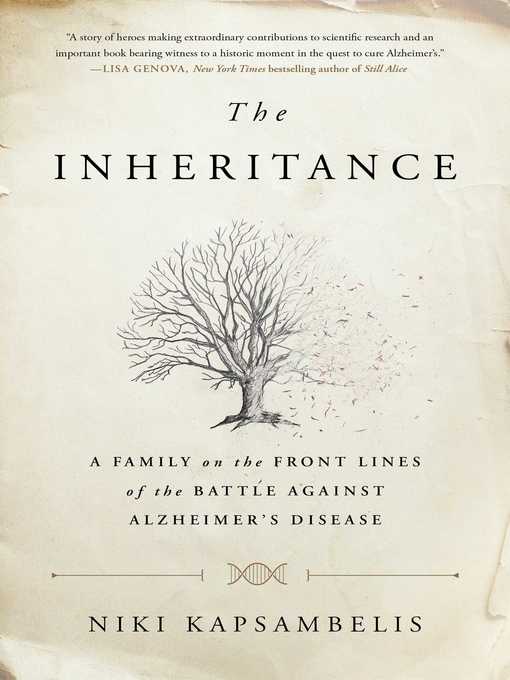 The inheritance a family on the front lines of the battle against Alzheimer's disease
Format:

Kindle Book

2017

2017

Adobe EPUB ebook

OverDrive Read

Availability:

Available from OverDrive

1 of 1 copy
Summary
"An inspiring race against time: The courageous, hopeful story of the one family who may hold the key to finding a cure for Alzheimer's disease. Every sixty-nine seconds, someone is diagnosed with Alzheimer's disease. Of the top ten killers, it is the only disease for which there is no cure or treatment. For most people, there is nothing that they can do to fight back. But one family is doing all they can. The DeMoe family has the most devastating form of the disease that there is: early onset Alzheimer's, an inherited genetic mutation that causes the disease in 100 percent of cases, and has a 50 percent chance of being passed onto the next generation. Of the six DeMoe children whose father had it, five have inherited the gene; the sixth, Karla, has inherited responsibility for all of them. But rather than give up in the face of such news, the DeMoes have agreed to spend their precious, abbreviated years as part of a worldwide study that could utterly change the landscape of Alzheimer's research and offers the brightest hope for future treatments--and possibly a cure. Drawing from several years of in-depth research with this charming and upbeat family, journalist Niki Kapsambelis tells the story of Alzheimer's through the humanizing lens of these ordinary people made extraordinary by both their terrible circumstances and their bravery. Their tale is intertwined with the dramatic narrative history of the disease, the cutting-edge research that brings us ever closer to a possible cure, and the accounts of the extraordinary doctors spearheading these groundbreaking studies. From the oil fields of North Dakota to the jungles of Colombia, this incredible narrative redefines courage in the face of one of the most pervasive and mysterious pandemics of our time"--

Contents
The enemy within
The salt of the earth
Family N
One in a million
You are my sunshine
The ghosts of Anoka
Untamed hearts
A blameless and upright man
The fruits of persistence
Déjà vu
When the fog rolls in
Maldición
Burden of proof
The rise and fall of Golden Boy
Favorite son
The Baptists and the Tauists
Expelled from Eden
Safe havens
A big if
Everyone sees the power
Landslide
Something to shoot for
The silver tsunami
The lucky ones
Follow the science
Like father, like son
All the cards are on the table
Coming home
Palpable momentum
To the Moon and back.
Published Reviews
Booklist Review:
"The DeMoes, the genetically unblessed stars of this journalistic look at Alzheimer's, know that they have a 50-50 chance of carrying a genetic mutation that causes early-onset dementia in everyone who inherits it. Should they get tested, or stay in the dark? Is ignorance bliss? And will they fare better or worse than the statistical odds? Kapsambelis, an empathetic reporter and storyteller, obviously cares deeply for the DeMoes. She met them back in 2009, when she was assigned to write a short article about a North Dakota family involved in Alzheimer's research at the University of Pittsburgh. She immediately decided they deserved a book, and, indeed, they do. Kapsambelis both zooms in on the DeMoes and zooms out to give the big picture of this heartbreaking disease, which can turn a gentle giant into a violent one and can shrink a 3-pound brain to 2.3 pounds. She also clearly explains the controversy over whether amyloid plaques or tau tangles drive Alzheimer's. With its ethical quandaries and likeable characters, this absorbing story will be of interest to medically curious readers.--Springen, Karen Copyright 2017 Booklist"
From Booklist, Copyright (c) American Library Association. Used with permission.
Additional Information