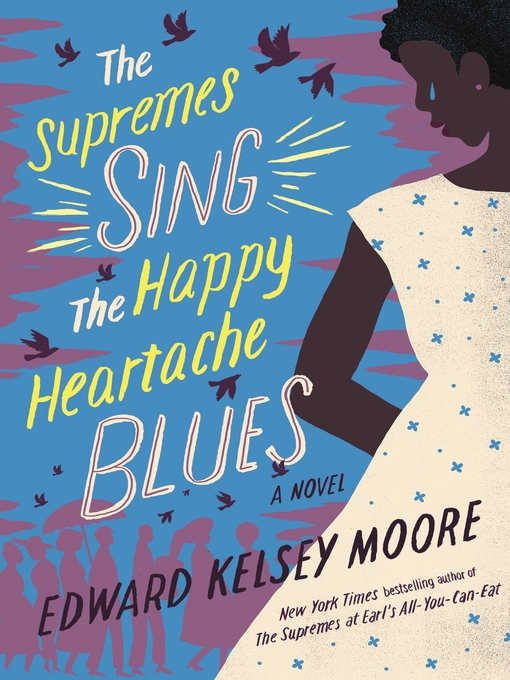 The Supremes sing the happy heartache blues a novel
Format:

Kindle Book

2017

2017

Adobe EPUB ebook

OverDrive Read

Availability:

Available from OverDrive

1 of 1 copy
Summary
"From the author of the bestselling The Supremes at Earl's All-You-Can-Eat, an exuberant and poignant new novel of passions, family, and forgiveness. When a late life love affair blooms between Mr. Forrest Payne, the owner of the Pink Slipper Gentleman's Club, and Miss Beatrice Jordan, famous for stationing herself at the edge of the club's parking lot and yelling warnings of eternal damnation at the departing patrons, their wedding summons a legend to town. Mr. El Walker, the great guitar bluesman, comes home to give a command performance in Plainview, Indiana, a place he'd sworn--and for good reason--he'd never set foot in again. But El is not the only Plainview native with a hurdle to overcome. A wildly philandering husband struggles at last to prove his faithfulness to the wife he's always loved. A young transwoman lights out for show biz and Chicago to escape her father's wrath and live an authentic life. And among those in this tightly knit community who show up every Sunday after church for lunch at Earl's All-You-Can-Eat, are the lifelong friends, known locally as "The Supremes" --Clarice, facing down her longing for, chance at and fear of a great career; Barbara Jean, grappling at last with the loss of a mother whose life humiliated both of them, and Odette, reaching toward her husband through an anger of his that she does not understand. Ed Moore's lively cast of characters, each of whom have surmounted serious trouble and come into love, need not learn how to survive but how, fully, to live. And they do, every one of them, serenaded by the bittersweet and unforgettable blues song El Walker plays, born of his own great loss and love"--

Published Reviews
Booklist Review:
"As Moore continues the tale begun in The Supremes at Earl's All-You-Can-Eat (2013), blues-legend El Walker, who left Plainview, Indiana, ages ago, returns to sing at the unlikely wedding of the town's strip-club owner and its most straitlaced and religious matron. El had sworn never to return after his drug habit and long-buried history cost him his marriage and relationship with his son. His return triggers old secrets and ripples through the lives of the Supremes, three women whose childhood friendship has survived marital, health, and all manner of other crises. Odette continues to manage visits by the spirit of her long-departed mother, even as she helps her husband, James, cope with the return of his estranged father, El. Recovering-alcoholic Barbara Jean is confronted with memories of her long-dead mother, a childhood acquaintance of El's. Clarice copes with ardent efforts by her estranged husband to revive the marriage and her own rising musical career as a concert pianist. Moore weaves together the lives of these women and their families into a story that closely examines the impact of a father's presence or absence on children well into adulthood.--Bush, Vanessa Copyright 2017 Booklist"
From Booklist, Copyright (c) American Library Association. Used with permission.
Publisher's Weekly Review:
"Moore (The Supremes at Earl's All-You-Can-Eat) returns to Plainview, Ind., to tell further delightful tales of the Supremes, with story lines filled with music and the pain between fathers and their adult children. If these Supremes were a musical group rather than childhood friends with a nickname that has lasted decades, Odette Henry would be the lead singer. She is always trying to help those around her and has become accustomed to receiving sometimes-useful advice from her dead mother and other spirits. Odette and her friend Barbara Jean Carlson hope to orchestrate a reconciliation between blues man El Walker, long absent from town, and his son, Odette's husband, James. Other plot threads follow the third Supreme, Clarice Baker, who's struggling with nerves before her Chicago piano concert. Moore weaves these and other strands together beautifully, with humor balancing out the more painful moments. His characters, both living and dead, come together to make a wonderful whole. (June) © Copyright PWxyz, LLC. All rights reserved."
Additional Information