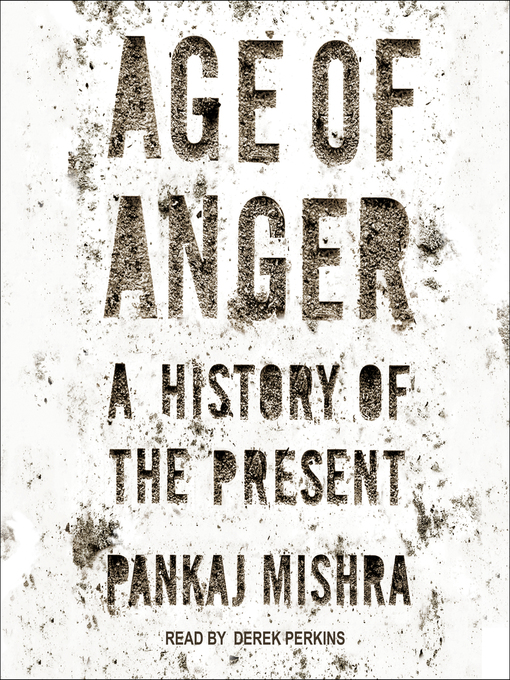 Age of anger A History of the Present
Format:

OverDrive MP3 Audiobook

2017

2017

OverDrive Listen

Availability:

Available from OverDrive

1 of 1 copy
Summary
One of our most important public intellectuals reveals the hidden history of our current global crisis.

Published Reviews
Booklist Review:
"*Starred Review* While contemporaries anticipated global progress, American philosopher George Santayana warned of an impending lava-wave of primitive blindness and violence. In recent history, Mishra sees that lava-wave and seeks to understand it. He finds essential interpretive insight in the eighteenth-century clash of the rationalist Voltaire and the romantic Rousseau. Challenging Voltaire's desire to create a society of individuals governed by enlightened self-interest, not religion or tradition, Rousseau warned that such a society would strip men of their wholeness, their virtue, while locking them in invidious competition. From Nietzsche, Kierkegaard, Dostoyevsky, Rimbaud, Tocqueville, and others, Mishra gleans evidence that Voltaire's heirs have indeed let loose a dangerous dynamic by fostering widespread hopes that only a privileged elite can satisfy. Frustrated masses uprooted from faith and historic communities have joined lava-wave authoritarian movements, or descended into resentful (often violent) personal victimhood. Hence, the aggressive nationalism that sparked Europe's Great War of 1914-18; hence, the murderous racism that built Auschwitz; hence, the brutal class antipathies that created the Gulag. Sadly, Mishra sees this same lava-wave drama playing out again in the twenty-first century, not only in Asia and Africa but also in a Europe shattered by Brexit and an America rallying behind Donald Trump. A disturbing but imperatively urgent analysis.--Christensen, Bryce Copyright 2017 Booklist"
From Booklist, Copyright (c) American Library Association. Used with permission.
Publisher's Weekly Review:
"Perkins puts his erudite but approachable speaking style to good use in the audio edition of Mishra's title on the philosophical heritage behind a recent wave of aggressive nationalism around the globe. Perkins resists the temptation to focus on caricature accents in reading the text, which includes extensive quotations from a range of historical figures hailing from diverse places. However, he does utilize tone and pitch to convey the stances and temperaments of these leaders, which makes it easier for listeners to grasp points about the sweeping divide between the elitism of Voltaire and the natural-man ideals of Rousseau and follow passages drawing out common threads in the diatribes of Oklahoma City bomber Timothy McVeigh and the pronouncements of al-Qaeda and ISIS. Perkins and Mishra complement one another, making this intellectually challenging material easier to comprehend. A Farrar, Straus and Giroux hardcover. (Feb.) © Copyright PWxyz, LLC. All rights reserved."
(c) Copyright PWxyz, LLC. All rights reserved
Additional Information