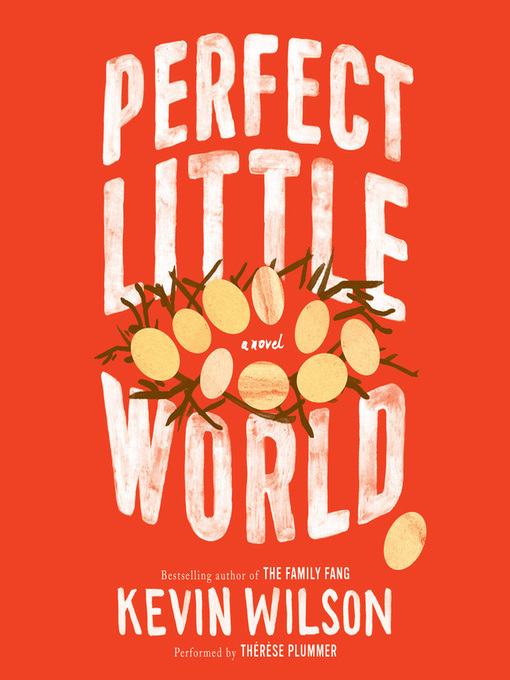 Perfect little world A Novel
Format:

OverDrive MP3 Audiobook

2017

2017

OverDrive Listen

Availability:

Unavailable

0 of 1 copy
3 people on waitlist
Summary
When Isabelle Poole meets Dr. Preston Grind, she's just about out of options. She recently graduated from high school and is pregnant with her art teacher's baby. Her mother is dead and her father is a drunk. The art teacher is too much of a head-case to help raise the child. Izzy knows she can be a good mother but without any money or prospects, she's left searching.So when Dr. Grind offers her a space in The Infinite Family Project, she accepts. Housed in a spacious compound in Tennessee, she joins nine other couples, all with children the same age as her newborn son, to raise their children as one extended family. Grind's theory is that the more parental love a child receives, the better off they are.This attempt at a utopian ideal-funded by an eccentric billionaire-starts off promising: Izzy enjoys the kids, reading to them and teaching them to cook. She even forms a bond with her son more meaningful than she ever expected. But soon the gentle equilibrium among the families is upset and it all starts to disintegrate: unspoken resentments between the couples begin to fester; the project's funding becomes tenuous; and Izzy's feelings for Dr. Grind, who is looking to expunge his own painful childhood, make her question her participation in this strange experiment in the first place.Written with the same compassionate voice, disarming sense of humor, and quirky charm that made The Family Fang such a success, PERFECT LITTLE WORLD is a poignant look at how the best families are the ones we make for ourselves.

Published Reviews
Booklist Review:
"*Starred Review* Preston Grind followed in his parents' professional footsteps, despite their having made him the test case for their theories about child rearing, from which he didn't emerge unscathed literally, as we learn in Wilson's (The Family Fang, 2011) second stellar novel. When Preston's long-nurtured scheme for verifying his ideas by creating a superfamily of several age-mate children and their parents is funded by a billionaire philanthropist, he rouses from the emotional torpor that the accidental deaths of his wife and son induced and sets to work designing the campus for such a family and selecting the adults expecting babies for the projected 10-year experiment. Isobelle Izzy Poole is the odd one of those selected, a just-out-of-high-school single mother whose baby's father, her art teacher, is already dead, a suicide. As the Infinite Family Project (the increasingly portentous name chosen by its funder) per se revolves around Grind, so the storytelling revolves around Izzy. That story, a bit Skinner's Walden Two (1948), a bit Milton's Paradise Lost, is far more compelling and far less sensational than any satire about education since (and including) Jarrell's Pictures from an Institution (1954) as well as much realer and wiser and sadder and eventually reassuring about human nature than dozens of other novels.--Olson, Ray Copyright 2016 Booklist"
From Booklist, Copyright (c) American Library Association. Used with permission.
Publisher's Weekly Review:
"The author of The Family Fang invents another unusual family structure for his sweet and thoroughly satisfying second novel. When bright high school senior Izzy Poole, whose mother has died and whose alcoholic father ignores her, discovers that she is pregnant by the art teacher at her Tennessee school, her choices are limited, especially after the teacher commits suicide. So when she is approached by idealistic child psychologist Dr. Preston Grind to join an experiment in communal child raising funded by the billionaire heiress to a retail store fortune, she somewhat reluctantly takes up the offer. The idea is that Izzy and nine other couples, all pregnant at the same time, will raise their kids in common in the Infinite Family Project for 10 years, to see if that situation aids the children's emotional and intellectual development. The children thrive; the adults, not so much. Wilson keeps his eye on the grown-ups, particularly Izzy and Preston, as rifts begin to form in the carefully planned and maintained structure. Wilson grounds his premise in credible human motivations and behavior, resulting in a memorable cast of characters. He uses his intriguing premise to explore the meaning of family and the limits of rational decision making. Agent: Julie Barer, the Book Group. (Jan.) © Copyright PWxyz, LLC. All rights reserved."
(c) Copyright PWxyz, LLC. All rights reserved
Additional Information
Subjects
Families Fiction
Literature
Fiction
Audiobooks.

Publisher

[Place of publication not identified] :HarperAudio2017




2017



Contributors
OverDrive, Inc.

Participants/Performers

Read by Therese Plummer.



Language

English



System Details

Mode of access: World Wide Web.




Format: OverDrive Listen




Format: OverDrive MP3 Audiobook




Requires OverDrive app 3.0 (Windows) / 1.0 (Mac) / 1.0 (Windows Mobile)



Description

1 audio file : digital



ISBN
9780062658616
9780062658616

Other
Classic View