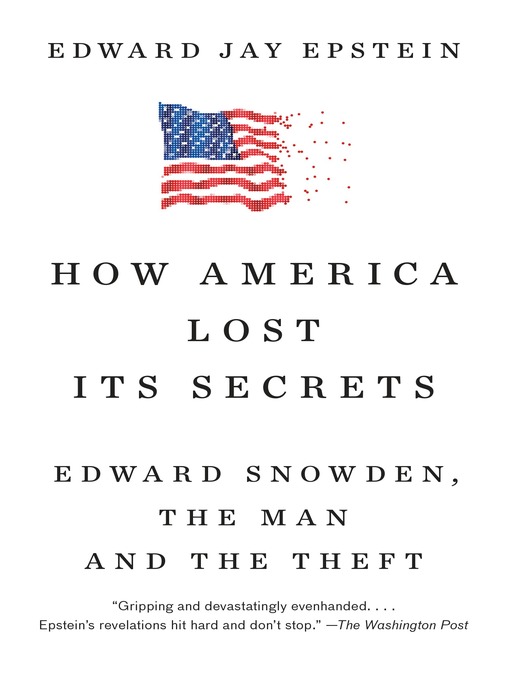 How America lost its secrets Edward Snowden, the man and the theft
Format:

Kindle Book

2017

2017

Adobe EPUB ebook

OverDrive Read

Availability:

Unavailable

0 of 1 copy
1 person on waitlist
Summary
Challenges the popular image of Edward Snowden as hacker turned avenging angel, while revealing how vulnerable the United States' national security systems have become.

Contents
Part One: Snowden's Arc
Tinker
Secret Agent
Contractor
Thief
Crossing the Rubicon
Hacktivist
String Puller
Raider of the Inner Sanctum
Escape Artist
Whistle-blower
Enter Assange
Fugitive
Part Two: The Intelligence Crisis
The Great Divide
The Crime Scene Investigation
Did Snowden Act Alone?
The Question of When
The Keys to the Kingdom are Missing
The Unheeded Warning
Part Three: The Game of Nations
The Rise of the NSA
The NSA's Back Door
The Russians Are Coming
The Chinese Puzzle
A Single Point of Failure
Part Four: Moscow Falling
Off to Moscow
Through the Looking Glass
The Handler
Part Five: Conclusions: Walking the Cat Back
Snowden's Choices
The Espionage Source
The "War on Terror" After Snowden
Published Reviews
Booklist Review:
"*Starred Review* With a half-dozen works on espionage and unsolved crimes under his belt, veteran journalist Epstein focuses a wealth of investigative insight on tackling the enigma of Edward Snowden, the self-proclaimed whistle-blower on the National Security Agency's domestic spying program. Although most U.S. government officials deem Snowden a traitor, in contrast to the hackers and libertarians who revere him, Epstein treads a fine line by letting readers decide the expatriate's moral fitness for themselves. The author begins by explaining how a high-school dropout and avid computer gamer with the grandiose online alias, Wolfking Awesomefox, landed a job with the CIA (an admiral grandfather pulled some strings) and eventually gained top-security clearance with the NSA (outside contractors ran a flawed background check). Despite Snowden's inflated comments about himself in later interviews, such as claiming he'd been a senior defense agency adviser, Epstein emphasizes that Snowden was at least sincere in his conviction that U.S. security agencies were violating citizen rights to privacy. In addition to giving a full and nuanced portrait of the man himself, Epstein details the shattering impact Snowden's theft and famous June 9, 2013, video announcement has had on the agency and the intelligence community worldwide. A riveting and informative work for both Snowden watchers and espionage buffs.--Hays, Carl Copyright 2016 Booklist"
From Booklist, Copyright (c) American Library Association. Used with permission.
Additional Information