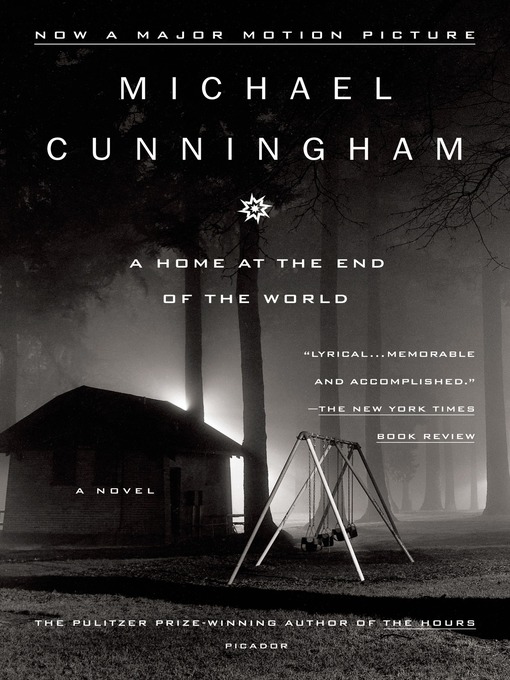 A home at the end of the world
Format:

Kindle Book

2010

2010

Adobe EPUB ebook

OverDrive Read

Availability:

Available from OverDrive

1 of 1 copy
Summary
In New York after college, Bobby moves in with Jonathan and his roommate, Clare, a veteran of the city's erotic wars. Bobby and Clare fall in love, scuttling the plans of Jonathan, who is gay, to father Clare's child. Then, when Clare and Bobby have a baby, the three move to a small house upstate to raise "their" child together and create a new kind of family.

Published Reviews
Booklist Review:
"From the day they meet in seventh grade, Jonathan Glover and Bobby Morrow are bonded. Both from families devastated by the death of a child, each misses something that the other boy supplies. Jonathan is loquacious, lonely, and emotionally needy; Bobby is inarticulate, lonely, and capable of uncritical devotion. When Jonathan needs a lover, Bobby is there. Since Bobby needs a mother, Jonathan's becomes his. When Jonathan pursues college and career in New York, Bobby stays in Cleveland as Jonathan's parents' companion. When Ned and Alice retire to Arizona, Bobby goes to New York, where Jonathan lives in an all-but-marriage with Clare, considering her desire for a child while fulfilling his sexual needs with Erich. Within weeks, Bobby has become devoted to Clare, too, and within months, the father of her child. For a long time, Jonathan doesn't understand why this does not shut him out. Eventually, in the wake of Ned's death and with a move to rural New York, the three attempt a family that comes to include the AIDS-stricken Erich. Relaying these developments in chapters that alternate between Jonathan's, Bobby's, Clare's, and Alice's points of view, Cunningham forges a beautiful, deeply involving novel that stands for its 1970s generation--too young for Vietnam, too old not to be enthralled by hippie freedoms and hippie music--as The Great Gatsby stood for 1920s youth, or more appositely, as Vance Bourjaily's great, underrated The Violated (Dial, 1958) stood for the Korean War generation. ~--Ray Olson"
From Booklist, Copyright (c) American Library Association. Used with permission.
Publisher's Weekly Review:
"Two very different boys are drawn together by their oppressive home lives and by a connection that is both brotherly and sexual in this superb audio adaptation of Cunningham's vivid coming-of-age tale. Clevelanders Bobby Morrow and Jonathan Glover become childhood friends in the 1960s, and their friendship persists well into the '80s, when first Jonathan and then Bobby moves to New York City. There they meet aging hippie Clare, who imposes her own needs upon the two men. Clare, read with unflappable clarity by Van Dyck, attempts to build a normal life for herself using Bobby to become pregnant and Jonathan as emotional support. But as Jonathan's perceptive mother, Alice, warns her son, the unusual family they're creating won't last. Actors Farrell and Roberts who play Bobby and Jonathan respectively in the Warner Brothers motion picture fill the same roles here, and both deliver moving, understated performances. Although some listeners will wish they could soak up this absorbing story all in one sitting, the narrators' well-paced readings force the listener to sit back and appreciate the intricacy and skill of Cunningham's exquisite prose. Based on the FSG hardcover. (July) (c) Copyright PWxyz, LLC. All rights reserved"
(c) Copyright PWxyz, LLC. All rights reserved
Additional Information