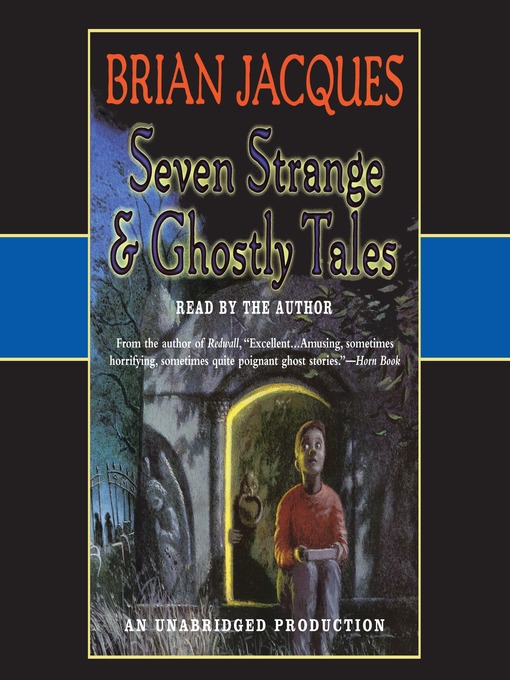 Seven strange & ghostly tales
Format:

OverDrive MP3 Audiobook

2010

2010

OverDrive Listen

Availability:

Available from OverDrive

1 of 1 copy
Summary
A collection of seven creepy stories.

Contents
ch. 1. The fate of Thomas P. Kanne
ch. 2. James and the vampires
ch. 3. Allie Alma
ch. 4. The lies of Henry Mawdsley
ch. 5. Bridgey
ch. 6. The sad history of Gilly Bodkin
ch. 7. R.S.B. limited.
Published Reviews
Booklist Review:
"Gr. 4-7. Author of the heroic-fantasy series including Redwall [BKL Je 1 87], Mossflower [BKL N 1 88], and Mattimeo [BKL Ap 15 90], Jacques turns to another genre, presenting seven genuinely scary tales lit with unexpected touches of humor. Each story includes an element of the supernatural, all the more horrific in the realistic, present-day settings of school, home, and neighborhood. Each story includes, too, a twist of zany wit, all the more hilarious among the frissons of fright. Though the settings are English, the graffiti vandals, liars, sneak thieves, and school bullies depicted here will seem no more foreign than the ghosts, the vampires, and the devil himself, who also inhabit these pages. Well crafted and smoothly written, the book resembles Babbitt's Devil's Storybook [BKL S 1 74] in its polish and panache. While suitable for reading aloud, the tales are even better suited to reading under the covers with a flashlight. ~--Carolyn Phelan"
From Booklist, Copyright (c) American Library Association. Used with permission.
Publisher's Weekly Review:
"Ghost story aficionados may add yet another title to their increasingly crowded reading lists. This collection features seven original stories about the requisite apparitions, vampires and satanic incarnations, all spun with a distinctly English flair. Jacques's ( Redwall ; Mattimeo ) ethereal creations are tame when compared with the violence and gore often found in the genre. Despite a lack of blood, mysterious deaths and hauntings abound: Gilly Bodkin's soul will not rest until he gets some sweets; Thomas P. Kanne is embalmed and mummified while still alive. Chills and thrills are fewer than the book's title might suggest, and the author has infused his own brand of humor into tales about a vampire with a nagging mother and a compulsive liar who dares to tell a whopper to the devil. A few lengthy descriptive passages slow the pace, and a story focusing on an older woman's experience during WW II may be too sophisticated for younger readers, but this is still a good choice for flashlight reading under the covers. Ages 8-up. (Sept.) (c) Copyright PWxyz, LLC. All rights reserved"
(c) Copyright PWxyz, LLC. All rights reserved
Additional Information