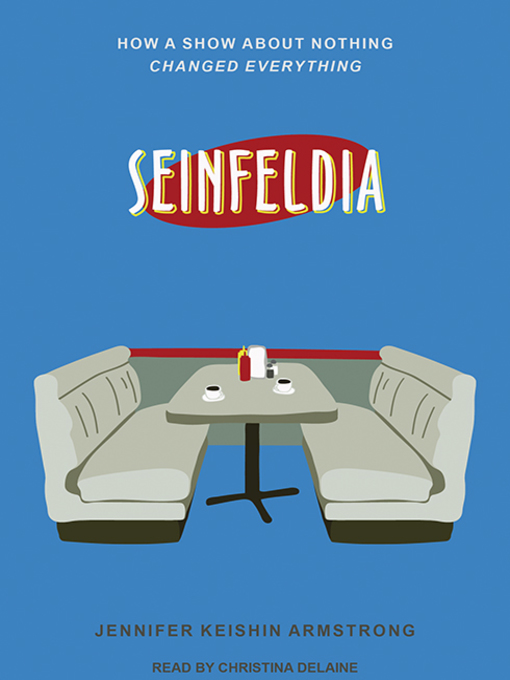 Seinfeldia how a show about nothing changed everything
Format:

OverDrive MP3 Audiobook

2016

2016

OverDrive Listen

Availability:

Available from OverDrive

1 of 2 copies
Summary
Comedians Larry David and Jerry Seinfeld never thought anyone would watch their silly little sitcom about a New York comedian sitting around talking to his friends. NBC executives didn't think anyone would watch either, but they bought it anyway, hiding it away in the TV dead zone of summer. But against all odds, viewers began to watch, first a few and then many, until nine years later nearly forty million Americans were tuning in weekly. In Seinfeldia, acclaimed TV historian and entertainment writer Jennifer Keishin Armstrong celebrates the creators and fans of this American television phenomenon. She brings listeners behind the scenes of the show while it was on the air and into the world of devotees for whom it never stopped being relevant, a world where the Soup Nazi still spends his days saying No soup for you!, Joe Davola gets questioned every day about his sanity, Kenny Kramer makes his living giving tours of New York sights from the show, and fans dress up in Jerry's famous puffy shirt, dance like Elaine, and imagine plotlines for Seinfeld if it were still on TV.

Published Reviews
Booklist Review:
"*Starred Review* Entertainment journalist Armstrong offers up a lively and illuminating examination of NBC's groundbreaking 1990s sitcom Seinfeld, from its inception as a vehicle for stand-up comedian Jerry Seinfeld to its continued influence almost two decades after the final episode aired. The 1989 brainchild of Seinfeld and fellow New York comic Larry David, the original pilot featured Seinfeld and two of his friends Kramer (Michael Richards), inspired by David's eccentric neighbor, and neurotic George Costanza (Jason Alexander), based on David himself. When the show became a series in 1990, a fourth member of the group was added: Elaine (Julia Louis-Dreyfus), an ex of Jerry's who shared the same caustic sensibilities as the male characters. Armstrong shines the spotlight on the network executives who fought for the show and the revolving staff of writers who lent their personal experiences as fodder for the characters' adventures. Seinfeld himself pulled the plug on the show in 1998 after nine wildly successful seasons, but Armstrong illustrates how its fans have kept it alive and relevant in syndication and on the Internet. A wildly entertaining must-read not only for Seinfeld fans but for anyone who wants a better understanding of how television series are made.--Huntley, Kristine Copyright 2016 Booklist"
From Booklist, Copyright (c) American Library Association. Used with permission.
Publisher's Weekly Review:
"Armstrong provides an in-depth and delightful cultural history of the '90s TV show Seinfeld, exploring its initial conception by Larry David and Jerry Seinfeld, the pivotal episodes, seasonal developments, important writers, and, of course, its impact on American culture overall. Voice actor Delanie narrates with great energy and projection, capturing the author's enthusiasm for all the fascinating elements of Seinfeld unearthed in this production. In particular, she knows the right amount of emphasis and timing to describe the numerous anecdotes found within the book. She plays it conservatively when quoting the main players, focusing on the cadence of their deliveries (and deepening her voice for the men), but she avoids trying to emulate them entirely. The result has enough familiarity within it for readers to make the connection to the actual actor or character. A Simon & Schuster hardcover. (July) © Copyright PWxyz, LLC. All rights reserved."
(c) Copyright PWxyz, LLC. All rights reserved
Additional Information