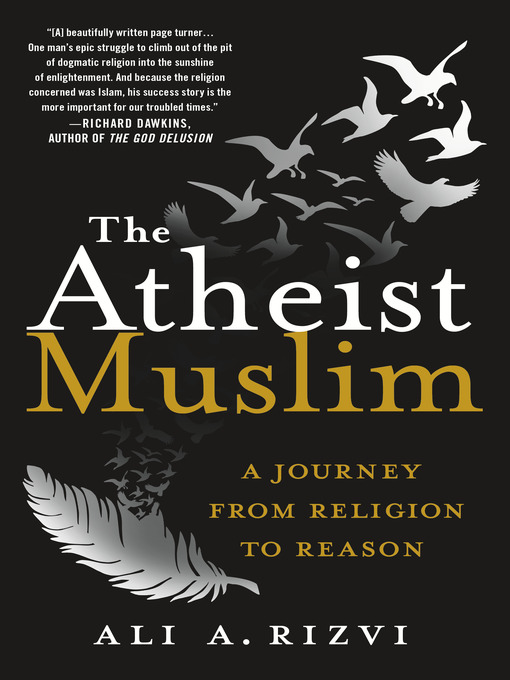 The atheist Muslim a journey from religion to reason
Format:

Kindle Book

2016

2016

Adobe EPUB ebook

OverDrive Read

Availability:

Available from OverDrive

1 of 1 copy
Summary
"In much of the Muslim world, religion is the central foundation upon which family, community, morality, and identity are built. The inextricable embedment of religion in Muslim culture has forced a new generation of non-believing Muslims to face the heavy costs of abandoning their parents' religion: disowned by their families, marginalized from their communities, imprisoned, or even sentenced to death by their governments. Struggling to reconcile the Muslim society he was living in as a scientist and physician and the religion he was being raised in, Ali A. Rizvi eventually loses his faith. Discovering that he is not alone in his beliefs, he moves to North America and promises to use his new freedom of speech to represent the voices that are usually quashed before reaching the mainstream media--the Atheist Muslim. In The Atheist Muslim, we follow Rizvi as he finds himself caught between two narrative voices he cannot relate to: extreme Islam and anti-Muslim bigotry in a post-9/11 world. The Atheist Muslim recounts the journey that allows Rizvi to criticize Islam--as one should be able to criticize any set of ideas--without demonizing his entire people. Emotionally and intellectually compelling, his personal story outlines the challenges of modern Islam and the factors that could help lead it toward a substantive, progressive reformation"--

Contents
Smoke break
Root causes
Letting go (part I): the born-again skeptic
A tale of two identities
Choosing atheism
Islamophobia-phobia and the "regressive left"
The Quran: misinterpretation, metaphor, and misunderstanding
Reformation and secularism
Letting go (part II): the silver lining.
Published Reviews
Publisher's Weekly Review:
"Rizvi combines a deconversion memoir with a rehashing of "new atheist" arguments to explain his transition from Islam to atheism. Raised in Saudi Arabia and Pakistan, he experienced repressive Islam firsthand before renouncing the faith in North America as a young adult in the wake of the 9/11 terrorist attacks. Rizvi makes his most original and concise points when calling out the hypocrisy of liberals who attempt to defend Islam unreservedly. By arguing against platitudes such as "terrorist are not really Muslims" or "Islam is essentially peaceful," Rizvi brings nuance to understanding the connections among religion, frustration, and violence for young Muslims. In doing so, he shows that religious institutions make terrorism possible. His personal story unfortunately recedes into brief anecdotes while he embarks on longer explanations of and arguments against religion in general. His lines of thought will be familiar to most who have read other New Atheist works, but his careful explanation of the problems facing metaphorical readings of the Qur'an and other Islam-specific issues add a good insider's perspective to the debate. By demanding a space for questioning Islam openly that does not devolve into attacking individual Muslims, the work pushes towards the possibility of a cultural Islam that maintains family and ethnic traditions without requiring belief. (Nov.) © Copyright PWxyz, LLC. All rights reserved."
(c) Copyright PWxyz, LLC. All rights reserved
Additional Information