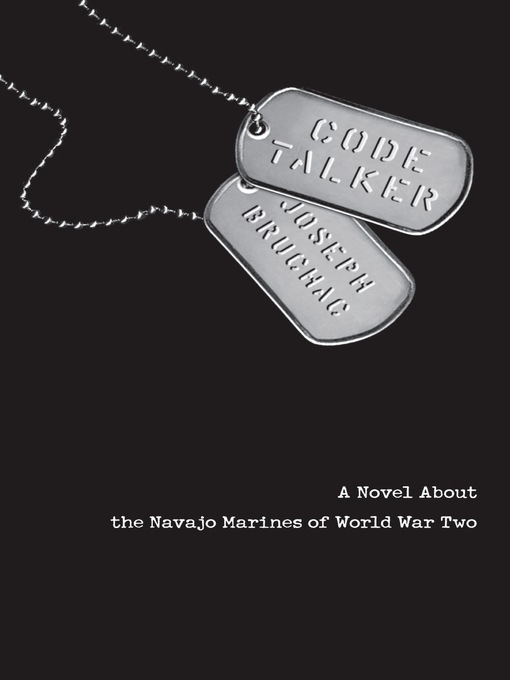 Code talker a novel about the Navajo Marines of World War Two
Format:

Kindle Book

2006

2006

Adobe EPUB ebook

OverDrive Read

Availability:

Unavailable

0 of 1 copy
Summary
After being taught in a boarding school run by whites that Navajo is a useless language, Ned Begay and other Navajo men are recruited by the Marines to become Code Talkers, sending messages during World War II in their native tongue.

Contents
Sent away
Boarding school
To be forgotten
Progress
High school
Sneak attack
Navajos wanted
New recruits
Blessingway
Boot camp
Code school
Learning the code
Shipping out to Hawaii
Enemies
Field maneuvers
Bombardment
First landing
On Bougainville
Do you have a Navajo?
Next targets
Guam
Fatigue
Pavavu
Iwo Jima
In sight of Suribachi
Black beach
Okinawa
Bomb
Going home
Author's note
Selected bibliography
Acknowledgments.
Published Reviews
Booklist Review:
"Gr. 6-9. Six-year-old Ned Begay leaves his Navajo home for boarding school, where he learns the English language and American ways. At 16, he enlists in the U.S. Marines during World War II and is trained as a code talker, using his native language to radio battlefield information and commands in a code that was kept secret until 1969. Rooted in his Navajo consciousness and traditions even in dealing with fear, loneliness, and the horrors of the battlefield, Ned tells of his experiences in Hawaii, Guadalcanal, Bougainville, Guam, Iwo Jima, and Okinawa. The book, addressed to Ned's grandchildren, ends with an author's note about the code talkers as well as lengthy acknowledgments and a bibliography. The narrative pulls no punches about war's brutality and never adopts an avuncular tone. Not every section of the book is riveting, but slowly the succession of scenes, impressions, and remarks build to create a solid, memorable portrayal of Ned Begay. Even when facing complex negative forces within his own country, he is able to reach into his traditional culture to find answers that work for him in a modern context. Readers who choose the book for the attraction of Navajo code talking and the heat of battle will come away with more than they ever expected to find. --Carolyn Phelan Copyright 2005 Booklist"
From Booklist, Copyright (c) American Library Association. Used with permission.
Additional Information