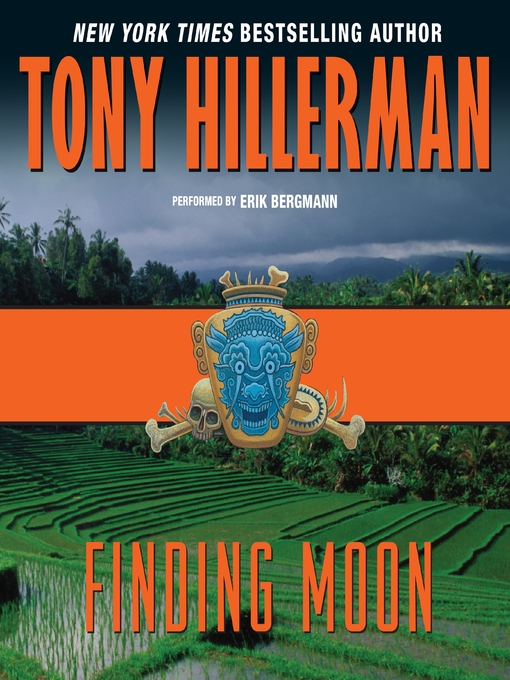 Finding moon
Format:

OverDrive MP3 Audiobook

2013

2013

OverDrive Listen

Availability:

Unavailable

0 of 1 copy
1 person on waitlist
Summary
When a newspaper reporter learns that his brother fathered a child in southeast Asia before he died, the reporter is reluctantly pulled into an intense search.

Published Reviews
Booklist Review:
"Hillerman apologizes in his introduction for "wandering away" from his usual southwestern setting and from the extraordinarily popular Chee/Leaphorn duo, but the departure has resulted in what is undoubtedly one of Hillerman's most affecting, strongest, best-told tales yet. Set in 1975 at the end of the Vietnam War, the story follows Colorado newspaper editor Malcolm "Moon" Mathias, who labors under the misapprehension that he's "third-rate" --unsuccessful in his career, unlucky in love, and unwise about life. As the story begins, Moon gets a call from an L.A. hospital reporting that his mother has collapsed at the airport after suffering a serious heart attack. She was headed for the Philippines, so Moon figures her trip must have had something to do with his younger brother, Ricky, a former air force pilot who had set up his own transport business in Vietnam, then died in a plane crash. When Moon reaches L.A., he finds papers in his mother's purse that reveal Ricky was the father of a Vietnamese daughter--whom Moon's mother was obviously on her way to rescue. Of course, responsibility for finding the baby falls on Moon's capable shoulders. And it's on his heartrending, dangerous, surprising journey into his brother's past on the Mekong Delta that Moon eventually finds not only the child, but his own destiny. A tragic tale of war, a suspenseful adventure story, a gripping journey into man's deepest fears, and an engrossing love story. (Reviewed Sept. 15, 1995)0060177721Emily Melton"
From Booklist, Copyright (c) American Library Association. Used with permission.
Publisher's Weekly Review:
"Location figures powerfully in Hillerman's newest novel, but it isn't the Southwest of his Navajo mysteries (Sacred Clowns, etc.), nor is this a Joe Leaphorn story. In April 1975, Moon Mathias, managing editor of a small-town Colorado newspaper, begins a redemptive journey that takes him first to Manila and then across the South China Sea to Cambodia, just as Pol Pot and the Khmer Rouge begin their reign of terror. Moon's brother Ricky, owner of a helicopter transportation service based in Cambodia, has recently died in a jungle crash. Their mother receives word that Ricky's baby daughter is being smuggled out of Vietnam to the Philippines. After his mother has a heart attack in the Manila airport, Moon takes over her mission, but the child does not arrive. Finding and contacting Ricky's acquaintances, Moon fights time, political exigencies and his ignorance of his brother's life as he tries doggedly to locate his niece. The effort involves an appealing cast, including a wealthy Chinese man seeking his ancestors' bones, a Dutch woman searching for her missionary brother and Vietnamese refugees, who join Moon on a suspenseful, albeit not quite credible, journey to a series of villages along the Mekong River. In the end, as the title suggests, Moon finds more than he'd known was lost. Hillerman's mastery of setting and his compassionate, patient characterization are fully present in this tale, which is otherwise somewhat formulaic. 350,000 first printing; $300,000 ad/promo; HarperAudio. (Oct.) (c) Copyright PWxyz, LLC. All rights reserved"
(c) Copyright PWxyz, LLC. All rights reserved
Additional Information