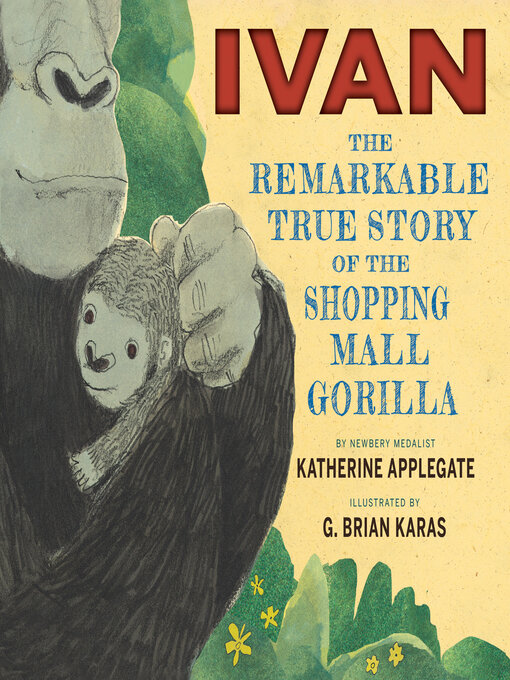 Ivan the remarkable true story of the shopping mall gorilla
Format:

Kindle Book

2014

2014

OverDrive Read

Availability:

Available from OverDrive

4 of 4 copies
Summary
Tells the true story of Ivan, known as the Shopping Mall Gorilla, who lived alone in a small cage for almost thirty years before he was finally relocated to the gorilla habitat at ZooAtlanta.

Contents
""Front Cover""; ""Front Flap""; ""Title""; ""Acknowledgements""; ""Copyright""; ""Dedication""; ""About Ivan""; ""Additional Information by Jodi Carrigan""; ""Back Flap""; ""Back Cover""; ""Spine""
Published Reviews
Booklist Review:
"For those who loved the Newbery Award-winning The One and Only Ivan (2012), Applegate has created a picture-book adaptation of the true story. A baby gorilla from central Africa is captured and taken to Tacoma, Washington. At first he lives with a human family, and children will see themselves in the happy gorilla that sleeps in a bed, goes to baseball games, and licks ice-cream cones. But when Ivan grows too big, he is sold, and for 27 years, the adult silverback lives in a cage at a shopping mall. After protesting citizens write petitions, Ivan goes to a better environment at Zoo Atlanta. Back matter has more facts and photos of Ivan and websites for further information, as well as one of Ivan's finger paintings signed with his thumbprint. Using pencil-line drawing and washes of pastel, Karas feelingly depicts Ivan's gentle and loving personality conveying how this gentle gorilla won the hearts of thousands of people and readers.--Gepson, Lolly Copyright 2010 Booklist"
From Booklist, Copyright (c) American Library Association. Used with permission.
Publisher's Weekly Review:
"In this poignant picture book, Applegate streamlines the story told in her Newbery-winning novel, The One and Only Ivan, about an African gorilla captured by poachers and caged in a Washington State mall for 27 years as a tourist attraction. The third-person narrative diminishes the immediacy of the story somewhat, but supports the nonfictional bent of this account. While Applegate omits some of the novel's darker bits, as when Ivan's elephant friend at the mall dies of neglect, many grim moments remain, and she is clear about the injustice of the gorillas' situation ("Poachers with loud guns and cruel hands stole the little gorilla and another baby"). Karas's (Tap Tap Boom Boom) muted illustrations capably reflect the contrasts between Ivan's happy early life in Africa, his gloomy years in captivity, and his eventual transfer to a new home, with grass and other gorillas, at Zoo Atlanta. A detailed afterword fills out Ivan's story and imparts the sad news of his death in 2012. Ages 4-8. Author's agent: Elena Giovinazzo, Pippin Properties. Illustrator's agent: Brenda Bowen, Sanford J. Greenburger Associates. (Oct.) (c) Copyright PWxyz, LLC. All rights reserved."
(c) Copyright PWxyz, LLC. All rights reserved
Additional Information