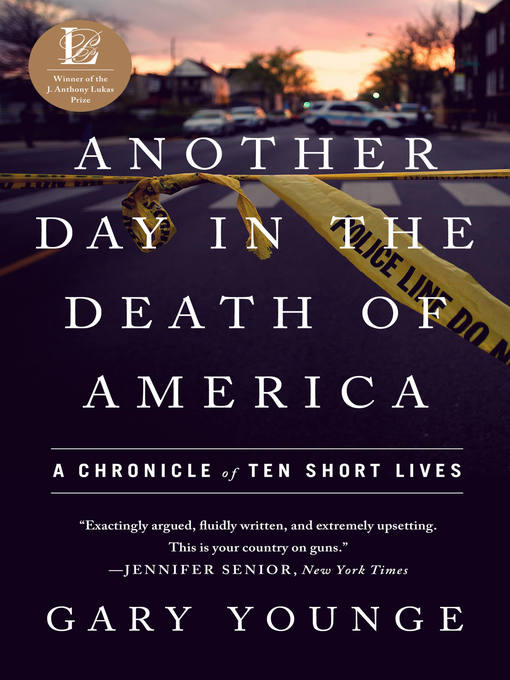 Another day in the death of America a chronicle of ten short lives
Format:

Kindle Book

2016

2016

Adobe EPUB ebook

OverDrive Read

Availability:

Available from OverDrive

1 of 2 copies
Summary
"On an average day in America, seven young people aged nineteen or under will be shot dead. In Another Day in the Death of America, award-winning Guardian journalist Gary Younge tells the stories of the lives lost during the course of a single day in the United States. It could have been any day, but Younge has chosen November 23, 2013. From Jaiden Dixon (9), shot point-blank by his mother's ex-boyfriend on his doorstep in Ohio, to Pedro Dado Cortez (16), shot by an enemy gang on a street corner in California, the narrative crisscrosses the country over a period of twenty-four hours to reveal the powerful human stories behind the statistics. Far from a dry account of gun policy in the United States or a polemic about the dangers of gun violence, the book is a gripping chronicle of an ordinary but deadly day in American life, and a series of character portraits of young people taken from us far too soon and those they left behind. Whether it's a father's unspeakable grief over his son who was at the wrong place at the wrong time, a mentor who tries to channel his rage by organizing, or a friend and neighbor who finds strength in faith, the lives lost on that day and the lives left behind become, in Younge's hands, impossible to ignore, or to forget. What emerges in these pages is a searing portrait of youth, family, and the way that lives can be shattered in an instant on any day in America. At a time when it has become indisputable that Americans need to rethink their position on guns, this moving narrative work puts a human face--a child's face--on the "collateral damage" of gun deaths across the country. In his journalism, Younge is committed to challenging conventional wisdom and looking twice where others might look away. There are some things, he argues, that we have come to see as normal, even when they are unacceptable. And gun violence is one of them. A clear-eyed and iconoclastic approach to this contentious issue, this book helps answer the questions so many of us are grappling with, and makes it even harder to just look away"--

Contents
Jaiden Dixon, Grove City, Ohio
Kenneth Mills-Tucker, Indianapolis, Indiana
Stanley Taylor, Charlotte, North Carolina
Pedro Cortez, San Jose, California
Tyler Dunn, Marlette, Michigan
Edwin Rajo, Houston, Texas
Samuel Brightmon, Dallas, Texas
Tyshon Anderson, Chicago, Illinois
Gary Anderson, Newark, New Jersey
Gustin Hinnant, Goldsboro, North Carolina.
Published Reviews
Booklist Review:
"Gun control remains one of the most polarizing topics in America. To give a human face to the issue, Younge, editor-at-large for The Guardian, investigates the stories of 10 people who died by gunshot on a random day November 23, 2013. To drive the point further, the victims were all working-class or poor people under the age of 19. Readers learn that Jaiden Dixen of Grove City, Ohio, age 9, was killed when he opened the door to his mother's sociopathic ex-boyfriend; teenager Kenneth Mills-Tucker of Indianapolis was in the wrong place at the wrong time when automatic gunfire broke out; 11-year-old Tyler Dunn of Marlette, Michigan, was shot by a friend playing with a hunting rifle he thought was unloaded. Woven into these portraits are stories of Younge attending an NRA convention, researching gun statistics across the world, and discussing related social topics such as poverty, gangs, and crime. In his afterword, Younge states that researching and writing this book has made me want to scream. Most readers will feel that way reading it, as there are no easy fixes here.--Vnuk, Rebecca Copyright 2016 Booklist"
From Booklist, Copyright (c) American Library Association. Used with permission.
Publisher's Weekly Review:
"Guardian journalist Younge (The Speech) chronicles the shooting deaths of 10 children and teens on a random Saturday in 2013 to illustrate the capriciousness of gun violence in America. The circumstances vary: one child is a victim of a domestic dispute; two were shot by friends playing with firearms; one was a known gang leader. While one shooting "tore at the very fabric of [a] tight-knit community," another elicited only an 81-word mention in the newspaper. Younge explores each incident in terms of its location, from the San Jose, Calif., enclave of the Nuestra Familia gang to rural Marlette, Mich., where hunting is popular. He discusses the flawed gun control narratives that require the "elevation and canonization of 'the worthy victim'" to engage the public's sympathy, and critiques the NRA's lobbying practices as corrupt. He further castigates the entrenched racism and poverty that keep young African-Americans mired in a cycle of violence. Drawing from insights from community organizers and scholarship on violence, economics, and psychology, Younge provides nuance and context to a polarizing issue. The personal touches, however, are most affecting, as Younge pieces together each story from news reports and interviews with friends and family, weaving a tragic narrative of wasted potential. Agent: Jonny Geller, Curtis Brown Ltd. (U.K.). (Oct.) © Copyright PWxyz, LLC. All rights reserved."
(c) Copyright PWxyz, LLC. All rights reserved
Additional Information