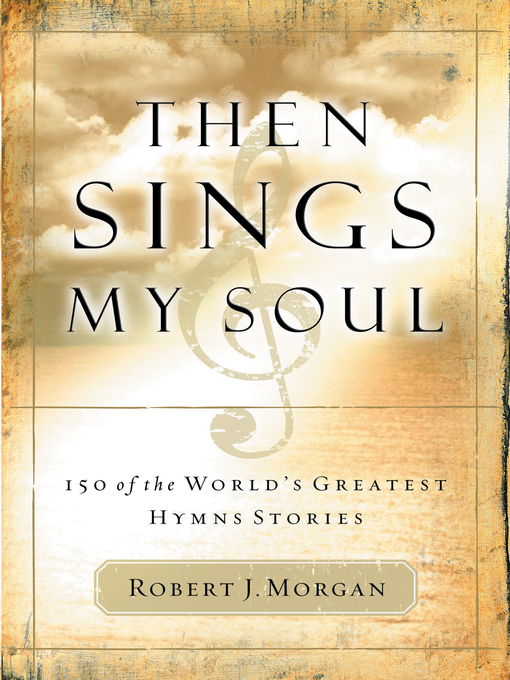 Then sings my soul 150 of the world's greatest hymn stories.
Format:

Kindle Book

2010

2010

Adobe EPUB ebook

OverDrive Read

Availability:

Unavailable

0 of 1 copy
Summary
Gift in memory of Ken Colpaert.

Contents
O sacred head, now wounded
From Heaven abouve to earth I come
All people that on earth do dwell
We gather together
I f thou but suffer God to guide thee
We sing, Emmanuel, thy praise
Jesu, Joy of man's desiring
O that I had a thousand voices
We're marching to Zion
When I survey the wondrous cross
Join all the glorious names
Joy to the world!
I'll praise my maker while I've breath
Jesus, they blood and righteousness
Give to the wind thy fears
Where whall my wondering soul begin?
O for a heart to praise my God
Ye servants of God
Rejoice, the Lord is king
Come, thou long-expected Jesus
Love divine, all loves excelling
Be still, my soul
I will arise and go to Jesus
The saints should never be dismayed
Glorious things of thee are spoken
On Jordan's stormy banks
Praise the Lord! Ye heavens adore Him
I love thy kingdom, Lord
Look, Ye saints, the sight is glorious
The first Noel
Praise, my soul, the king of heaven
Savior, like a shepherd lead us
Come, christians, join to sing
Come, ye thankful people, come
Sweet hour of prayer
O Holy night
All things bright and beautiful
My God, how wonderful thou art
Faith of our fathers
O come, O come, Emmanuel
Children of the heavenly father
O how I love Jesus
Little brown church in the vale
We three kings of Orient are
Praise ye the triune God
Angels we have heard on high
Thou didst leave thy throne
I head the bells on Christmas Day
For all the saints
We give thee but thine own
What child is this?
Ring the bells of heaven
The church's one foundation
I love to tell the story
The cleansing wave
Whispering hope
Yield not to temptation
Beneath the cross of Jesus
Pass me not, O gentle savior
Near the cross
Christ for the world we sing
Take the name of Jesus with you
O Zion, haste
The rock that is higher than I
All for Jesus
Jesus, savior, pilot me
Almost persuaded
Nobody knows the trouble I've seen
Swing low, sweet chariot
Whiter than snow
There's a song in the air
Christ arose!
To God be the glory
I am thine, O Lord
Peace, perfect peace
Hallelujah, what a savior!
The light of the world is Jesus
Beulah land
Trusting Jesus
I am His, and He is mine
Nothing but the blood
God of our fathers
Immortal, invisible, God only wise
A child of the King
Break thou the bread of life
Who is on the Lord's side?
Trueheared, wholehearted
Follow on
Are you washed in the blood?
Breathe on me
Softly and tenderly
A shelter in the time of storm
The lily of the valley
Jesus saves
I know whom I have believed
There shall be showers of blessing
The banner of the cross
I will sing the wondrous story
Away in the manger
Jesus, I come
Lead on, O king eternal
Look and live
The haven of rest
He hideth my soul
Make me a captive, Lord
Send the light
Save by grace
Faith is the victory
Lord, I'm coming home
Moment by moment
The lord will provide
They were in an upper chamber
No, not one!
Open my eyes that I may see
O to be like thee!
Tell mother I'll be there
Higher ground
Nearer, still nearer
Let Jesus come into your heart
Deeper, deeper
I would not be denied
God leads us along
Jesus is all the world to me
Nothing between
Stand by me
We'll understand it better by and by
The way of the cross leads home
Go, tell it on the mountain
Will the circle be unbroken:
One day
Dwelling in Beulah land
Rise up, o me of God
What if it were today?
Love lifted me
To Canaan's land I'm on my way
Since Jesus came into my heart
Ivory palaces
Living for Jesus
r Saved!
Lead me to Calvary
Only believe
Turn your eyes upon Jesus
In my heart there rings a melody
Jesus is the sweetest name I know
I'll fly away
Wherever he leads, I'll go
It took a miracle
Heaven came down
Because He lives
Join all the glorious names (revisited).
Additional Information