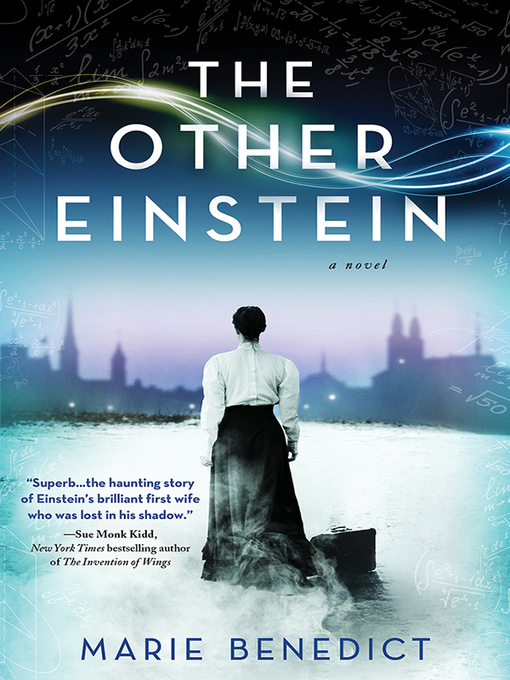 The Other Einstein A Novel
Format:

Kindle Book

2016

2016

Adobe EPUB ebook

OverDrive Read

Availability:

Available from OverDrive

3 of 18 copies
3 people on waitlist
Summary
In the tradition of The Paris Wife and Mrs. Poe , The Other Einstein offers us a window into a brilliant, fascinating woman whose light was lost in Einstein's enormous shadow. It is the story of Einstein's wife, a brilliant physicist in her own right, whose contribution to the special theory of relativity is hotly debated and may have been inspired by her own profound and very personal insight. Mitza Maric has always been a little different from other girls. Most twenty-year-olds are wives by now, not studying physics at an elite Zurich university with only male students trying to outdo her clever calculations. But Mitza is smart enough to know that, for her, math is an easier path than marriage. And then fellow student Albert Einstein takes an interest in her, and the world turns sideways. Theirs becomes a partnership of the mind and of the heart, but there might not be room for more than one genius in a marriage.

Published Reviews
Booklist Review:
"Benedict's novel, her first, of love, ambition, disappointment, and betrayal begins in 1896 with a young Serbian woman enrolling in the Swiss Federal Polytechnic to study physics. Though possessed of exceptional intellect and talent, Mileva is not easily accepted by her male classmates and professors, except for one outspoken student. Their classroom relationship leads to much more, first sharing music, then mutual scientific theorizing, on to a sexual relationship that yields a child and marriage. The remarkable hook here is that Mileva's love interest is Albert Einstein. The sweetness of the courtship and the bitterness of his betrayal, both scientific the source of the theory of relativity might have been her rather than him and personal, with his unfaithfulness leading to divorce, provide the tension. Benedict insightfully portrays Mileva, Albert, and other European intellectuals of the time and dramatizes the difficulties a woman faced when attempting to enter that world. She also vividly captures the atmosphere, the cafes, the boardinghouse, and the customs of Mileva's world, making for an engaging and thought-provoking fictional telling of the poignant story of an overshadowed woman scientist.--Hoover, Danise Copyright 2016 Booklist"
From Booklist, Copyright (c) American Library Association. Used with permission.
Publisher's Weekly Review:
"Albert Einstein may not have been the only mastermind behind his groundbreaking ideas about relativity; it turns out the renowned theoretical physicist collaborated a great deal with his first wife, Mileva Maric'-a Serbian woman of modest means who was one of the few women to study math and science at the Zurich Polytechnic School where the two meet. In her compelling novel, Benedict shows how Mileva transforms from a sheltered girl into a personally and professionally fulfilled young woman as she meets other educated women like her in the Swiss boarding house near her school and, through her new acquaintance Albert Einstein, engages in theoretical discussions with male colleagues during which her intelligence is both admired and supported. But Albert and Mileva are a product of their times; the turn of the century wasn't exactly a liberating time for women, and the self-centered Albert has no compunctions about deleting her name from papers they assiduously work on together. Their tenuous personal life (including a child he ignores), his affairs, and his insistence that his wife be more possession than spouse causes the marriage to implode. Did giving Mileva his Nobel Prize earnings assuage his guilt for her unacknowledged assistance and confirm her contribution to his work? Benedict makes a strong case that the brilliant woman behind him was integral to his success, and creates a rich historical portrait in the process. Agent: Laura Dail, Laura Dail Literary Agency. (Oct.) © Copyright PWxyz, LLC. All rights reserved."
(c) Copyright PWxyz, LLC. All rights reserved
Additional Information