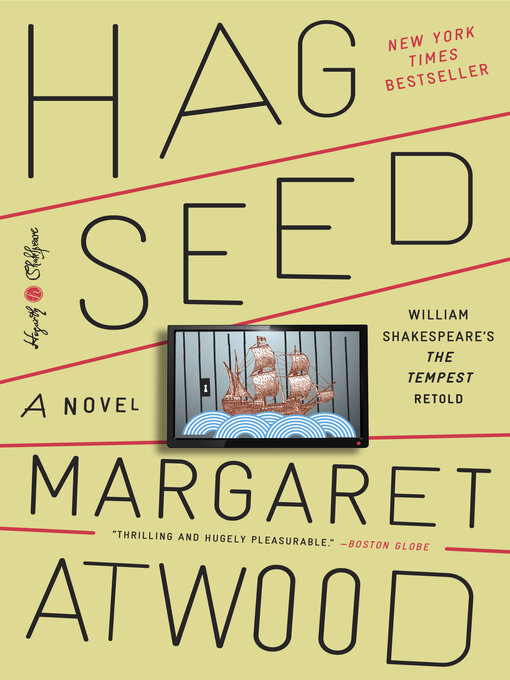 Hag-seed : The tempest retold
Format:

Kindle Book

2016

2016

Adobe EPUB ebook

OverDrive Read

Availability:

Available from OverDrive

1 of 4 copies
Summary
Felix is at the top of his game as artistic director of the Makeshiweg Theatre Festival. His productions have amazed and confounded. Now he's staging a Tempest like no other: not only will it boost his reputation, it will heal emotional wounds. Or that was the plan. Instead, after an act of unforeseen treachery, Felix is living in exile in a backwoods hovel, haunted by memories of his beloved lost daughter, Miranda. And brewing revenge. After 12 years revenge finally arrives in the shape of a theatre course at a nearby prison. Here Felix and his inmate actors will put on his Tempest and snare the traitors who destroyed him. It's magic! But will it remake Felix as his enemies fall?

Published Reviews
Booklist Review:
"Atwood (The Heart Goes Last, 2015) presents a bravura hall-of-mirrors contribution to the delectable Hogarth Shakespeare project in which novelists reimagine Shakespeare's plays. Felix, the famously over-the-top artistic director of a prestigious Canadian theater festival, is forced out by his conspiring assistant just as he's about to produce The Tempest, which he hoped would help him endure his grief over the death of his young daughter, Miranda. Instead this would-be Prospero exiles himself in the countryside in a veritable hovel for 12 lunatic years, sustained by an avidly imagined spirit daughter and dreams of revenge. A teaching position at a prison breaks the spell. As he channels his theatrical genius into inspiring inmates to create wily, streetwise versions of Shakespeare, he slowly steers them toward The Tempest as part of an audacious plan to finally secure his own personal justice. Atwood positively frolics in this rambunctiously plotted and detailed enactment of how relevant Shakespeare can be for a talented troupe behind bars. Supremely sagacious, funny, compassionate, and caustic, Atwood presents a reverberating play-within-a-play within a novel.--Seaman, Donna Copyright 2016 Booklist"
From Booklist, Copyright (c) American Library Association. Used with permission.
Publisher's Weekly Review:
"In The Tempest, Prospero is not just exiled king, magician, and father, he's an impresario staging multiple shows: the storm that strands his enemies on the island; his pretended disdain for Ferdinand, whom he intends for his daughter, Miranda; the play within the play; and, some critics argue, the play itself. In this, the fourth Hogarth Shakespeare adaptation, Atwood underscores these elements by making her Prospero a prominent theater festival director. After being done out of his job by a scheming underling, Felix goes off-grid, teaching literacy and theater to prisoners and grieving a lost daughter. When he learns that the man who took his job, now a political bigwig, will attend the next production, he sees his chance: in this Tempest, it won't just be Prospero who gets revenge. Former diva Felix is a sly and inventive director and teacher who listens to his cast's input, and his efforts to shape the play and his plot make for compelling reading. If, at the end, things tie up a little too neatly, the same might be said of the original, and Atwood's canny remix offers multiple pleasures: seeing the inmates' takes on their characters, watching Felix make use of the limited resources the prison affords (legal and less so), and marveling at the ways she changes, updates, and parallels the play's magic, grief, vengeance, and showmanship. 125,000-copy announced first printing. (Oct.) © Copyright PWxyz, LLC. All rights reserved."
(c) Copyright PWxyz, LLC. All rights reserved
Additional Information