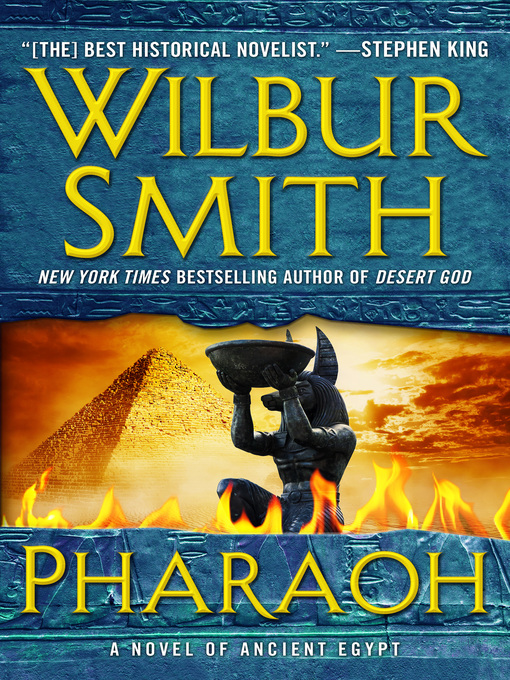 Pharaoh A Novel of Ancient Egypt
Format:

Kindle Book

2016

2016

Adobe EPUB ebook

OverDrive Read

Availability:

Unavailable

0 of 1 copy
Summary
Worldwide #1 bestselling author Wilbur Smith returns to Ancient Egypt in a captivating new novel that will transport you to extraordinary times.EGYPT IS UNDER ATTACK.Pharaoh Tamose lies mortally wounded. The ancient city of Luxor is surrounded, All seems lost.Taita, advisor to the Pharaoh, prepares for the enemy's final, fatal push. The ex-slave, now general of Tamose's armies, is never more ingenious than when all hope is dashed. And this is Egypt's most desperate hour.With the timely arrival of an old ally, the tide is turned and the Egyptian army feasts upon its retreating foe. But upon his victorious return to Luxor, Taita is seized and branded a traitor. Tamose is dead and a poisonous new era has begun. The new Pharaoh has risen -- and he must be stopped; From the glittering temples of Luxor to the Citadel of Sparta, PHARAOH is an intense and powerful novel magnificently transporting you to a time of threat, blood and glory. Master storyteller, Wilbur Smith, is at the very peak of his powers.

Published Reviews
Booklist Review:
"Best-selling author Smith continues his Ancient Egypt series (Desert God, 2014) and the story of long-lived warlock, trusted pharaonic adviser, and, now, military commander Taita. Having defeated the terrible Hyksos, both Taita and Egypt seem poised for better times, until barking-mad Utteric ascends to the throne and slates Taita for execution. Narrowly escaping to refuge in Greece with his old friends, King Hurotas and Queen Tehuti, Taita is dragged into intrigue and war to save the Egyptian Empire and those he holds most dear. The amount of exposition and backstory may frustrate Smith devotees, but newcomers to the series will benefit, given the novel's mythological elements and complicated character histories. This is an old-fashioned adventure, with a braggart narrator, villains evincing all the subtlety of Snidely Whiplash, beautiful kidnapped maidens, copious fight scenes, and in-the-nick-of-time saves. It's rumored that Smith no longer writes his own novels, but his legions of fans will demand this latest in the series in order to follow the next chapter in Taita's very long, exciting life.--Latham, Bethany Copyright 2016 Booklist"
From Booklist, Copyright (c) American Library Association. Used with permission.
Additional Information