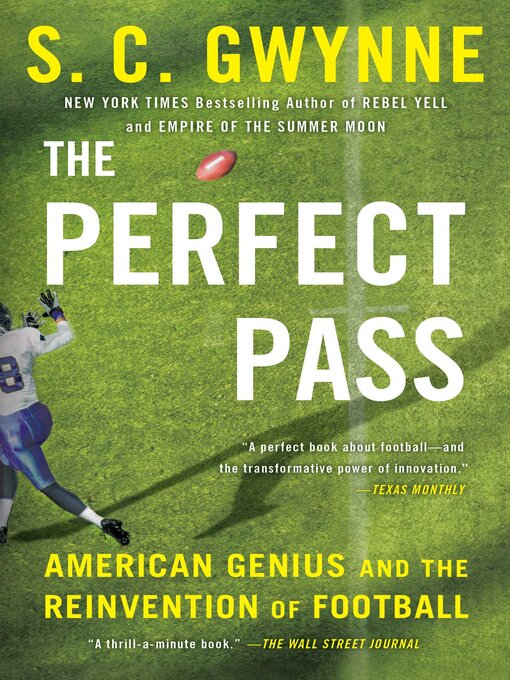 The perfect pass American genius and the reinvention of football
Format:

Adobe EPUB ebook

2016

2016

OverDrive Read

Availability:

Available from OverDrive

1 of 1 copy
Summary
"New York Times bestselling, award-winning historian S.C. Gwynne tells the incredible story of how Hal Mumme and Mike Leach--two unknown coaches who revolutionized American football in the 1980s, 1990s and 2000s--changed the way the game is played at every level, from high school to the NFL"--

Contents
The mad pirate's revenge
A job you wouldn't want
A brief history of men throwing balls
Secrets of the air
Ballad of the lonesome polecat
Of Mouse and Mormons
Maybe the worst team in America
The future does not exist
A convocation of rejects
Hal's theory of relativity
The air show comes to town
The one, holy, Catholic, and apostolic pass
No good deed unpunished
Bumps in the road
Pilgrimage to Margaritaville
Rise of a great American offense
The street value of an aerial circus
Air raid
High, wide, and handsome
Stars in their courses
Epilogue: The game changes.
Published Reviews
Booklist Review:
"A perennial conference doormat in football in the mid-1980s, a desperate, financially ailing Iowa Wesleyan University took a flier on young high-school coach Hal Mumme, who quickly implemented a series of cutting-edge changes: he trimmed an oversized playbook to a mere 15 pass plays and 6 rushing plays, and he built his entire offense on the short pass, then plugged in a quarterback of average arm strength who could nevertheless throw often and with deadly accuracy. Decades ahead of his time, Mumme (pronounced mummy) eliminated hard contact and such ponderous drills as windsprints and pushups in team practices, all of which injected, well, joy into his players' training. While it's a little unclear how many of Mumme's changes were entirely new, or came from like-minded coaches he consulted (the legendary Bill Walsh was one), Pulitzer Prize finalist Gwynne (Empire of the Summer Moon, 2010) still delivers a rousing tale of innovation finding success in the face of the gale-force winds of convention.--Moores, Alan Copyright 2016 Booklist"
From Booklist, Copyright (c) American Library Association. Used with permission.
Publisher's Weekly Review:
"Even into the 1980s, passing was an almost exotic element in all levels of football, while the safe and steady running game aligned with the sport's macho ethos. Coach Hal Mumme had other ideas, as Gwynne (Empire of the Summer Moon) writes in this excellent sports history. Mumme was fascinated with the possibilities of constantly passing and embarked on a quest to build a perfect offense, borrowing concepts from coaches and tinkering with them to fit the dream plays he scribbled on scraps of paper. His laboratories were a variety of small, overlooked high schools and colleges in Texas, Iowa, and Georgia, where a variety of small, overlooked players became statistical superstars thanks to a system that preached simplicity and repetition in a world of dictionary-sized playbooks with endless wrinkles. This offense, nicknamed "Air Raid," made its way to big-time college ball; now, the relentlessly airborne approach has found its way to the likes of Tom Brady. Gwynne serves up an intriguing parallel history to football's pass-dominated renovation, with Mumme playing the role of overlooked (and overworked) forefather. The author also provides an inspiring reminder that great ideas don't automatically permeate the existing ideology. Sometimes, a devoted few must pursue their principles with diligence, even if they don't get the glory. Agent: Amy Hughes, Dunow, Carson & Lerner. (Sept.) © Copyright PWxyz, LLC. All rights reserved."
(c) Copyright PWxyz, LLC. All rights reserved
Additional Information