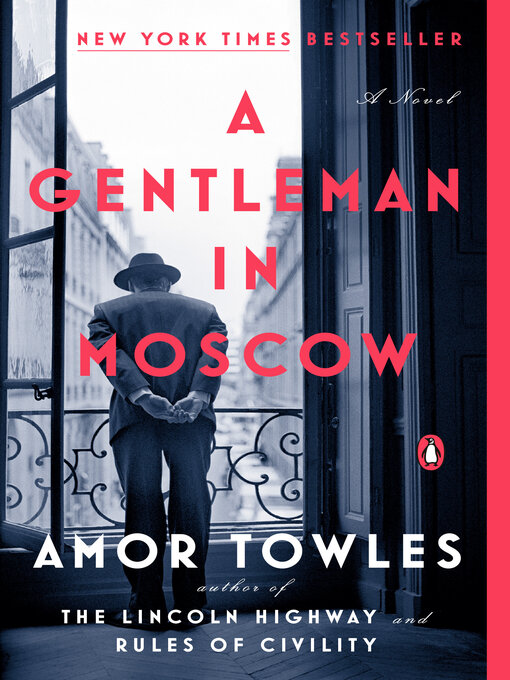 A gentleman in Moscow
Format:

Kindle Book

2016

2016

Adobe EPUB ebook

OverDrive Read

Availability:

Available from OverDrive

29 of 75 copies
5 people on waitlist
Summary
""In all ways a great novel, a nonstop pleasure brimming with charm, personal wisdom, and philosophic insight.this book more than fulfills the promise of Towles' stylish debut, Rules of Civility." - Kirkus Reviews (starred) From the New York Times bestselling author of Rules of Civility--a transporting novel about a man who is ordered to spend the rest of his life inside a luxury hotel With his breakout debut novel, Rules of Civility, Amor Towles established himself as a master of absorbing, sophisticated fiction, bringing late 1930s Manhattan to life with splendid atmosphere and a flawless command of style. Readers and critics were enchanted; as NPR commented, "Towles writes with grace and verve about the mores and manners of a society on the cusp of radical change." A Gentleman in Moscow immerses us in another elegantly drawn era with the story of Count Alexander Rostov. When, in 1922, he is deemed an unrepentant aristocrat by a Bolshevik tribunal, the count is sentenced to house arrest in the Metropol, a grand hotel across the street from the Kremlin. Rostov, an indomitable man of erudition and wit, has never worked a day in his life, and must now live in an attic room while some of the most tumultuous decades in Russian history are unfolding outside the hotel's doors. Unexpectedly, his reduced circumstances provide him a doorway into a much larger world of emotional discovery. Brimming with humor, a glittering cast of characters, and one beautifully rendered scene after another, this singular novel casts a spell as it relates the count's endeavor to gain a deeper understanding of what it means to be a man of purpose"--

Published Reviews
Booklist Review:
"In his remarkable first novel, the best-selling Rules of Civility (2011), Towles etched 1930s New York in crystalline relief. Though set a world away in Moscow over the course of three decades, his latest polished literary foray into a bygone era is just as impressive. Sentenced as an incorrigible aristocrat in 1922 by the Bolsheviks to a life of house arrest in a grand Moscow hotel, Count Alexander Ilyich Rostov is spared the firing squad on the basis of a revolutionary poem he penned as an idealistic youth. Condemned, instead, to live his life confined to the indoor parameters of Metropol Hotel, he eschews bitterness in favor of committing himself to practicalities. As he carves out a new existence for himself in his shabby attic room and within the magnificent walls of the hotel-at-large, his conduct, his resolve, and his commitment to his home and to the hotel guests and staff together form a triumph of the human spirit. As Moscow undergoes vast political changes and countless social upheavals, Rostov remains, implacably and unceasingly, a gentleman. Towles presents an imaginative and unforgettable historical portrait.--Flanagan, Margaret Copyright 2016 Booklist"
From Booklist, Copyright (c) American Library Association. Used with permission.
Publisher's Weekly Review:
"House arrest has never been so charming as in Towles's second novel (following Rules of Civility), an engaging 30-year saga set almost entirely inside the Metropol, Moscow's most luxurious hotel. To Count Alexander Ilyich Rostov, the Metropol becomes both home and jail in 1922, when the Bolsheviks spare his life (on the strength of a revolutionary poem written in 1913, when the count was at university). Forbidden to venture out, Rostov explores the intricacies of the grand structure and befriends its other denizens: precocious nine-year-old Nina Kulikova, a bureaucrat's daughter who demands instruction on how to be a princess; Emile, virtuosic chef of the Boyarsky, "the finest restaurant in Moscow"; Andrey, the Boyarsky's French expatriate maître d'; and the beautiful actress Anna Urbanova, who becomes the count's regular visitor and paramour. Standing in for the increasingly despotic Soviet government is the Bishop, a villainous waiter who experiences gradual professional ascent-he becomes headwaiter of the Boyarsky, finally putting his seating-chart and wine-pairing talents to use. But when the adult Nina returns to ask Rostov for a favor, his unique, precariously well-appointed life must change once more. Episodic, empathetic, and entertaining, Count Rostov's long transformation occurs against a lightly sketched background of upheaval, repression, and war. Gently but dauntlessly, like his protagonist, Towles is determined to chart the course of the individual. (Sept.) © Copyright PWxyz, LLC. All rights reserved."
(c) Copyright PWxyz, LLC. All rights reserved
Additional Information