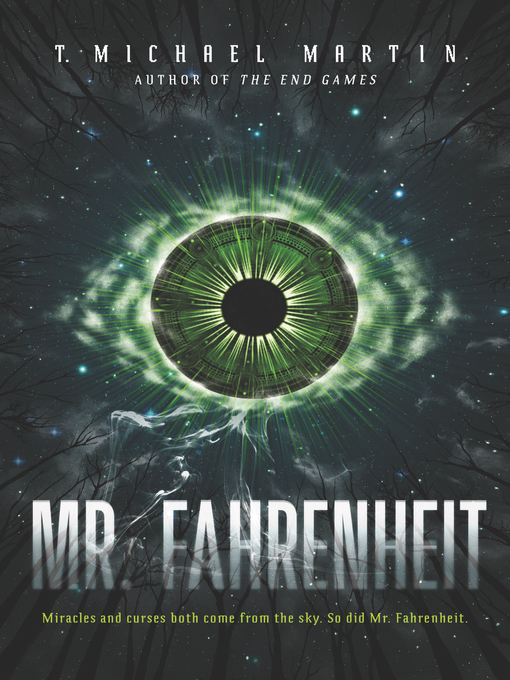 Mr. Fahrenheit
Format:

Kindle Book

2016

2016

Adobe EPUB ebook

OverDrive Read

Availability:

Available from OverDrive

1 of 1 copy
Summary
Super 8 meets Friday Night Lights in this smart and action-packed coming-of-age novel from the author of The End Games, T. Michael Martin.Benji's lived his whole life in the same sleepy midwestern town—the same town his father grew up in, and his grandfather. But he wants nothing more than to put his past in the rearview mirror as soon as he graduates high school. Benji yearns for a Moment—the Moment that will redeem and transform his ordinary life. The Moment that will propel him into a new, star-bright future. Then one night, the Moment happens: Benji and his tight group of friends—CR, Ellie, and Zeeko—accidentally shoot down a flying saucer in the local quarry. At Benji's urging, they decide to keep it a secret and solve its mysteries on their own. But as they face threats both earthly and alien, and old tensions among the friends surface, Benji begins to question whether this Moment is the miracle he's always dreamed of—or a curse that could destroy them all.

Published Reviews
Booklist Review:
"*Starred Review* Martin's follow-up to his breakneck, yet surprisingly moving, horror novel, The End Games (2013), trades zombie tropes for alien ones in this invigorating piece of sci-fi nostalgia. A post-football game hangout with high-school magician Benji aka Benji Blazes and his three best buds goes wonky when they shoot a UFO right out of the sky and it crashes beneath lake ice. Convinced that he has found the thing to kick-start his dull life in Bedford Falls (yes, that Bedford Falls; Martin knows his Americana), Benji convinces his pals to keep secret what emerges: a smooth metal pod that begins communicating via doo-wop music. Though it sounds farcical, Martin has a knack for making ominous hay of absurdities. Not that this is entirely straight-faced the central characters are a boisterous, joke-cracking bunch that never let things get too serious. It's a tightrope not even Martin can always toe: some paragraphs spiral out of control, and the climax is packed with coincidences and shortcuts, as if even the author is out of breath. These lapses, thankfully, are bandaged with a gauzy, Bradburian magic. This is The Day the Earth Stood Still by way of Something Wicked This Way Comes: campy but haunting, and about ray-gun-shooting monsters as much as it is about bittersweet broken dreams.--Kraus, Daniel Copyright 2016 Booklist"
From Booklist, Copyright (c) American Library Association. Used with permission.
Publisher's Weekly Review:
"When several small-town teens have a close encounter of the weird kind, it changes their lives forever in this offbeat SF thriller. Amateur magician Benji Lightman dreams of leaving home after he graduates from high school, even as he yearns for the one defining moment that will make his life perfect. When he and his friends accidentally shoot down a UFO, that moment seems at hand. But with government agents seeking the truth about what happened, Benji and his friends at odds over how to handle the situation, and the alien craft becoming ever creepier, Benji's grasp for glory may destroy them all. Martin's (The End Games) story is more interested in character growth than its science fiction elements; the saucer and its extraterrestrial cargo are only vaguely described for much of the narrative, and it's Benji's actions and their repercussions that truly fuel the plot. Affectionate callbacks to the music and science fiction culture of the 1950s, beginning with the saucer shape of the alien craft and the doo-wop music preferred by Benji's sheriff grandfather, enhance this book's quirkier aspects. Ages 14-up. Agent: Joanna Volpe, New Leaf Literary & Media. (Apr.) © Copyright PWxyz, LLC. All rights reserved."
(c) Copyright PWxyz, LLC. All rights reserved
Additional Information