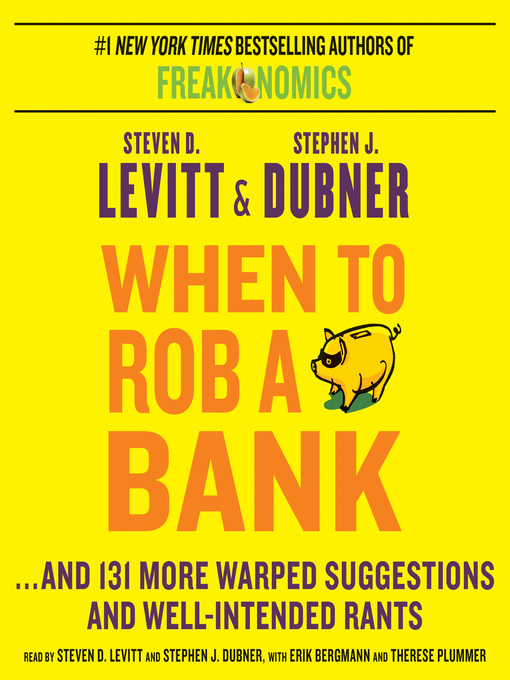 When to rob a bank ...and 131 more warped suggestions and well-intended rants
Format:

OverDrive MP3 Audiobook

2015

2015

OverDrive Listen

Availability:

Unavailable

0 of 2 copies
1 person on waitlist
Summary
When Freakonomics was initially published, the authors started a blog--and they've kept it up. The writing is more casual, more personal, even more outlandish than in their books. Now, to celebrate the 10th anniversary of the landmark Freakonomics, comes this curated collection from the most readable economics blog in the world. Why don't flight attendants get tipped? If you were a terrorist, how would you attack? And why does KFC always run out of fried chicken? Over the past decade, Steven D. Levitt and Stephen J. Dubner have published more than 8,000 blog posts on Freakonomics.com. Now the very best of this writing has been carefully curated into one volume, the perfect solution for the millions of readers who love all things Freakonomics. Discover why taller people tend to make more money; why it's so hard to predict the Kentucky Derby winner; and why it might be time for a sex tax (if not a fat tax). You'll also learn a great deal about Levitt and Dubner's own quirks and passions. Surprising and erudite, eloquent and witty, When to Rob a Bank demonstrates the brilliance that has made their books an international sensation.

Contents
We were only trying to help
Limberhand the masturbator and the perils of Wayne
Hurray for high gas prices!
Contested
How to be scared of the wrong thing
If you're not cheating, you're not trying
But is it good for the planet?
Hit on 21
When to rob a bank
More sex please, we're economists
Kaleidoscopia
When you're a jet.
Published Reviews
Publisher's Weekly Review:
"As coauthors Levitt and Dubner explain at the start of this delightful collection, a decade ago, concurrent with the publication of their book Freakonomics, they decided to start a blog with the same name. Eight thousand posts later, they're still writing, even though the blog generates no income and probably cannibalizes sales from their books. For the site's anniversary, they've finally bowed to reader demands to turn it into a book. The result is this energetic, charming assortment of posts, thematically arranged, on topics as varied as terrorism, restoration of the draft, getting rid of the penny, car-seat safety, obesity, the U.S. crackdown on Internet poker, steroid use in the Tour de France, the D.C. gun ban, and "No Gas Day." Lively, self-deprecating writing ensures an entertaining read for fans and new readers alike. It seems likely to prove the authors right in their gamble that even content available for free can be a viable product, especially with such a large, devoted fanbase. Agent: Suzanne Gluck, WME. (May) © Copyright PWxyz, LLC. All rights reserved."
Additional Information