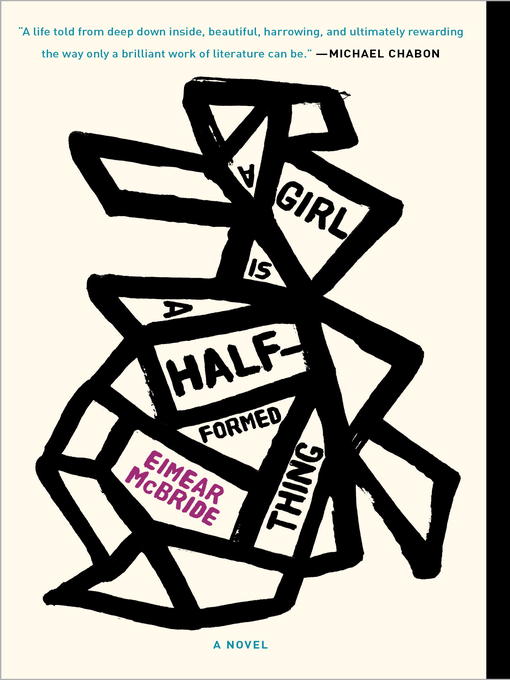 A girl is a half-formed thing a novel
Format:

Kindle Book

2014

2014

Adobe EPUB ebook

OverDrive Read

Availability:

Available from OverDrive

1 of 1 copy
Summary
The dazzling, fearless debut novel that the New York Times hails as "a future classic"In scathing, furious, unforgettable prose, Eimear McBride tells the story of a young girl's devastating adolescence as she and her brother, who suffers from a brain tumor, struggle for a semblance of normalcy in the shadow of sexual abuse, denial, and chaos at home. Plunging readers inside the psyche of a girl isolated by her own dangerously confusing sexuality, pervading guilt, and unrelenting trauma, McBride's writing carries echoes of Joyce, O'Brien, and Woolf. A Girl is a Half-formed Thing is a revelatory work of fiction, a novel that instantly takes its place in the canon.

Published Reviews
Publisher's Weekly Review:
"Growing up in a poor backwater town in Ireland, the narrator of McBride's powerful debut novel, dark horse winner of the Baileys Women's Prize, was closely attached to her older brother, both of them in league against their volatile mother. Shortly before the narrator's birth, however, an invasive tumor had been removed from her brother's brain, causing him to be developmentally "slow" and leaving him with a livid scar on his head and a prominent limp. The prose is permeated with imagery that convey the squalid conditions of their existence. Their father has flown, and their mother alternates between obsessive prayer and screaming rants threatening hell for impiety. The narration is written in a Joycean stream of consciousness with an Irish lilt, and sentence fragments transmit the pervasive sense of urgency, of thoughts spinning faster than the tongue can speak. When she is 13, the narrator is raped by her uncle, and the relationship continues after the narrator leaves home for college in the city. By this point she recognizes the dark streak in her nature that treats sex as punishment. She welcomes her uncle's continuing predation, which fuels her promiscuity. Her voice reaches to an anguished pitch when her brother's tumor returns; she feels guilt at having left him to cope with her mother's religious mania. Some readers may be turned off at this point, depressed by the deathbed vigil or the narrator's inevitable breakdown, but those who persevere will have read an unforgettable novel. (Sept.) (c) Copyright PWxyz, LLC. All rights reserved."
(c) Copyright PWxyz, LLC. All rights reserved
Additional Information