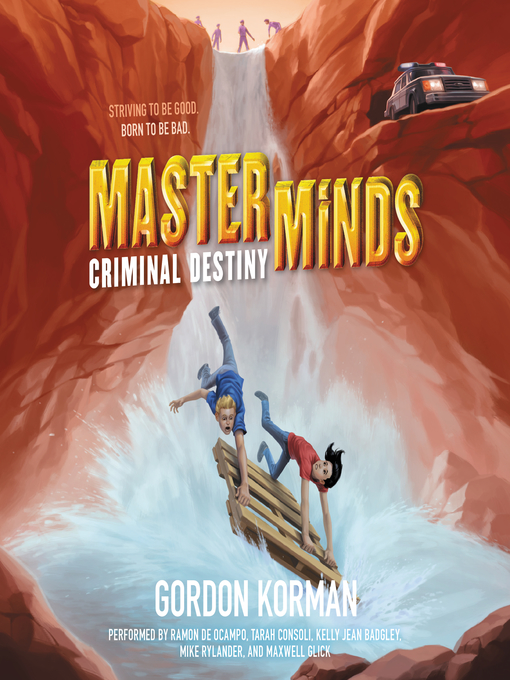 Criminal destiny
Format:

OverDrive MP3 Audiobook

2016

2016

OverDrive Listen

Availability:

Unavailable

0 of 1 copy
Summary
The second book in the acclaimed, action-packed series from New York Times bestselling author Gordon Korman.The clones of Project Osiris are free--but they're being hunted... After their narrow escape from their "perfect" hometown, Eli, Tori, Amber, and Malik are finally in the real world and determined to expose the leaders of Serenity. They decide to track down Tamara Dunleavy, the mysterious billionaire and founder of Project Osiris. Evading capture by breaking laws and sneaking into houses, hotels, buses, and cars--are they becoming the criminals they were destined to be? What they discover will change everything, leading them straight into the Plastic Works and the heart of the experiment, in order to uncover the deadly criminals they're cloned from--and any evidence that will convince the outside world to believe the truth. But the outside world isn't exactly what they expected--strangers aren't just unfriendly, they're dangerous. And the wrong move could send them right back into the arms of Dr. Hammerstrom--and trapped in Serenity for good. On a breakneck journey from Jackson Hole to a maximum security prison--Eli, Tori, Amber, and Malik will stop at nothing to take Project Osiris down.

Published Reviews
Booklist Review:
"After discovering the truth about their parentage in Masterminds (2014) they've been cloned from criminal masterminds as part of a twisted experiment Eli, Malik, Tori, and Amber are on the run and desperately lost. In their manufactured hometown of Serenity, New Mexico, they were carefully shielded from reality, but without any understanding of how the world actually works, they can only rely on their wits to get by. Desperate times call for desperate measures, however, and since they're imbued with the street smarts and problem-solving skills of their criminal parents, figuring out how to break into buildings and manipulate dimwitted adults is disturbingly simple. Though occasionally the kids' alternating first-person narratives sound too similar, Korman's cinematic adventure is packed with enough thrilling action and suspense to keep the pages turning. Additionally, he weaves in thoughtful questions. Does using their inborn abilities make the kids any better than their imprisoned progenitors? And at what point do desperate measures turn into crime? A late-breaking twist ensures another installment on the horizon in this highly entertaining series.--Hunter, Sarah Copyright 2016 Booklist"
From Booklist, Copyright (c) American Library Association. Used with permission.
Additional Information
Series
Korman, Gordon. Masterminds. 2.
Subjects
Cloning Fiction
Experiments Fiction
Criminals Fiction
Adventure and adventurers Fiction
Mystery and detective stories
Cloning Juvenile fiction
Criminals Juvenile fiction
Mystery
Juvenile Fiction
Audiobooks.

Publisher

New York :Balzer + Bray2016




2016



Edition
Unabridged.
Contributors
Glick, Maxwell, narrator.
Rylander, Mike, 1981- narrator.
Ocampo, Ramon de, narrator.
Badgley, Kelly Jean, narrator.
Consoli, Tarah, narrator.
OverDrive, Inc.

Participants/Performers

Read by Maxwell Glick, Mike Rylander, Ramon De Ocampo, Kelly Jean Badgley and Tarah Consoli.



Language

English



System Details

Mode of access: World Wide Web.




Format: OverDrive Listen




Format: OverDrive MP3 Audiobook




Requires OverDrive app 3.0 (Windows) / 1.0 (Mac) / 1.0 (Windows Mobile)



Description

1 audio file : digital.



ISBN
9780062417282
9780062417282

Other
Classic View