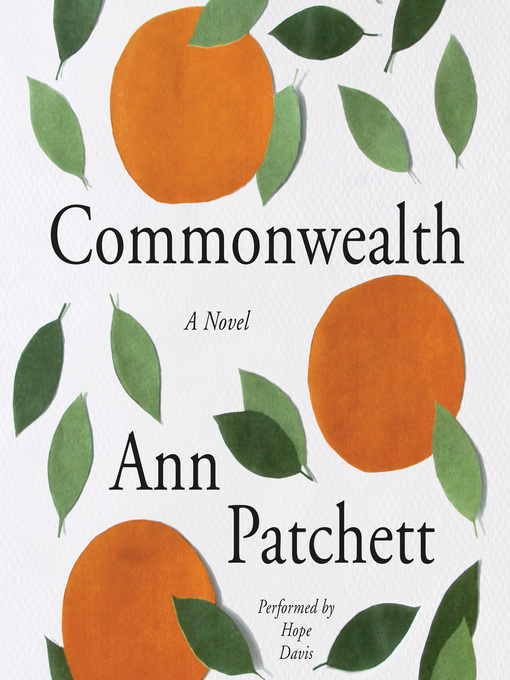 Commonwealth a novel
Format:

OverDrive MP3 Audiobook

2016

2016

OverDrive Listen

Availability:

Unavailable

0 of 14 copies
4 people on waitlist
Summary
Commonwealth is the story of two broken families and the paths their lives take over the course of 40 years, through love and marriage, death and divorce, and a dark secret from childhood that lies underneath it all.

Published Reviews
Booklist Review:
"*Starred Review* Patchett's seventh novel (This Is the Story of a Happy Marriage, 2013) begins with the opening of a door. Fix Keating expected all the guests, including many fellow cops, who are crowded into his modest Los Angeles home to celebrate his younger daughter Franny's christening, but why is deputy district attorney Bert Cousins, a near-stranger, standing at the threshold clutching a big bottle of gin? As soon as Bert, married and the father of three, with a fourth on the way, meets Fix's stunningly beautiful wife, Beverly, the foundations of both households undergo a tectonic shift. As Patchett's consummately crafted and delectably involving novel unfolds, full measure is subtly taken of the repercussions of the breaking asunder and reassembling of the two families. Anchored in California and Virginia, and slipping gracefully forward in time, the complexly suspenseful plot evolves exponentially as the six kids, thrown into the blender of custody logistics and ignored by the adults, grow close, like a pack of feral dogs, leading to a resounding catastrophe. The survivors grow up and improvise intriguingly unconventional lives, including Franny's involvement with a writer, which raises thorny questions about a novelist's right to expose family secrets. Indeed, this is Patchett's most autobiographical novel, a sharply funny, chilling, entrancing, and profoundly affecting look into one family's commonwealth, its shared affinities, conflicts, loss, and love.--Seaman, Donna Copyright 2016 Booklist"
From Booklist, Copyright (c) American Library Association. Used with permission.
Publisher's Weekly Review:
"In Patchett's domestic tale, a stolen kiss at a christening party in the 1960s leads to a new blended family of six stepsiblings whom the novel follows over 50 years. Reader Davis, a well-known actress and frequent contributor to the radio program Selected Shorts, boasts a robust resume, but her vocal performance for this title is uneven. On the plus side, Davis's gentle and unpretentious voice is pleasant, and fits well with the muted emotional climate of the family. But in Davis's reading, it's hard to distinguish between the six siblings, and as a result the story as a whole falls flat. Only Caroline, the oldest and most combative of the children, comes across as uniquely individual. In a novel that depends so heavily on dialogue and characterization, Davis's monochromatic performance fails to realize the richness of Patchett's careful observations. A Harper hardcover. (Sept.) © Copyright PWxyz, LLC. All rights reserved."
(c) Copyright PWxyz, LLC. All rights reserved
Additional Information