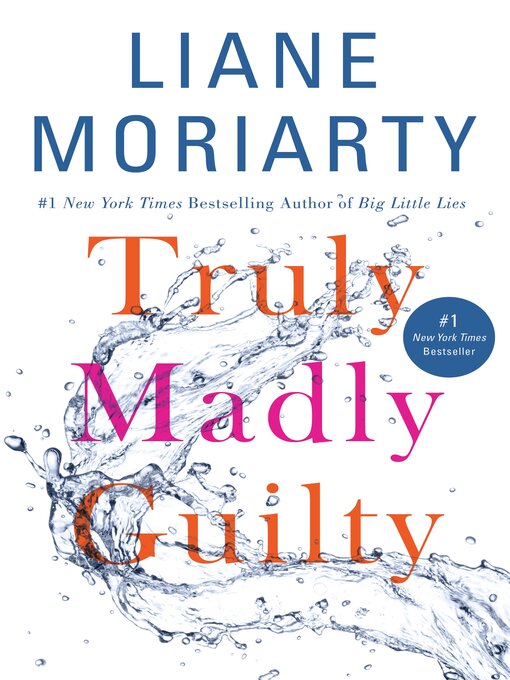 Truly madly guilty
Format:

Kindle Book

2016

2016

Adobe EPUB ebook

OverDrive Read

Availability:

Unavailable

0 of 12 copies
8 people on waitlist
Summary
"The new novel from Liane Moriarty, the #1 New York Times bestselling author of The Husband's Secret, Big Little Lies, and What Alice Forgot, about how sometimes we don't appreciate how extraordinary our ordinary lives are until it's too late. "What a wonderful writer--smart, wise, funny." --Anne Lamott Six responsible adults. Three cute kids. One small dog. It's just a normal weekend. What could possibly go wrong? In Truly Madly Guilty, Liane Moriarty turns her unique, razor-sharp eye towards three seemingly happy families. Sam and Clementine have a wonderful, albeit, busy life: they have two little girls, Sam has just started a new dream job and Clementine, a cellist, is busy preparing for the audition of a lifetime. If there's anything they can count on, it's each other. Clementine and Erika are each other's oldest friends. A single look between them can convey an entire conversation. But theirs is a complicated relationship, so when Erika mentions a last minute invitation to a barbecue with her neighbors, Tiffany and Vid, Clementine and Sam don't hesitate. Having Tiffany and Vid's larger than life personalities there will be a welcome respite. Two months later, it won't stop raining, and Clementine and Sam can't stop asking themselves the question: What if we hadn't gone? In Truly Madly Guilty, Liane Moriarty takes on the foundations our lives: marriage, sex, parenthood, and friendship. She shows how guilt can expose the fault lines in the most seemingly strong relationships, how what we don't say can be more powerful than what we do, and how sometimes it is the most innocent of moments that can do the greatest harm"--

Published Reviews
Booklist Review:
"A spontaneous barbecue upends the lives of three couples in suburban Sydney. Awkward, bookish Erika and her loving nerd of a husband, Oliver, plan a quiet dinner with her childhood best friend, cellist Clementine, and her husband, Sam. They have something important to talk about, away from their adorable but nosy children. The plans go awry, though, when their loud, affable neighbor, Vid, invites them for a barbecue, and, sure, why not, bring Clementine and Sam and the kids, too. An awkward afternoon turns more serious and affects each couple in different, deep ways. Moriarty plays with the timeline, only revealing bits of the fateful barbecue as Clementine fights for her marriage, Erika deals with her own family drama, and all of Sydney is drenched by weeks of rain. The characters are terrific, especially Vid and his sexpot wife, Tiffany, and even Erika, with her many, many neuroses. Readers of Moriarty's previous summer thrillers may find this one less thrilling than The Husband's Secret (2013) or Big Little Lies (2014), but nobody skewers the suburbs with as much affection as she does.--Maguire, Susan Copyright 2016 Booklist"
From Booklist, Copyright (c) American Library Association. Used with permission.
Publisher's Weekly Review:
"In bestseller Moriarty's (Big Little Lies) latest, one small decision-going to a barbecue-reverberates through the lives of the six adults. Childhood friends Erika and Clementine couldn't be more different. Obsessive-compulsive Erika is married to Oliver; both are accountants, and they have no children. Clementine is a disorganized classical cellist with a husband, Sam, and two small children, Holly and Ruby. These two families are unexpectedly invited to a barbecue at the opulent home of Erika's neighbors: wealthy and vivacious Vid; his "smoking hot" wife, Tiffany; and their 10-year-old daughter, Dakota. During what is supposed to be an ordinary afternoon of food, drink, and lively conversation among people just beginning to become friends, a harrowing event deeply affects all these characters, forcing them to closely examine their choices, not only of that day but of their entire lives, and the effects of those choices. The novel holds back the meat of the story until the reader is about to burst with curiosity, but this technique strangely doesn't feel like torture; it gives readers a chance to consider the endless possibilities of every moment. (July) © Copyright PWxyz, LLC. All rights reserved."
Additional Information