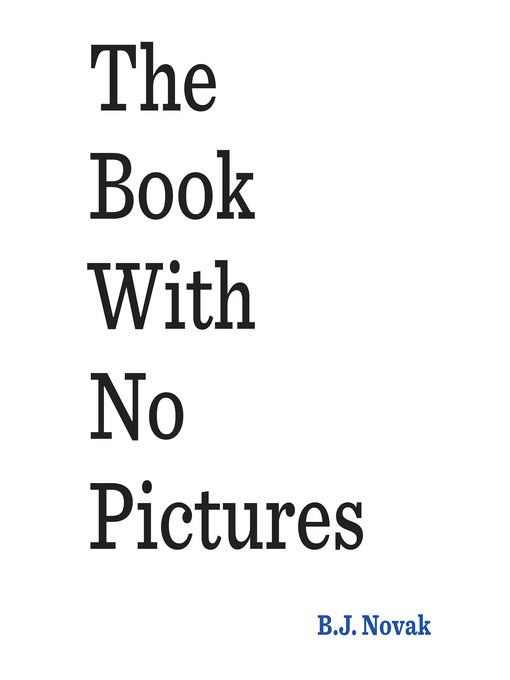 The book with no pictures
Format:

OverDrive MP3 Audiobook

2014

2014

OverDrive Listen

Availability:

Available from OverDrive

1 of 2 copies
1 person on waitlist
Summary
This innovative and wildly funny audiobook by award-winning humorist/actor B.J. Novak will turn any listener into a comedian. You might think a book with no pictures seems boring and serious. Except . . . here's how books work. Everything written on the page has to be said by the person reading it aloud. Even if the words say ... BLORK. Or BLUURF... Even if the words are a preposterous song about eating ants for breakfast, or just a list of astonishingly goofy sounds like BLAGGITY BLAGGITY and GLIBBITY GLOBBITY.

Published Reviews
Booklist Review:
"Best known for his work on TV's The Office, Novak follows his adult short-story collection (One More Thing, 2014) with a picture book well, sort of. There's, like, no pictures. That's the whole idea. But Novak has isolated a curious truth about picture books: the person reading the book aloud is obligated to say what's on the page. No exceptions. Thus commences what is basically a one-character stand-up routine in which the one reading aloud must struggle against increasingly silly demands. I am a monkey who taught myself to read, insists the simple black-on-white text. Then, in smaller text, Hey! I'm not a monkey! Color and font changes are introduced as the demands upon the speaker become more infuriating: And my head is made of blueberry pizza. You see where this is going: humiliating songs, declarations that the kid listening is the best kid ever, and a two-page spread of rude noises. Sure, it's one joke, but it's a great one, and kids will adore adults who commit to the ridiculous performance.--Kraus, Daniel Copyright 2014 Booklist"
From Booklist, Copyright (c) American Library Association. Used with permission.
Publisher's Weekly Review:
"Actor Novak's expert sense of comic timing is on full display in his first picture book, which, true to its title, only contains words on a white background. Different font types, sizes, and colors signal important changes in tone and voice to whomever is reading the story aloud (and the book's jokes rely on a readaloud setting). "It might seem like no fun to have someone read you a book with no pictures," Novak writes early in the book, his words set in a black serif font that all but demands a serious, James Earl Jones-style voice-over. Then the kicker: "Here is how books work. Everything the words say, the person reading the book has to say. No matter what." Cue sound effects ("BLUURF") and nonsense statements ("I am a monkey who taught myself to read") designed to make a laughingstock of the adult reader while keeping children howling, even as the reader's "voice" lodges its protests ("Wait a second-is this whole book a trick?"). A strong first showing for Novak that's sure to deliver big laughs. Ages 4-8. Agent: Richard Abate, 3 Arts Entertainment. (Aug.) (c) Copyright PWxyz, LLC. All rights reserved."
(c) Copyright PWxyz, LLC. All rights reserved
Additional Information