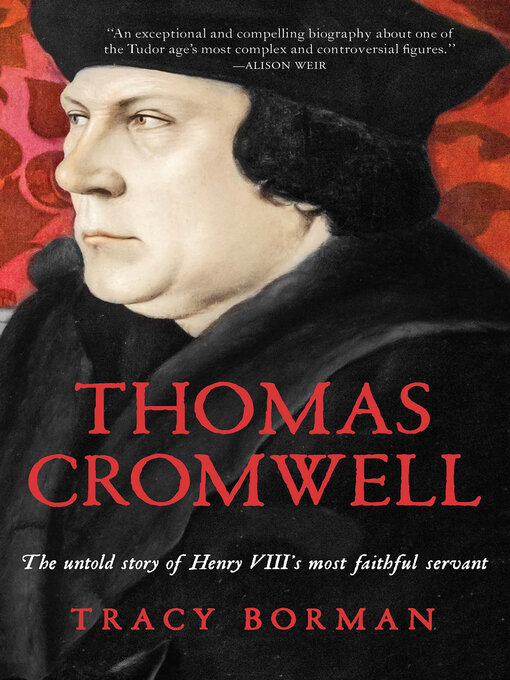 Thomas Cromwell the untold story of Henry VIII's most faithful servant
Format:

Kindle Book

2015

2015

Adobe EPUB ebook

OverDrive Read

Availability:

Available from OverDrive

1 of 1 copy
Summary
As Henry VIII's right-hand man, Cromwell was the architect of the English Reformation, secured Henry's divorce from Catherine of Aragon and plotted the downfall of Anne Boleyn, and upon his arrest, was accused of trying to usurp the King himself. Borman reveals a different side of one of the most notorious figures in history: that of a caring husband and father, a fiercely loyal servant and friend, and a revolutionary who helped make medieval England into a modern state. His seismic political, religious, and social reforms had an impact that can still be felt today. This is the true story of a controversial and enigmatic man who forever changed the shape of his country.

Contents
'A great traveller in the world'
The cardinal
'Not without sorrow'
"Make or marre'
'The frailty of human affairs'
The king's 'great matter'
'The suddaine rising of some men'
'Hevy wordes and terrible thretes'
'Good master secretary'
Dissolution
'A more gracious mistress'
'The lady in the Tower'
Rebellion
'Some convenyent punishment'
'These knaves which rule abowte the kyng'
The Flanders mare
'Cromwell is tottering'
'Mercye mercye mercye'
'Many lamented but more rejoiced'
Epilogue : 'A man of mean birth but noble qualities.'
Published Reviews
Booklist Review:
"Hilary Mantel's fictional blockbusters Wolf Hall (2009) and Bring Up the Bodies (2012) have reinvigorated interest in Thomas Cromwell. Penning a new biography of Cromwell, Borman follows the current trend, revising the common historical view of her subject as a cunningly cruel power broker. The portrait she paints of this complex man, who rose from humble origins to extraordinary and ultimately untenable heights, is more subtly nuanced. Though no one can deny Cromwell's ruthless lust for power, she puts it into perspective, analyzing both his personal and public relationships and viewing his actions and motivations through a sixteenth-century lens. An ambitious man of his time and place, he nevertheless intimately enjoyed a rich and varied domestic life. Neglecting neither the public persona nor the private man, Borman provides an insightful biography of a much-maligned historical figure.--Flanagan, Margaret Copyright 2014 Booklist"
From Booklist, Copyright (c) American Library Association. Used with permission.
Publisher's Weekly Review:
"Borman, CEO of the U.K. Heritage Education Trust and joint chief curator of the British historic royal palaces, commendably delves into primary and secondary sources in piecing together the remarkable life of a "commoner who had risen far beyond his rightful station in life" to become the king's chief minister. Best known for engineering the fall of Anne Boleyn and easing the way for the Protestant Reformation in England, Thomas Cromwell remains in these pages just as enigmatic as he has always been to historians. Some of Borman's conclusions are based on flimsy evidence, and she relies too much on accounts written by those with obvious political agendas. However, she makes a strong argument that Cromwell's fall from power was engineered by elites who despised him for being a commoner upstart, especially when she points out an incident often overlooked by historians: Cromwell arranged for his son to marry Queen Jane Seymour's sister. Considering the brutality the Tudors inflicted on those whom they perceived as overstepping their bounds, the perception that Cromwell did not know his place, compounded by his arranging Henry's short-lived marriage with Anne of Cleves, sealed his fate. Agent: Jason Bartholomew, Hodder & Stoughton (U.K.). (Jan.) © Copyright PWxyz, LLC. All rights reserved."
(c) Copyright PWxyz, LLC. All rights reserved
Additional Information