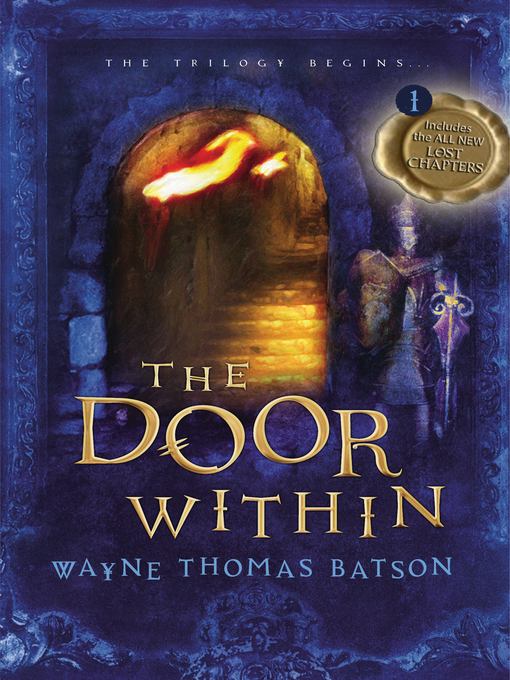 The door within
Format:

Kindle Book

2013

2013

Adobe EPUB ebook

OverDrive Read

Availability:

Available from OverDrive

1 of 1 copy
Summary
Three ancient scrolls beckon high school student Aidan Thomas to enter a realm of knights, kings, and unusual creatures, but he must rely on instinct and his latent athletic ability to deal with the terrors offered by this new world.

Published Reviews
Booklist Review:
"Gr. 4-7. The first in a projected trilogy begins in Aidan Thomas' new home; his family has moved to help his ailing grandfather. Aidan is unhappy about almost everything, but life really turns upside down when he discovers several ancient scrolls in his grandfather's basement. In short order, he finds himself opening the door within ; on the opposite side is a world of noble kings and treacherous knights, and the inevitable struggle between good and evil. In the frame story about sacrifice and redemption, Batson has borrowed from C. S. Lewis, but the book's Christian overtones are not nearly as well woven as those in Lewis' work. There's plenty of fantastical adventure tethered to right and wrong here, and Aidan is a likable enough hero, though he seems more like a boy of 11 or 12 than the high-school kid he is. The writing is often workmanlike, but many readers will want the book for its religious core. --Ilene Cooper Copyright 2005 Booklist"
From Booklist, Copyright (c) American Library Association. Used with permission.
Publisher's Weekly Review:
"First-time author and middle-school teacher Batson leads young readers to a fantasy realm (filled with unusual names) where faith and sacrifice serve as essential tools in an epic battle between good and evil. Sound familiar? It will to many fantasy fans, as well as those familiar with the Bible. Aidan has a tough time when he moves from Maryland to Colorado with his parents so they can care for his grandfather; he hardly relishes starting high school as the new kid. But things take a bizarre turn when he ventures to his grandfather's basement and discovers some ancient scrolls containing what Grampin knows as "the Story." The scrolls encourage Aidan to believe-the key to the Door Within-and to follow the light of the everlasting King of the Realm. Though God and the Bible are never mentioned by name, the comparisons are clear and sometimes more than obvious (Aidan's family name is Thomas, as in doubters; a traitor and warrior is named Acsriot, an anagram of Iscariot; an evil lieutenant goes by Lord Rucifel, an anagram of Lucifer, etc.). Christian readers will likely draw the parallels as an interesting puzzle and perhaps an introspective exercise. And readers of any faith can enjoy the layers of action and adventure here, replete with knights, dragons and powerful swords in what is the first of a planned trilogy. Ages 10-14. (Sept.) (c) Copyright PWxyz, LLC. All rights reserved"
(c) Copyright PWxyz, LLC. All rights reserved
Additional Information