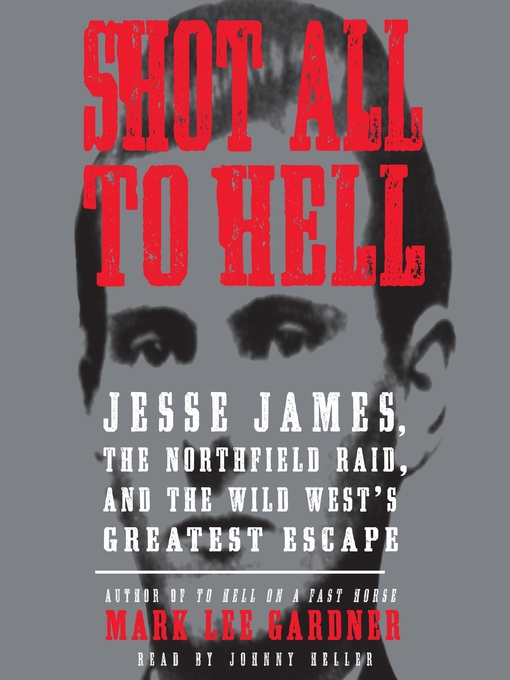 Shot all to hell Jesse James, the Northfield Raid, and the wild west's greatest escape
Format:

OverDrive MP3 Audiobook

2013

2013

OverDrive Listen

Availability:

Available from OverDrive

1 of 1 copy
Summary
Recounts the thrilling life of Jesse James, Frank James, the Younger brothers, and the most famous bank robbery of all time--the Northfield raid--which led to a two-week chase ending with the bloody final shootout on the Watonwan River.

Published Reviews
Booklist Review:
"There are, of course, many books and films, some serious and some fanciful, on the exploits of the James-Younger gang. Unlike most of them, Gardner, an authority on the American West, has shed considerable light on a neglected aspect of the gang's life of crime, the escape of Frank and Jesse James from several posses after the debacle of their attempted robbery of the bank in Northfield, Minnesota. In his description of the origins of the gang and their careers before Northfield, Gardner provides a useful background for novices on the topic. His narrative picks up steam in his detailed, almost bullet-by-bullet account of the failed robbery. In the planning, the James brothers failed to realize that the well-armed citizens of Northfield would resist the attack on a bank that held their savings. Those who escaped the carnage in the town were the subject of a massive manhunt covering hundreds of miles, and the escape of Frank and Jesse was both exciting and remarkable. This is a well-done reexamination of an episode that has become enshrined in Western lore.--Freeman, Jay Copyright 2010 Booklist"
From Booklist, Copyright (c) American Library Association. Used with permission.
Publisher's Weekly Review:
"In this true-life tale of the infamous Jesse James and his outlaw gang, historian Gardner (To Hell on a Fast Horse) crafts an elegant narrative that's as entertaining as it is historically accurate. Led by the "unquestionably charismatic" Jesse and his Shakespeare- and Bible-quoting brother Frank, the criminals are a "bunch of good ol' boys" whose "fearless efficiency" in their capers and their penchant for stylish horses, clothes, and pistols made them celebrities in their own day. The book's focus is a 10-minute bank heist and shootout in Northfield, Minn., in 1876, which leaves two gang members dead and the survivors on the lam. Gardner conveys the mayhem wonderfully, shifting focus from within the bank to the men on the street to townspeople taking up arms in defense, providing a rich visual and rhythmic dimension to the story and shedding light on a bygone era's drastically different approach to law enforcement. The ensuing manhunt is fraught with tension as the James gang, with "various wounds seeping blood and pus," roams the wilderness, evading numerous mobilized vigilante forces made up of a panoply of characters with rich histories all their own. A must-read for any western fan. Agent: Jim Donovan, Donovan Literary. (Aug. 1) (c) Copyright PWxyz, LLC. All rights reserved."
(c) Copyright PWxyz, LLC. All rights reserved
Additional Information
Subjects
James, Jesse, 1847-1882
James, Frank, 1844-1915
Younger, Cole, 1844-1916
Younger, James, 1848-1902
Bank robberies Minnesota Northfield History 19th century
Outlaws Minnesota Northfield History 19th century
Nonfiction
History
Audiobooks.
1847-1882.
1844-1915.
1844-1916.
1848-1902.
19th century.

Publisher

New York :HarperAudio2013




2013



Edition
Unabridged.
Contributors
Heller, Johnny, narrator.
OverDrive, Inc.

Participants/Performers

Read by Johnny Heller.



Language

English



System Details

Mode of access: World Wide Web.




Format: OverDrive Listen




Format: OverDrive MP3 Audiobook




Requires OverDrive app 3.0 (Windows) / 1.0 (Mac) / 1.0 (Windows Mobile)



Description

1 audio file : digital



ISBN
9780062293367
0062293362

Other
Classic View