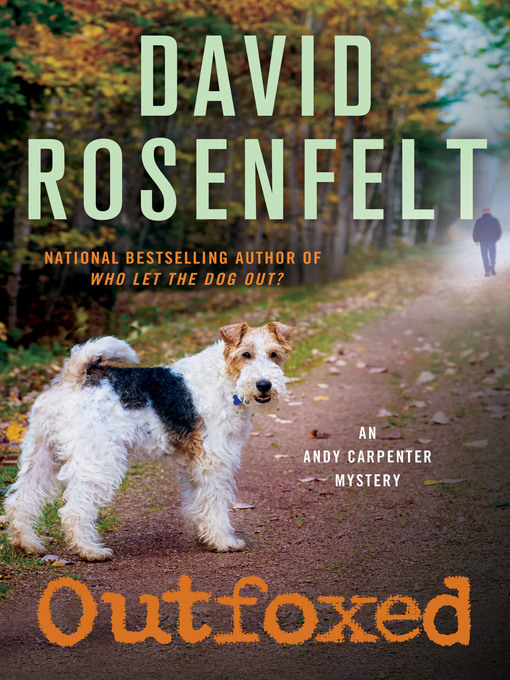 Outfoxed
Format:

Kindle Book

2016

2016

Adobe EPUB ebook

OverDrive Read

Availability:

Available from OverDrive

1 of 1 copy
Summary
"Defense lawyer Andy Carpenter spends as much time as he can working on his true passion, the Tara Foundation, the dog rescue organization he runs. Lately, Andy has been especially involved in a county prison program where inmates help train dogs the Tara Foundation has rescued to make them more adoptable, benefiting both the dogs and the prisoners. One of the prisoners Andy has been working with is Brian Atkins, who has 18 months left on a 5-year term for fraud. Brian has been helping to train Boomer, an adorable fox terrier the Tara Foundation rescued from a neglectful owner. Brian and Boomer are clearly a terrific match. In fact, Andy hopes that Brian will adopt Boomer himself, once his sentence is up. But one day, Andy arrives at the prison to discover that Brian has used Boomer to make an ingenious escape, and man and dog are both in the wind. The next day, the man on whose testimony Brian was convicted is found murdered. Brian is caught and arrested for the crime, though he forcefully protests his innocence. Suddenly, Andy finds himself with a new client in Brian and a new dog in Boomer. And as he starts to dig deeper into the murder and the events leading up to it, Andy realizes he might be putting them all in far more danger than anyone had realized"--

Published Reviews
Booklist Review:
"Andy Carpenter is a lawyer who hates work and loves dogs, and it's his good fortune to have inherited a $35 million nest egg. Such energy as Andy can muster is showered on his dog-rescue operation. As with the earlier Andy novels, a dog provides the plot hook: a prisoner disguises himself as a trainer and walks out with a service animal on a leash. Both are nabbed quickly, but not before the man's wife and business partner are murdered. Of course, the dog nabber didn't do it, and Andy must prove it. The puzzlement is the perfunctory way the investigation and trial are carried out, rather like Andy can't keep his mind on it. Still, it's the fringe stuff that holds the appeal here, recalling Tom Wolfe's observation that a lot of reporting goes into a novel like the revelation that crooks use online auctions to launder money: they put an item up for sale, then bid on it. There's lots of this kind of thing, and it will keep readers going despite a somewhat listless plot. That and the dogs, of course.--Crinklaw, Don Copyright 2016 Booklist"
From Booklist, Copyright (c) American Library Association. Used with permission.
Publisher's Weekly Review:
"Edgar-finalist Rosenfelt's entertaining 14th legal thriller featuring New Jersey attorney and dog lover Andy Carpenter (after 2015's Who Let the Dog Out?) finds Andy running a program called Prison Pals, which uses inmates to help train and socialize rescued canines. One of them, white-collar criminal Brian Atkins, who's up for parole in four months from East Jersey State Prison, manages to escape from custody with one of the animals. Soon after, Brian is spotted fleeing from the scene of a bloody double homicide, whose victims are his estranged wife and his former business partner. Naturally, he's the prime suspect, but Andy, who's impressed by Brian's treatment of the dog he was working with, takes on his defense. That task, already daunting given the circumstantial evidence against Andy's client, becomes even more of an uphill slog when Brian insists on pleading guilty, despite his innocence. The self-deprecating lead, who winds up playing amateur sleuth, is engaging enough, and the plot follows a predictable course to a nevertheless satisfying finish. Agent: Robin Rue, Writers House. (July) © Copyright PWxyz, LLC. All rights reserved."
(c) Copyright PWxyz, LLC. All rights reserved
Additional Information