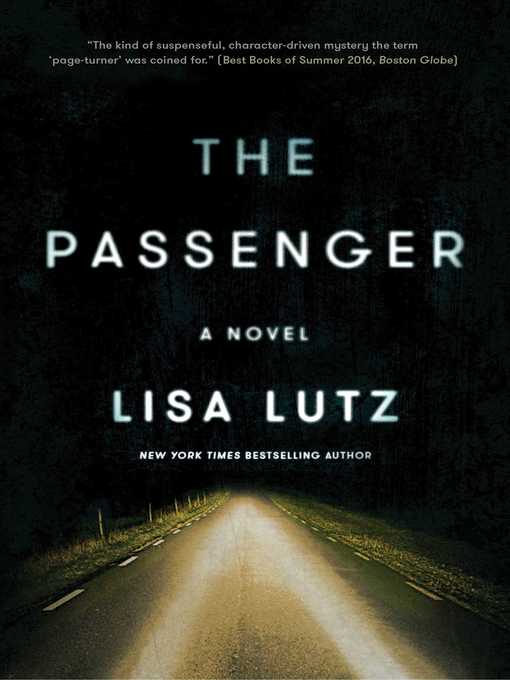 The passenger a novel
Format:

Kindle Book

2016

2016

Adobe EPUB ebook

OverDrive Read

Availability:

Unavailable

0 of 3 copies
7 people on waitlist
Summary
She's left her dead husband -- and within forty-eight hours Tanya Dubois is a fugitive. It's almost impossible to live off the grid today, but Tanya-once-Amelia-now-Debra and Blue, a bartender, have the courage, the ingenuity, and the desperation, to try. Hopscotching from city to city, Debra especially is chased by a very dark secret ... can she outrun her past?

Published Reviews
Booklist Review:
"*Starred Review* Lutz's Spellman Files attracted an enthusiastic fan base captivated by the quirky, humorous, modern-day Nancy Drew tales. That kind of love can give an author confidence to step out on a limb, and Lutz does so nimbly with this dark psychological thriller. Tanya Dubois finds her husband, Frank, dead after a tumble down the stairs and knows she can't afford the scrutiny police will give his questionable death. So, Tanya gases up his truck, blackmails mysterious Mr. Oliver for a new identity, and hits the road to start over as Amelia Keen. Tanya/Amelia's life on the run began years before she met Frank, and she has the procedures down cold. But she's never gotten used to the loneliness, which may be why she allows herself to forge a new friendship with Blue, a secretive Austin bartender. When threats from both of their pasts resurface, Blue devises their risky escapes. But as Tanya/Amelia struggles to settle into her newest fake life and reluctantly squelches a dangerous romance with a small-town sheriff, she begins to suspect that Blue's plan may have served darker purposes. Lutz develops riveting suspense by slowly revealing the events that first sent Tanya/Amelia on the run, while pouring threats on her gritty heroine's increasingly tenuous bids at survival. Binge-worthy fare, especially for those drawn to strong female protagonists.--Tran, Christine Copyright 2015 Booklist"
From Booklist, Copyright (c) American Library Association. Used with permission.
Publisher's Weekly Review:
"Tanya Dubois, the enigmatic heroine of this enjoyable standalone from Lutz (How to Start a Fire), is the unhappy wife of the deceased Frank Dubois, who took a fatal-and unassisted-header down the basement stairs of their Waterloo, Wis., home. Since she fears the police will think she pushed Frank, Tanya decides to get out of Waterloo as fast as possible, and she holes up in a sleazy motel, the first of many she'll stay in, to call the mysterious Mr. Oliver, who grudgingly agrees to supply her with a new identity and some starter cash: it's clear he's done it before. Tanya becomes Amelia Keen in Austin, Tex., where she meets the beguiling but dangerous bartender Blue. It's soon clear that Amelia and Blue both have unsavory pasts, and the agreement the women reach sends both of them off with new names. While the pacing falters in places and some of the final reveals lack wallop, Lutz's complex web of finely honed characters will keep readers turning the pages. Agent: Stephanie Rostan, Levine Greenberg Literary Agency. (Mar.) © Copyright PWxyz, LLC. All rights reserved."
(c) Copyright PWxyz, LLC. All rights reserved
Additional Information